Langford scores 19 as No. 6 Michigan St beats Maryland 74-68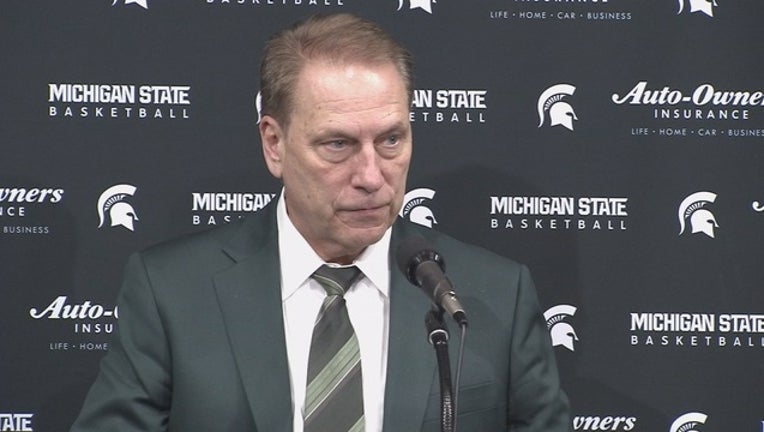 article
COLLEGE PARK, Md. (AP) - Surely, there will come a time in the near future when Michigan State coach Tom Izzo will allow himself to savor another 20-win season and look forward to competing in the NCAA Tournament.
For now, however, the Hall of Fame coach has other things on his mind.
Minutes after the sixth-ranked Spartans rallied past Maryland 74-68 on Sunday, Izzo spoke softly about what it's been like to prepare his team to play in the wake of an investigation of the program and the school involving sexual assaults by athletes and staff.
"It's been hard to focus in on basketball," Izzo said, "because when I do, I feel guilty."
Michigan State's handling of sexual misconduct allegations has come under increasing scrutiny since former university sports doctor Larry Nassar was charged with assaulting scores of girls and young women for years. Nassar has been sentenced to decades of prison time.
In the wake of that case, Izzo, his program and his current squad have received plenty of unwanted attention.
"I've been through a lot more than my guys have been through," he said. "Yes, this is something that affects them, but not nearly as much. Don't feel sorry for me or them. There's 140-something women that we all feel more sorry for."
Izzo would not discuss the specifics of any case, but noted: "We will cooperate with any investigation and always have. We've done it before and will do it moving forward. That's all I'm going to say on it."
Joshua Langford scored 19 points to lead a second-half surge that the Spartans to their fourth straight victory. Down by 13 at halftime, Michigan State (20-3, 8-2 Big Ten) returned to outscore the Terrapins 20-4 in the opening 5½ minutes and held on.
"We all know it's been a time when there's a lot of distractions," Izzo said. "I think sometimes guys just have to focus on their job and then deal with the other stuff after, and that's what they did."
Izzo now has seven straight 20-win seasons at Michigan State and 18 in his 23 years at the school. This season, however, has been different than most.
"It's been crazy," guard Cassius Winston said. "We keep it tight in here. This is really a family. We've got coach Izzo's back, he has ours. Out there, that was just us proving it."
Winston scored 13 and Jaren Jackson Jr. added 12 for the Spartans, who shot 53 percent after halftime and finished with a 46-29 rebounding advantage.
After Maryland closed to 63-61 with 1:43 left, Langford grabbed the rebound of a miss by teammate Miles Bridges, and Winston subsequently made two free throws to all but seal the win.
Kevin Huerter led Maryland with 17 points, and Anthony Cowan Jr. and Darryl Morsell each had 12. The Terrapins (15-8, 4-6) have lost five of seven, a skid that began with a 91-61 defeat at Michigan State on Jan. 4.
"We're getting better and I'm having fun coaching them," coach Mark Turgeon insisted. "We've practiced really well. I want to continue to do that. See where it leads us."
Maryland seemed upset-bound until the start of the second half, when the Spartans got a pair of 3-pointers from Jackson and two baskets from Langford in an 11-2 spurt that made it 39-35.
After Bruno Fernando scored in the lane for Maryland, Michigan State rattled off nine straight points to go on top for the first time.
In the first half, the Spartans went 9 for 33 from the floor, including 1 for 10 from beyond the arc.
Maryland delighted the sellout crowd of 17,950 by bolting in front 8-0, getting two 3-pointers from Dion Wiley and an alley-oop dunk by Morsell.
After missing eight of their first nine shots, the Spartans closed to 18-16 before Michal Cekovsky made three baskets in a 10-2 run that gave the Terps their first double-digit lead.
As it turned out, that wasn't a problem for Izzo and his squad.
"A lot of things could have went wrong, but we found a way to stick together and fight through that," Winston said.
BIG PICTURE
Michigan State: Despite scoring only 24 points in a horrid first half, the Spartans appear to have recovered from a temporary lapse earlier this month, when they sandwiched two losses around an overtime win over Rutgers. With three strong wins this week, two on the road, Michigan State has established itself as a worthy fixture in the Top 10.
Maryland: The Terrapins' hopes of reaching the NCAA Tournament for a fourth successive season are sinking quickly. "I've had teams in situations like this that just got it done," Turgeon said.
VASQUEZ RETURNS
Former Maryland star Greivis Vasquez returned to promote a drive to provide school supplies for underprivileged youth. He sat courtside next to another Maryland alum, sportscaster Scott Van Pelt.
UP NEXT
Michigan State hosts Penn State (15-8, 5-5) on Wednesday night.
Maryland faces No. 3 Purdue on Wednesday night, a rematch of a Dec. 1 matchup won by the Boilermakers 80-75.