Larkin, Perron, Copp score in 3rd period as Red Wings win 5-4 to hand Bruins 1st regulation loss
DETROIT - DETROIT (AP) — David Perron had the go-ahead goal and two assists as the Detroit Red Wings scored three times in the third period to beat Boston 5-4 Saturday night, handing the Bruins their first first regulation loss this season.
Dylan Larkin and Lucas Raymond each had a goal and an assist, and Andrew Copp and Jake Walman also scored for Detroit, which had lost four of five (1-3-1). Ville Husso had 26 saves.
James van Riemsdyk, Matthew Poitras, Charlie Coyle and David Pastrnak had the goals for the Bruins, who were 9-0-1. Linus Ullmark stopped 35 shots.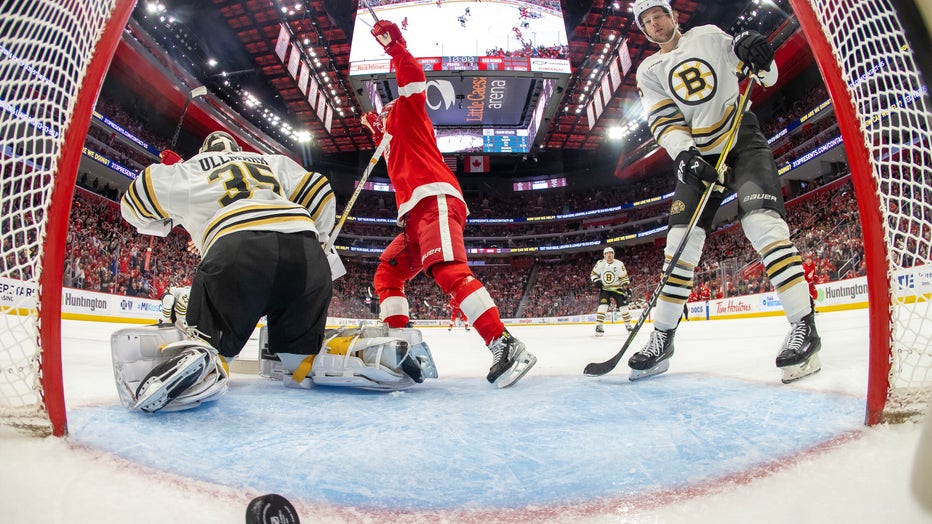 DETROIT, MI - NOVEMBER 04: Jake Walman #96 of the Detroit Red Wings scores a goal over the shoulder of Linus Ullmark #35 of the Boston Bruins during the second period at Little Caesars Arena on November 4, 2023 in Detroit, Michigan. Detroit defeated
Trailing 3-2, Larkin tied it at 6:50 of the third when he beat Ullmark on the short side off a feed from Raymond for his fifth of the season.
Perron gave the Red Wings their first lead 2:06 later when he whiffed on a shot, regained control of the puck and fired it past Ullmark's glove. It was his third.
Copp made it 5-3 with his fourth when he banged in a rebound after J.T. Compher hit the post.
Pastrnak scored on a power play with 5:49 remaining to pull the Bruins within one, but they couldn't get the equalizer.
Detroit had a two-man advantage in the final 1:28.
The Bruins scored twice in the first 10 minutes. Van Riemsdyk jammed the puck into the net after Pastrnak's shot trickled past Husso at 5:21. Poitras scored on a backhander at 9:28 after a nifty move around Husso.
Raymond scored Detroit's first power-play goal in five games from the right circle off a feed from Perron with 3:40 remining in the opening period to make it 2-1.
Walman lifted a shot over Ullmark's left shoulder to tie the score just as a boarding penalty against Boston's Mason Lohrei was about to expire at the midpoint of the second period.
The Bruins regained a 3-2 lead with 6:17 left in the period when Coyle scored in front off a pass from Jake DeBrusk.
UP NEXT
Bruins: At Dallas on Monday night.
Red Wings: At New York Rangers on Tuesday night.