Maple Leafs Slip Past Red Wings 3-2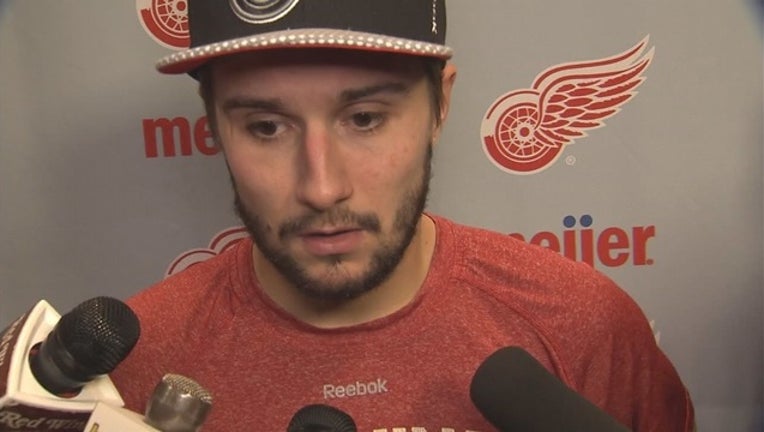 article
TORONTO (AP) - James van Riemsdyk hadn't scored a goal in more than a month entering Tuesday's game.
It had been even longer since he had produced a point on the league's No. 1 power play.
That all changed on Tuesday night.
Van Riemsdyk broke out of a monthlong scoring slump with a power-play goal, and the Toronto Maple Leafs snapped a five-game losing streak with a 3-2 victory against the Detroit Red Wings.
The 27-year-old forward had gone 14 games without a goal - despite having 45 shots on net - since a two-goal performance against Boston on Feb 4. His goal against Detroit was also the first point while playing with the man advantage since an assist on Jan. 31 against Dallas.
"I was happy with all the chances I was getting and I thought it was good in that sense but obviously you want to produce and score goals, so it feels nice to get that one," said van Riemsdyk, who hit the 20-goal plateau for the fourth time in his career with his first-period goal.
"Nice little milestone, but with that being said we have a bigger goal in mind here and that's the playoffs."
Toronto kept itself in the playoff picture with the victory, staying one point behind the New York Islanders for the second wild card in the Eastern Conference with 17 games remaining in the regular season.
"Every game's got the same magnitude, we just have to win and hope for the best," said Tyler Bozak, who matched rookie linemate Mitch Marner with two assists in the game.
"Every point you can get is critical."
A turnover in Detroit's end by Darren Helm led to the opening goal from Alexey Marchenko, who was a Red Wing until Feb. 4 when Toronto claimed him off waivers.
Helm attempted a cross-ice pass that was intercepted by Marner. Petr Mrazek made a sprawling save on Bozak after he was set up by Marner, but Marchenko came in from the blue line to grab the rebound and put it into the wide-open net for his first of the season.
Detroit coach Jeff Blashill challenged for goalie interference, but the call stood and Toronto had the lead just 1:07 into the game.
Van Riemsdyk scored five minutes later, putting home a cross-crease feed from Bozak on the power play.
"We didn't come out great, we gave them some easy chances," Detroit captain Henrik Zetterberg said. "We turned the puck over too much and it cost us a little bit from the beginning."
Nazem Kadri made it 3-0 less than six minutes into the second with his 27th of the season. After taking a pass from William Nylander inside the faceoff circle, Kadri put a wrister high blocker side on Mrazek.
Detroit went the first 16:13 of the second before registering a shot on Frederik Andersen.
Gustav Nyquist put the Red Wings on the board with his first of two in the game, taking a pass from Zetterberg and sliding a backhand past Andersen with 38 seconds to go in the second.
Nyquist made it a one-goal game before the ice even had time to dry for the third period, scoring his ninth of the season 36 seconds in.
The Wings had one last chance to tie the game with a faceoff in Toronto's zone with 5.5 seconds to play and Mrazek out for the extra attacker, but couldn't find the equalizer.
Zetterberg, who was clipped moments earlier by Connor Brown's stick and was bleeding from the left eye, was allowed to stay on the ice to take the draw. Zetterberg played the puck with his hand and was penalized on the play, ending any threat.
"(The officials) were nice enough to let me take that draw but then I did a stupid thing ... can't do that in that situation," said Zetterberg, who extended his point streak to seven games with two assists.
The Red Wings aren't mathematically eliminated from the postseason just yet, but are 12 points out and are in danger of missing the playoffs for the first time in 26 seasons - their previous absence coming back in 1989-90 under coach Jacques Demers.
To put it in perspective, current director of operations for the NHL Colin Campbell was an assistant coach with that team, Lightning general manager Steve Yzerman was their 24-year-old captain and leading scorer, former Panthers coach Gerard Gallant was a 25-year-old winger, 38-year-old Borje Salming was past his days as a Leaf and wrapping up his career in Motown and Hall of Famer Nicklas Lidstrom hadn't arrived from Sweden yet, making 22-year-old Steve Chaisson their top blue liner.
Only 10 players on Tuesday's Wings roster were alive when Detroit last missed the postseason.
"You have to take the positives, that we're battling to the end," said Zetterberg. "We're really trying all the way. If you're going to lose it's nice to lose that way than 5-0."
NOTES: Toronto's Martin Marincin, Josh Leivo, Ben Smith and Eric Fehr were healthy scratches, Connor Carrick (upper body) was also out. ... Detroit scratches were Mitch Callahan (healthy), Ryan Sproul (left knee), Jonathan Ericsson (wrist) and Jimmy Howard (knee). ... Defenseman Robbie Russo, 24, made his NHL debut with Detroit. He has spent the past two seasons with Grand Rapids of the American Hockey League. ... Leafs broadcaster Joe Bowen called his 3,000th career game.
UP NEXT:
Red Wings: Visit the Boston Bruins on Wednesday
Maple Leafs: Host the Philadelphia Flyers on Thursday.