Maple Leafs top Red Wings 4-3 for 13th straight home win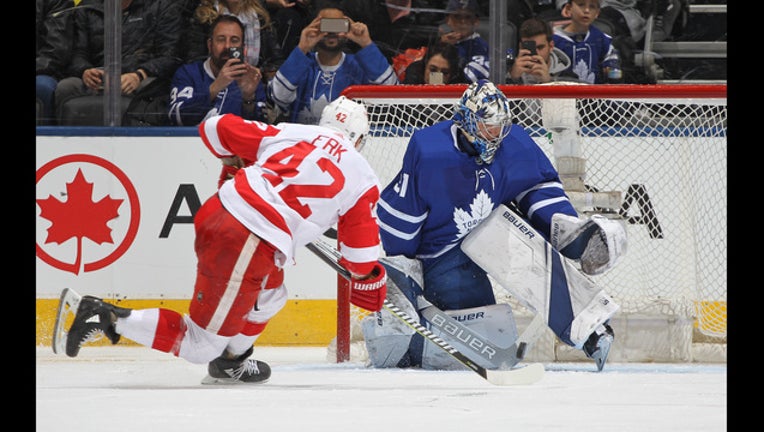 article
TORONTO (AP) - The Toronto Maple Leafs keep winning at home - even though they had to sweat a little in this one.
Nazem Kadri scored with 7:26 left in regulation, helping the Maple Leafs extend their club-record home winning streak to 13 games with a 4-3 comeback victory over the Detroit Red Wings on Saturday night.
Kasperi Kapanen, Connor Brown and William Nylander had the other goals for Toronto, which also tied a franchise mark with its 45th win.
"It was a fun game," said Frederick Andersen, who made 38 saves and tied a career high with his 35th win of the season. "A lot of different kinds of goals, but a fun game and obviously a good win for us. We stepped up a little bit in the third."
The Maple Leafs, who split a tough two-game road trip earlier this week against the Tampa Bay Lightning and Nashville Predators, trailed 3-2 early in the third period.
"Detroit played really hard and made it hard on us," Toronto coach Mike Babcock said. "We told our team before they were going to make it hard on us."
Dylan Larkin, Tyler Bertuzzi and Frans Nielsen scored for Detroit and Jimmy Howard made 25 saves.
We did tons of good stuff," Detroit coach Jeff Blashill said. "There were large moments in the game (where) we carried the play."
The Red Wings went ahead 3-2 at 4:58 of the third period when Nielsen snapped his 15th short-side over Andersen's shoulder and off the camera inside the Toronto net from a tight angle. The play was initially waved off for a goalie interference charge against Detroit's Justin Abdelkader, but was overturned after a coach's challenge.
Nylander came back and tied it 2:29 later when he stole the puck from Nick Jensen along the boards in the offensive zone and played a slick give-and-go with Auston Matthews for his 16th.
With the game tied, Kadri took a pass from Patrick Marleau over the stick of sprawling Red Wings defenseman Luke Witkowski on a 2-on-1 rush before scoring his 29th goal of the season.
"Unbelievable," Kadri said of Marleau's pass. "I knew when he took it to his backhand there was a chance it was coming across. ... Unexplainable. Obviously, he had the great vision to put it on my stick. I just tried to find a lane for him to create that pass, but it was all him."
Kadri, 27, also marveled at how the 38-year-old Marleau continues to excel at his age.
"I don't know how he does it," Kadri said. "I couldn't imagine when I'm (almost) 40 years old how I'm going to feel. He always seems to contribute, and he's just got those great genetics."
After Kadri put Toronto ahead, Andersen had a nervous moment with 3:36 to go when Gustav Nyquist's shot from outside the blue line went off his glove and landed in the crease before he covered up.
Down 1-0 after the first, the Red Wings got even at 4:32 of the second when the speedy Larkin took a stretch pass from Anthony Mantha, who had knocked down Roman Polak's point shot and raced in alone before beating Andersen between his arm and his body for his 12th.
Detroit nearly went up 2-1 moments later when Martin Frk was awarded a penalty shot after getting slashed by Toronto's Ron Hainsey on another breakaway, but Andersen closed his pads on Frk's shot.
Howard then robbed Andreas Johnsson with a desperation glove save off the rush before the Red Wings went in front when Bertuzzi tipped home his third at 9:37.
Nielsen nearly made it 3-1 a couple minutes later, but Andersen was there to make the stop from in tight.
Despite being outshot 17-4 in the period to that point, the Leafs tied it at 14:19 when Brown scored his 14th - and first in 15 games - on a tip off the post and in past Howard.
Detroit survived a 36-second 5-on-3 power play by Toronto midway through the first, but the Leafs eventually took the lead with 5:30 remaining in the period. Tyler Bozak fished out a loose puck in front before firing a no-look pass to Kapanen, who scored his seventh, and third in the last seven games.
"Resilient teams find a way," Kadri said. "That's definitely what we did tonight."
NOTES: Toronto's James van Riemsdyk assisted on Kapanen's goal to give him 11 points in his last six games with eight goals and three assists. ... Matthews, who returned to the lineup Thursday and was playing at home for the first time since suffering a shoulder injury Feb. 22, had a great chance in the opening minutes that Howard turned aside. ... Matthews missed 10 games before scoring in Toronto's 5-2 victory in Nashville on Thursday. ... The Leafs' last home loss was Jan. 22 against Colorado.
UP NEXT
Red Wings: at Montreal on Monday night.
Maple Leafs: host Buffalo on Monday night.