Michigan D faces toughest test yet with 'Nova for NCAA title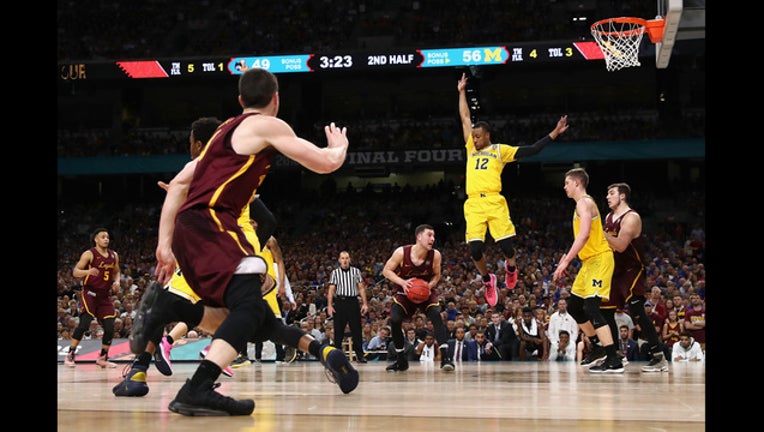 article
SAN ANTONIO (AP) - Michigan has shored up the deficiency that always held it back, becoming one of the nation's best defensive teams, not one of its worst. Out-shooting teams, no longer necessary.
This new-found stinginess has the Wolverines within reach of their first national title since Glen Rice and Rumeal Robinson rumbled through the bracket in 1989.
But their biggest test yet comes on college basketball's brightest stage: Villanova and its squadron of long-range shooters with a national title on the line.
Michigan is good on D, but if the Wildcats shot like they did against Kansas in Saturday night's Final Four nightcap, it may not matter what the Wolverines do.
"I feel bad for Kansas," Villanova coach Jay Wright said. "They're a great team, we just made every shot."
Michigan (33-7) reached the title game by taking away Cinderella's slipper, sending Loyola-Chicago and Sister Jean home a game short of completing their divine run.
Villanova bombed its way past a blueblood to get there.
The Wildcats (35-4) turned a Final Four showdown with fellow No. 1 seed Kansas into a laugher, dropping in 3-pointers like they were playing pop-a-shot in the 95-79 rout. Villanova made a Final Four-record 18 3s in a record-matching 40 attempts, its second trip to the title game in three seasons never in doubt.
That's an NCAA record 442 from the arc this season - and they're still counting.
"That's as good a team as we've played that I can remember," Kansas coach Bill Self said.
The third-seeded Wolverines (33-7) had a bit more trouble against the bracket's favorite underdogs, overcoming a frightful first half to send nun-turned-motivator Sister Jean Delores Schmidt headed to the exits early.
The Wolverines trailed the bracket-rambling Ramblers by seven at halftime, found the right gear in the second and have a title-game appearance no one outside of Ann Arbor saw coming when they were middling in the Big Ten just a month ago.
Now they're done playing the favorite for a night, it's back to the underdog role against Villanova.
"The whole villain thing, you guys love to write about it, talk about it, but at the end of the day it's just basketball, you know?" Michigan big man Moe Wagner said. "And we just try to win. That's all we do.
Their next task: Find some way to slow Villanova's 3-ball roll.
The Wildcats were one of the most proficient 3-point shooting teams during the regular season and upped the 3 ante in the NCAA Tournament, knocking down a record 65 and counting. Villanova broke the Final Four record with 13 in the first half and literally shot the lights out by the second, when some scoreboards and upper-level lights briefly went out and darkened the upper decks.
"It was one of those nights where we were able to make shots and that's what the lead looks like," said Villanova's Jalen Brunson, who had 18 points and six assists.
Michigan may have a better answer than the Jayhawks had.
Tired of watching victories fizzle away through defensive deficiencies, coach John Beilein made a philosophical change, putting an emphasis on that side of the ball.
It's worked out well.
Michigan had the nation's No. 3 defense efficiency-wise and put Loyola on lockdown in the second half, forcing the Ramblers into a rash of turnovers to race away.
"We always talk about getting the domino going," Loyola coach Porter Moser said. "They closed that gap of opportunity in a hurry."
Villanova has a way of doing that, too.
The Wolverines may have an answer in Wagner.
The German big man carried Michigan through its struggles in the first half by using his size advantage against the smaller Ramblers, snagging five offensive rebounds to notch a double-double by halftime.
Wagner finished with 24 points and 15 rebound to join Hakeem Olajuwon and Larry Bird as the only players to have at least 20 points and 15 rebounds in a national semifinal game.
"He's unbelievable. He's one of those dynamic scorers from the post, he's a great passer, made some unbelievable passers today with both hands," Villanova assistant coach Ashley Howard said. "He's a guy they can play through. We'll watch tape, try to figure out the best way to approach going into Monday night's game. It's going to be a challenge and we're looking forward to it."