Michigan St beats No. 23 Rutgers 70-57 with balanced scoring
EAST LANSING, Mich. - EAST LANSING, Mich. (AP) — A.J. Hoggard had 16 points and seven assists to help four teammates reach double figures, lifting Michigan State to a 70-57 win over No. 23 Rutgers on Thursday night.
The Spartans (13-6, 5-3 Big Ten) overcame an awful start, trailing by nine in the opening minutes, to lead 36-30 at halftime and by as much as 16 points in the second half.
The Scarlet Knights (13-6, 5-3 Big Ten) pulled within two points twice, but gave up seven straight points to trail 50-41 midway through the second half, ending their comeback hopes.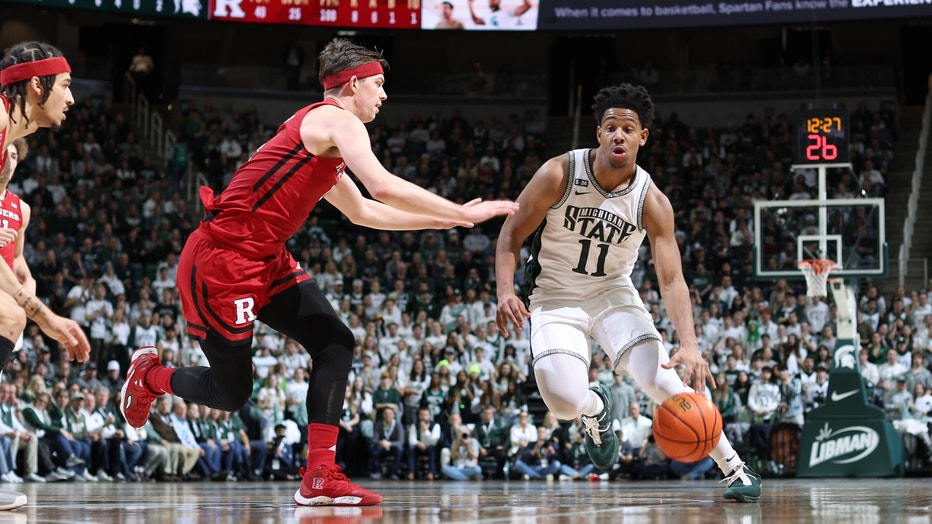 EAST LANSING, MI - JANUARY 19: A.J. Hoggard #11 of the Michigan State Spartans drives past Paul Mulcahy #4 of the Rutgers Scarlet Knights during the second half at Breslin Center on January 19, 2023 in East Lansing, Michigan. (Photo by Rey Del Rio/Ge
Michigan State freshman reserve Jaxon Kohler had career highs with 12 points and 11 rebounds. Joey Hauser scored 13 points, Tyson Walker had 12 and Jaden Akins scored 11 for the Spartans, who have won eight of their last 10 games.
Rutgers' Clifford Omoruyi had 12 points and 12 rebounds. Paul Mulcahy scored 12 and Caleb McConnell added 11 points for the Scarlet Knights, who had won seven of their previous eight.
BIG PICTURE
Rutgers: Despite the setback, the defensive-minded and tough team is on pace to put the program into three straight NCAA Tournaments for the first time in school history.
Michigan State: Hall of Fame coach Tom Izzo is tough to please, but even he has to be happy with how competitive his thin team has been this season.
POLL IMPLICATIONS
Rutgers is in the AP Top 25 for the first time this season, but doesn't play again this week and will likely fall out of the poll.
UP NEXT
Rutgers: Hosts Penn State on Tuesday night.
Michigan State: At Indiana on Sunday.