Michigan State Falls To Kansas 90-70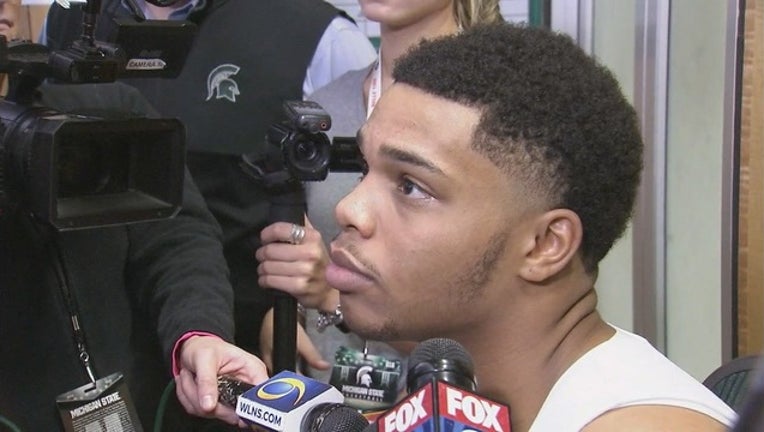 article
TULSA, Okla. (AP) - Everything about Josh Jackson's demeanor screamed this game was personal, from the back-and-forth chirping with childhood friend Miles Bridges to his emphatic late-game dunk and celebration.
Playing against the school he grew up cheering for, Jackson channeled that emotion into a dominating performance to help top-seeded Kansas advance to the Sweet 16 for a second straight year with a 90-70 victory over Michigan State on Sunday.
The standout freshman scored 14 of his 23 points in the second half, finishing 9 of 16 from the field and ousting a Spartans team from the NCAA Tournament that he very nearly joined before signing with the Jayhawks.
"I knew it was going to be a fun game before it even started," Jackson said. "So, it was just really fun to be able to go out there and play against those guys and I'm really proud to see them here and having success."
Frank Mason III added 20 points for the top-seeded Jayhawks, who have advanced to the second weekend of the NCAA Tournament in nine of coach Bill Self's 14 seasons.
But it was Jackson who shook off misses on his first three shot attempts - including an embarrassing failed dunk attempt - who shined the most in his second straight dominating performance in the tournament.
And he did so while matched up for much of the game against Bridges, his former elementary school friend in Michigan.
"It's always good when going against Josh," Bridges said. "It gets a little physical at times. We compete every time we play against each other. He's a great player, so it's always good playing against him."
Bridges finished with 22 points to lead Michigan State, doing so despite leaving the game briefly in the first half with a hip pointer before returning.
Nick Ward also finished in double figures with 13 points and Joshua Langford had 10 for the Spartans, who saw their lower-seeded NCAA Tournament magic fail against the high-powered Jayhawks who shot 53.1 percent (34 of 64) in the win.
"Josh is a hell of a player," Michigan State coach Tom Izzo said. "... We wanted to beat his brains in today. I'm sure the feeling was mutual. But there's respect, and respect means there will be a friendship when it's over."
Michigan State entered Sunday following a dominating win over Miami in the opening round, a victory that improved the school to 14-10 as a lower seed in the NCAA Tournament under Izzo - the most wins by a lower-seeded school in tournament history.
The Spartans certainly played like anything but an underdog well into the second half against the regular-season Big 12 Conference champions, closing Kansas' lead to 54-53 following a basket by Alvin Ellis.
Jackson took over from there, scoring eight of the next 10 points for the Jayhawks as they pushed their lead back to 64-57. He put the exclamation point on his strong second half with a drive down the middle of the lane and powerful one-handed dunk with 2:05 remaining.
"We've got three or four guys that can all do that, you know," Self said. "And Josh deserves a ton of credit. He was great."
BIG PICTURE
Michigan State: The Spartans played this NCAA Tournament with only three players who saw action in last year's opening-round loss to Middle Tennessee State. Despite that lack of experience, their strong showing in Friday's win over Miami and for much of the game against the favored Jayhawks helped ease the frustration of what had been a largely up-and-down season before the tournament.
Kansas: The Jayhawks put any lingering concerns about their Big 12 Conference Tournament loss to TCU to rest with two convincing wins to open the tournament. In particular, Jackson answered questions about any possible distractions following a one-game suspension in the conference tournament with two of his most efficient games of the season.
TIP-INS
Devonte' Graham scored 12 of his 18 points in the second half for the Jayhawks, while Landen Lucas finished with 10 points and 11 rebounds. Graham was 7 of 10 from the field, including 4 of 6 on 3-point attempts.
UP NEXT
The Jayhawks advance to next week's Sweet 16 to face fourth-seeded Purdue in Kansas City.