Michigan unlikely to have answer on Patterson by practice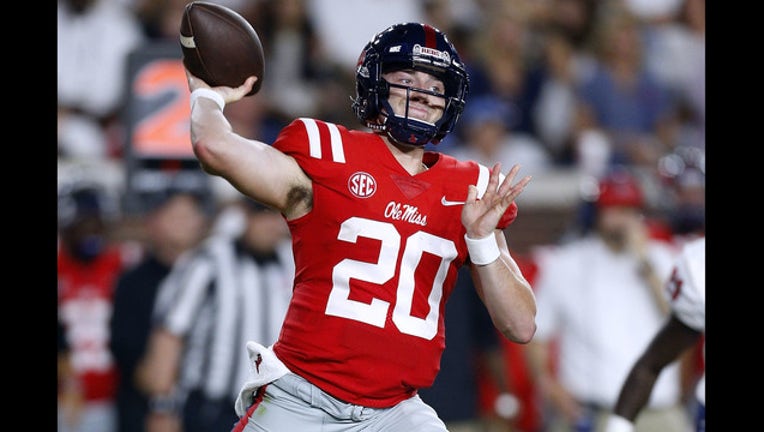 article
Michigan is unlikely to know whether Mississippi transfer Shea Patterson will be eligible to play next season by the time it begins spring practice March 23.
Attorney Tom Mars, who is advising Patterson, said an NCAA ruling cannot come until after Ole Miss has the opportunity to respond to Michigan's application for a waiver. Mississippi has 10 business days to submit a response, starting from when it receives the information from Michigan, and the clock on that was expected to start Wednesday.
"I'm optimistic it will be sent later today, and I think that's highly likely," Mars told The Associated Press in a text message Wednesday.
Meanwhile, Mars said, other schools that have accepted five of Patterson's Ole Miss teammates as transfers were planning to see how his case plays out before filing similar requests with the NCAA. Mars said it was his understanding that Michigan had already sent the information to Ole Miss during its original submission to the NCAA.
Ole Miss athletic department spokesman Kyle Campbell said the school would not comment on the matter. Michigan directed questions to the NCAA.
NCAA spokesman Christopher Radford said the association could not comment on the process.
Patterson, a former five-star quarterback recruit from Toledo, Ohio, decided to transfer from Ole Miss after the NCAA penalized the football program with sanctions for rules violations under former coach Hugh Freeze. The penalties included a bowl ban for the 2018 season.
The NCAA committee on infractions ruled that Mississippi's rising seniors would be allowed to transfer without sitting out 2018. Patterson and five other underclassmen are hoping for an NCAA waiver to be eligible immediately after transferring. With Mars' assistance, the players and their families are claiming they were misled during their recruitment by Ole Miss coaches and staffers about the nature of the NCAA's investigation into the football program, which already was underway.
The other transferring former Ole Miss players who Mars has been advising are receivers Tre Nixon (to Central Florida) and Van Jefferson (to Florida), defensive back Deontay Anderson (to Houston), offensive tackle Jack DeFoor (Georgia Tech) and linebacker Jarrion Street (UAB).
Mars, who represented former Mississippi coach Houston Nutt in a defamation lawsuit against the school that has been settled, said he has provided the families of the players and compliance departments at their new schools the digital equivalent of tens of thousands of pages of documentation to support the players' cases.
Mars said none of those schools filed their waiver applications yet; instead, they had been choosing to let the process play out with Patterson.
"I pointed out to all the parents in the last couple of weeks that it might actually be an advantage to the school that their son has transferred to in waiting to see what Mississippi's response would be to the Shea Patterson waiver," Mars said. "The idea being that you get a free preview of what Mississippi says in response to the Shea Patterson waiver. You can adapt the waiver application and the supporting materials to deal with whatever objections they have, if they have any."
All the players are allowed to practice with their new schools this spring.
Patterson played three games as a freshman in 2016 and passed for 880 yards and six touchdowns. Last season, he was one of the most productive passers in the country though the first seven games of the season, passing for 2,259 yards, 17 touchdowns and interceptions before tearing a ligament in his right knee.
If eligible next season, he is expected to compete with Brandon Peters and Dylan McCaffrey to be Michigan's starter.