Michigan's Beilein says Fisher should be welcomed back home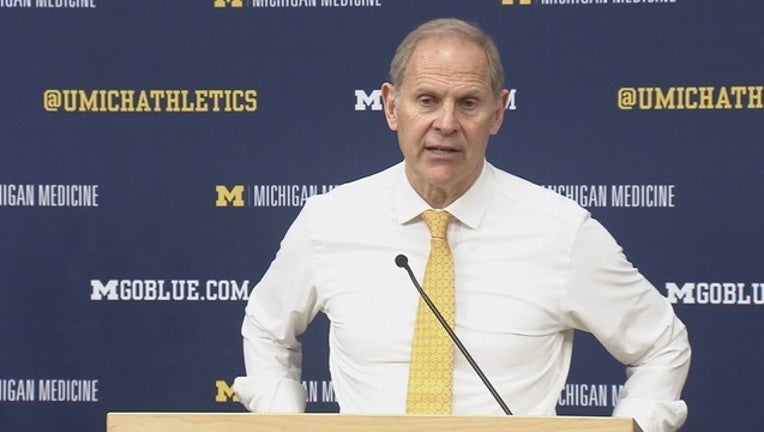 article
WICHITA, Kan. (AP) - John Beilein believes it's time for Steve Fisher to assume his rightful place in Michigan lore.
It was Fisher who led the Wolverines to the 1989 national championship, then brought together the Fab Five for two more runs to the title game before becoming persona non grata around the school's Ann Arbor campus following a scandal that led to his firing more than two decades ago.
Those title game appearances and 113 victories overall were vacated as part of the fallout, and many believe Fisher remains out of the Hall of Fame because he was implicated in the booster case.
Fisher retired last season after 18 seasons coaching San Diego State, building a perennial winner that is back in this year's NCAA Tournament under his longtime assistant, Brian Dutcher. And if No. 3 seed Michigan can beat Montana in the opening round of the West Regional, and the 11-seed Aztecs beat Houston in their game, the schools will meet in the second round.
"Steve and I have been friends, ever since he was the Michigan coach," said Beilein, who has led the Wolverines since the 2007-08 season. "He's gone out of his way over and over again for me, when I'm on the road traveling, with the Nike trips. We've spent a lot of time together."
Asked whether he thinks a reunion could happen, he replied: "I know that's in the plans."
Beilein wouldn't elaborate beyond saying, "I'd rather keep it right there." But he was clearly pleased that the question was even broached, offering him an opportunity to discuss his longtime friend and the role he might play in a program that will be forever tied to him.
Fisher had spent nearly a decade coaching high schools, and a few years as an assistant at Western Michigan, when he was hired in 1982 as an assistant for the Wolverines. He continued in that role until 1989, when Bill Frieder was fired on the eve of the NCAA Tournament for taking the Arizona State job.
Football coach-turned-athletic director Bo Schembechler famously announced that "a Michigan man is going to coach Michigan," and promoted Fisher ahead of the opening round.
He wound up leading the Wolverines to the national championship.
Fisher built Michigan into a powerhouse, with the dazzling quintet led by Jalen Rose, Chris Webber and Juwan Howard reaching back-to-back title games. But it was that group that also led to his downfall, when a lengthy investigation into a booster and bookmaker found that some $600,000 had been funneled to players over the years.
Fisher denied any knowledge of the misconduct but was swept up in the fallout, though the NCAA ultimately cleared him of wrongdoing other than allowing booster access to his players.
Still, the vacated wins and championships made Fisher a college basketball pariah for years, and certainly did not sit well at Michigan. He kept many supporters, of course, but many more turned on him, even after he took the San Diego State job and built another winning program.
Twice he took the Aztecs to the Sweet 16, winning more than 30 games each of those seasons.
Fisher wound up winning nearly 400 games, not counting those that were vacated, before handing Dutcher a loaded roster prior to this season. Many believe that should be enough for the Hall of Fame, but Fisher was left off the list of 13 finalists when it was announced last month.
Perhaps being welcome back by the school where he shot to stardom would help his cause.
"He's a close friend and he did a fantastic job," Beilein said, "and we're always thinking about how we can bring former coaches and players back. He's been coaching at San Diego State, so he hasn't been able to come back for any reunions, but that's something we hope for in future."