Minnesota Sneaks By Michigan State In Big 10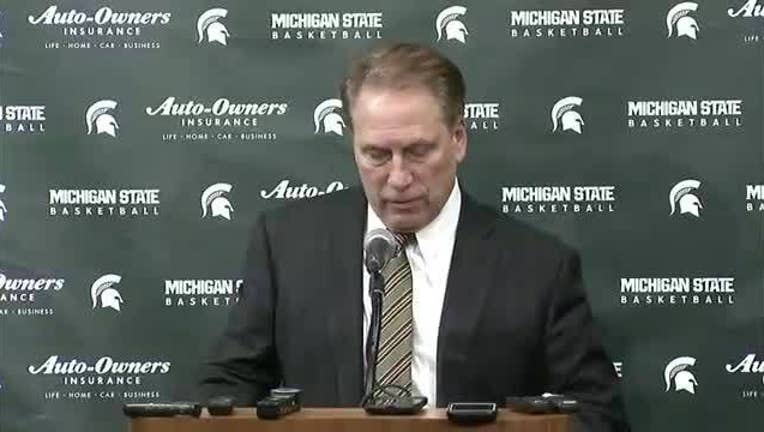 article
WASHINGTON (AP) - Once Reggie Lynch put his tooth back into place, he and Minnesota couldn't be stopped.
Lynch returned after taking an elbow to the face and scored 16 points to lead fourth-seeded Minnesota to a 63-58 victory over fifth-seeded Michigan State on Friday in a physical Big Ten Tournament quarterfinal. While Lynch was back quickly, Minnesota lost starting guard Akeem Springs to an Achilles tendon injury that could be season-ending.
Lynch, the Big Ten defensive player of the year, was bloodied from contact with Michigan State's Nick Ward but missed only 1:19 and sparked an 8-0 run that helped the Golden Gophers (24-8) move on to face Michigan in the semifinals.
"I got hit in the face a couple times before the tooth got knocked out, so I knew what I was getting into," Lynch said, his right front tooth back in place. "The tooth, it just shows how these games are, especially this time of year. It's a battle every game you play."
Lynch was a force at each end of the court against Michigan State (19-14), which can bang and bruise with the best of them. Even with 20 points from freshman Miles Bridges, the Spartans couldn't overcome shooting 20 percent from the 3-point line and now must sweat out Selection Sunday on the bubble.
Coach Tom Izzo pointed to his team's youth as the culprit in the loss.
"I just felt like our players did not realize the sense of urgency is needed for 40 minutes when you play in one-and-done time," Izzo said. "Maybe we'll do a better job if we get to play again in a tournament."
Minnesota will play again Saturday against Michigan but very well may be without Springs, who left with four minutes remaining and came back to the bench on crutches. Springs had tape around his right Achilles tendon in the locker room, and coach Richard Pitino said doctors believed it's popped and not looking good.
"It's a huge blow," Pitino said. "If it is the case, we'll be here for him. Our guys, they need to rally around him because he deserves that."
On Friday, Minnesota players rallied around Lynch, one of the nation's top shot blockers, who had five blocks and also dominated offensively in the post.
"It showed us that we had to pick it up. He came out and showed us the toughness that we needed to win," Mason said. "Once we saw him come back from that we said: 'Let's pick it up. Let's win it.' that motivated us."
Amir Coffey added 13 points for Minnesota, which had four players in double figures and committed only nine turnovers. Winning a tight game like this was a stark contrast from Minnesota's 33-point loss to Illinois in the Big Ten Tournament a year ago and shows how far the team has come.
"I walked out of the elevator today, there was our band, our cheerleaders. I don't remember anyone there playing songs last year," Pitino said. "This is what March is supposed to be all about."
BIG PICTURE
Michigan State: Is squarely on the NCAA Tournament bubble short of 20 wins and will be at the mercy of the selection committee. "I think we deserve to go, but it's out of my control," guard Matt McQuaid said.
Minnesota: Entering with the No. 20 RPI, NCAA Tournament seeding is only improving with each victory by Pitino's group, which has experienced an incredible turnaround after going 8-23 last season.
UP NEXT
Michigan State: Awaits Selection Sunday.
Minnesota: Faces Michigan in the early semifinal Saturday afternoon as Mason faces Wolverines star point guard Derrick Walton Jr. Minnesota beat Michigan 83-78 in overtime Feb. 19 in the teams' only meeting.