MSU No. 9, Michigan No. 23 in new AP Top 25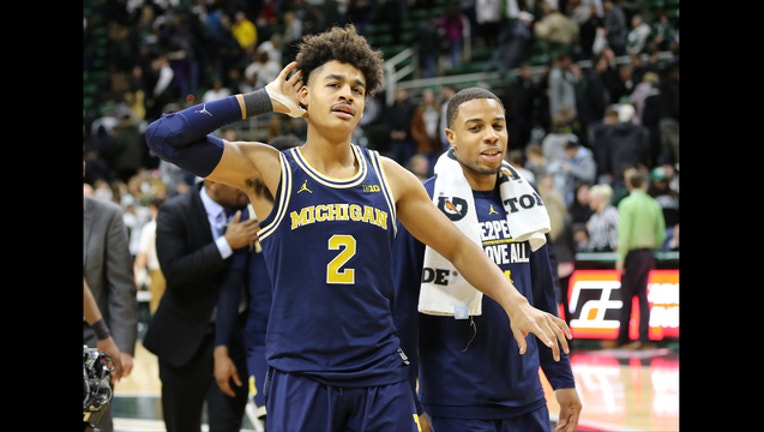 article
Duke was the ACC's preseason favorite and North Carolina the defending national champion.
The conference leader and highest-ranked team so far: Virginia.
Picked to finish sixth in the ACC preseason poll, the Cavaliers (15-1, 4-0) have been the conference's most consistent team so far this season behind their still-stifling defense.
Virginia (16-1, 5-0 ACC) moved up a spot to No. 2 and received a first-place vote in the AP Top 25 released on Monday, its highest ranking since reaching No. 2 in the 2014-15 season.
The Cavaliers, No. 1 in KenPom.com's defensive efficiency rankings, beat Syracuse and North Carolina State last week.
"They've taken care of business, so they're in this spot," Virginia Coach Tony Bennett said of his players. "Our pillar in our program is all about humility. It just means knowing who you are. I've said this before. They're very clear on how they have to play. They do it together."
Villanova remained at the top spot for the second straight week, receiving 63 of 65 first-place votes from a media panel. The Wildcats (16-1, 4-1 Big East) moved atop the poll for the second time this season after Michigan State's loss to Ohio State last week and stayed there after wins over No. 10 Xavier and St. John's .
Purdue had the other No. 1 vote and moved up two spots to No. 3, its highest ranking since reaching No. 3 in 2009-10 after extending its winning streak to 13 games with victories over Michigan and Minnesota . Matt Painter's Boilermakers (17-2, 6-0 Big Ten) are off to their best start since 1987-88 and best in the Big Ten since winning the first eight games of 1989-90.
"They're playing with a great purpose," Minnesota coach Richard Pitino said. "They coach themselves. Matt's a terrific coach, but you can tell they're coaching each other."
Oklahoma and star freshman Trae Young continued their rise through the poll, moving up five spots to No. 4. The Sooners (14-2, 4-1 Big 12) have their highest ranking since reaching No. 1 in 2015-16, when they reached the Final Four.
Duke moved up two spots to round out the top 5. West Virginia dropped four spots to No. 6 after losing to No. 8 Texas Tech.
WILD BIG 12
The Big 12 has the best RPI of any conference and eight teams in the KenPom top 50. Its teams also have been beating up on each other since the conference season started just after Christmas.
West Virginia (15-2, 4-1 Big 12) reached its highest ranking since 1959 a week ago, only to lose to the Red Raiders 72-71 in Lubbock. Texas Tech lost to Oklahoma on Tuesday, creating a logjam at the top of the Big 12 between those three teams and No. 10 Kansas, which moved up two spots this week following wins over Iowa State and rival Kansas State.
No. 24 TCU remained in the AP Top 25 despite losing to Texas in double overtime and by five to Oklahoma last week. The Horned Frogs (13-4, 1-4) have lost four Big 12 games by a combined 11 points.
RISING AND FALLING
Oklahoma, No. 15 North Carolina and No. 17 Auburn had the biggest jumps in the poll, moving up five spots each.
TCU had the biggest fall, losing eight spots, followed by No. 25 Miami's seven-place drop to No. 25 following a loss to No. 20 Clemson. Arizona State dropped five spots to No. 16 after splitting games against the Pac-12's Oregon schools.
MOVING IN
No. 22 Ohio State is ranked for the first time since reaching No. 12 during the 2014-15 season after victories over Maryland and Rutgers last week. The Buckeyes also knocked Michigan State from the No. 1 ranking with an 80-64 victory on Jan. 7.
Michigan moved into the poll for the first time this season at No. 23 after beating Michigan State on Saturday.
DROPPING OUT
Creighton dropped out of the poll from No. 25 after a loss to No. 10 Xavier. Florida fell out from No. 23 after losing to Louisville.