NASCAR star Dale Earnhardt Jr. to retire at end of season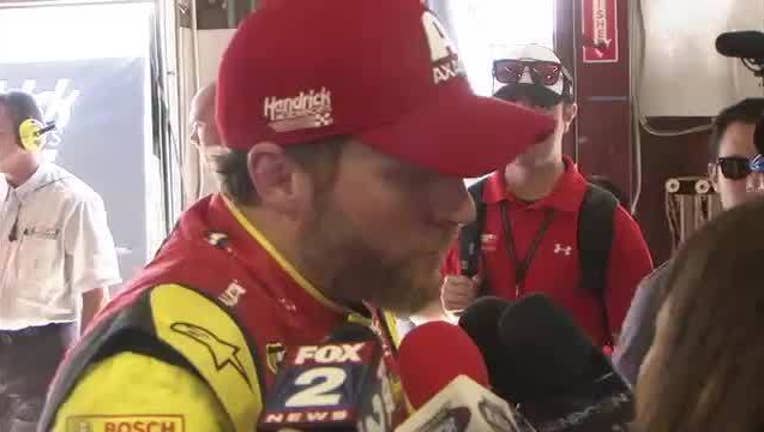 CHARLOTTE, N.C. (AP) - Dale Earnhardt Jr. abruptly announced his retirement at the end of the season Tuesday, a decision that will cost NASCAR its most popular driver as the series scrambles to rebuild its fan base.
Colorful, candid and talented, Earnhardt has been plagued by concussions the last several years and he missed half of last season recovering from a head injury. He had delayed contract talks on an extension to drive the No. 88 Chevrolet, and the two-time Daytona 500 winner will call it quits when the season ends in November.
Hendrick Motorsports said Earnhardt informed his team of his decision early Tuesday, though he first discussed retirement with his boss on March 29. Earnhardt and team owner Rick Hendrick scheduled an afternoon news conference to discuss his decision.
"Dale Jr. has had a huge impact on our sport - and you can see that every week with his legion of fans and Junior Nation," Jeff Gordon said in a statement released by Fox Sports, where he now works as an analyst after spending much of last season filling in for the injured Earnhardt. "He has a tremendous sense of the history of NASCAR and, while he shares his father's name, Dale has made a name for himself with his accomplishments in racing. While we will miss Dale on the track next year, he loves this sport, those working in the industry and the fans too much to ever be too far away."
A third-generation racer, Earnhardt turns 43 in October, is newly married and has said he wants to start a family. He has become a vocal advocate for research into sports-related brain injuries, and the hit he took last June led to months of rehabilitation that gave him a new perspective on his life. The concussions left him with nausea, double vision, anxiety and other symptoms that he has discussed in great detail.
His wife, Amy, posted on Twitter shortly after the announcement: "I'm so proud of Dale for working so hard to get back and even prouder for his courage & self awareness to make the decision to retire. I'm sure God has many other great plans for him and us!"
The news was the latest blow to the stock car series, which had lost Jeff Gordon and Tony Stewart to retirement the past two years. Now Earnhardt, the last of the true country boys, is following their exit. Born and raised in North Carolina, Earnhardt has deep roots in NASCAR. His late Hall of Fame father, Dale, won seven titles and, known as "The Intimidator," was one of the greatest drivers in NASCAR history. Earnhardt's grandfather, Ralph, ran 51 races at NASCAR's highest level.
Earnhardt has won NASCAR's most popular driver award a record 14 times. He has 26 career Cup victories and is a two-time champion of NASCAR's second-tier series. But the son of the late champion has never won a Cup title. The Kannapolis, North Carolina, native in his 18th full-time season at the Cup level and he made his 600th career series start earlier this year.
Earnhardt has driven for Hendrick since 2008 after a nasty split with Dale Earnhardt Inc., the team founded by his father but run by his stepmother. He was unhappy with the direction of DEI since his father's 2001 death in a last-lap accident at the Daytona 500, and a frosty relationship with his stepmother led him to bolt to NASCAR's most powerful team.
Earnhardt is not off to the greatest start this season, with only one top-five finish so far. He took another hit Monday at Bristol Motor Speedway when a mechanical issue caused him to crash.
"I feel good. We'll get in here and find out," he said as he walked to the care center.
After his long layoff last season, Earnhardt discussed his comeback before this year's Daytona 500 in February and said whenever he made his decision to retire it would be "the right thing to do." He also said he wanted time to become confident about his health before considering a new contract.
"For the longest time, I let racing be who I was instead of what I did," he added. "I've got a whole other life beyond driving, and I really believe that. I have got a lot of things I'd love to do. Outside of having a family, there's a lot of things in business that I'd love to see if I can succeed at. I think we got a glimpse of what that would be like. It looks pretty awesome."