NFC North-leading Lions rally from 12-point deficit late to beat Bears 31-26 on Montgomery's TD run
DETROIT - DETROIT (AP) — Jared Goff was having perhaps his worst game in three years with the Detroit Lions — whose fans even booed him at times — until it was time to win.
Goff threw a 32-yard touchdown pass to Jameson Williams with 3:06 to go and connected on five throws to set up David Montgomery's go-ahead 1-yard touchdown run with 29 seconds left, lifting the Lions to a 31-26 comeback victory over the Justin Fields-led Chicago Bears on Sunday.
"It was not my best ball for about 3 1/2 quarters," Goff said. "We're a resilient crew. We're tough. We don't back down."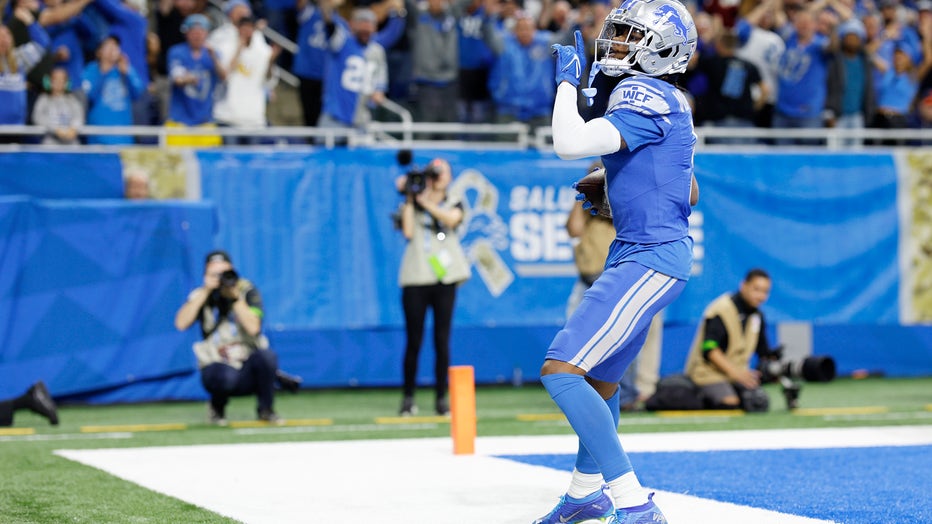 DETROIT, MICHIGAN - NOVEMBER 19: Jameson Williams #9 of the Detroit Lions celebrates a fourth quarter touchdown during a game Chicago Bears at Ford Field on November 19, 2023 in Detroit, Michigan. (Photo by Mike Mulholland/Getty Images)
The NFC North-leading Lions (8-2) overcame four turnovers, including Goff's season-high three interceptions, and a 12-point deficit late in the fourth quarter to win.
"Down two scores, that's when he's at his best," coach Dan Campbell said. "I think that speaks volumes."
It also says a lot that the Motor City hasn't witnessed a season like this by the state's most popular team in more than a half-century.
Detroit has its best record through 10 games since 1962, living up to the preseason hype and giving the franchise a shot to win its first division title in three decades.
"We got a chance to do something special," Campbell said.
The Bears (3-8) blew chances to win consecutive games for the first time in nearly two years against one of the NFL's better teams.
"That's probably a top-five team in the league, maybe top three, and we know we should have beaten them," Fields said.
Fields mostly played well in his first game in a month, but slightly overthrew Tyler Scott on a deep pass late in the game on a play that could have potentially help to seal the victory.
"I was very thankful on that long throw at the end," Campbell said.
The third-year quarterback also fumbled on his last snap when Aidan Hutchinson sacked him and the football went out of the end zone for a safety.
Fields, who was out with a dislocated right thumb, threw a 39-yard touchdown pass to DJ Moore late in the third quarter. Cairo Santos made two of his four field goals in the fourth quarter to give the Bears a 26-14 lead with 4:15 remaining.
Chicago coach Matt Eberflus stood by his decisions to kick field goals instead of going for it on fourth-and-1 from the Lions 23 and fourth-and-5 from their 21.
"The first one put us up nine and the second one meant they had to score two touchdowns," Eberflus said. "We just didn't make plays at the end of the game."
Fields matched a career high with 18 carries and had 104 yards rushing. He was 16 of 23 for 169 yards with a touchdown.
Goff bounced back from a shaky start to complete 23 of 35 passes for 236 yards, including a 7-yard pass to Amon-Ra St. Brown that gave the Lions a 14-10 lead late in the first half. He threw more than two interceptions for the first time since 2019 when he played for the Los Angeles Rams.
"He never got frazzled, and really, I don't know that I've ever seen him get frazzled," Campbell said. "He just wants to punch himself in the face sometimes."
Montgomery ran for 76 yards on 12 carries against his former team that allowed him to leave in free agency to sign with the Lions earlier this year.
"I know this game meant a little extra to him," Goff said.
WHAT A FEAT
Hutchinson, the No. 2 pick overall last year out of Michigan, is the first NFL player with 15 sacks and four interceptions in his first two seasons.
FACE IN THE CROWD
NFL Commissioner Roger Goodell attended the game and was booed when introduced to the crowd by the public-address announcer during a timeout.
INJURIES
Bears: D'Onta Foreman (ankle) and C Lucas Patrick (back) were hurt during the game. Foreman ran for a 1-yard touchdown on the opening drive
Lions: OG Jonah Jackson (wrist, ankle) was inactive one week after he played for the first time in a month.
UP NEXT
Bears: Play at Minnesota on Monday, Nov. 27.
Lions: Host Green Bay on Thursday.