No. 16 Purdue Rolls Past Michigan State 80-63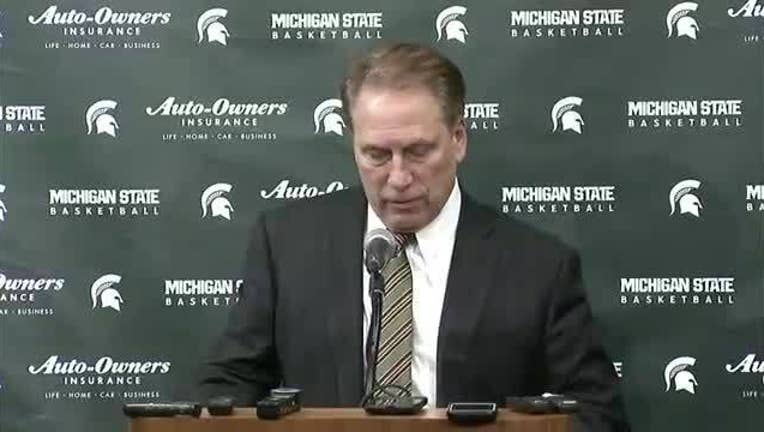 article
WEST LAFAYETTE, Ind. (AP) - Purdue leads the Big Ten Conference, thanks to 6-foot-8 power forward Caleb Swanigan and 7-2 center Isaac Haas.
Swanigan had 24 points and 15 rebounds for his 23rd double-double of the season, Haas added 18 points and the No. 16 Boilermakers beat Michigan State 80-63 on Saturday.
The big men combined to make 15 of 23 field goal attempts and 11 of 12 free throws against the Spartans.
"Obviously, our size has been a big factor," said Haas, who is 17 of 22 from the field in the Boilermakers' last two games. "We're just keeping it simple, scoring when we are 1-on-1 and passing when we get doubled."
The Boilermakers (22-5, 11-3) took a half-game lead over Maryland and Wisconsin. The Terrapins and Badgers, who play Sunday in Madison, are 10-3.
Swanigan, a Fort Wayne, Indiana, native who first committed to Michigan State before flipping to Purdue, had 25 points and 17 rebounds on Jan. 24 when the Boilermakers defeated Michigan State (16-11, 8-6) in East Lansing.
Michigan State got 14 points from Miles Bridges, who had 33 in the January loss to Purdue.
Michigan State guard Eron Harris sustained a right leg injury with 9:18 remaining and was taken to the locker room on a stretcher. After the game, Spartan coach Tom Izzo said the injury is believed to be a sprained right knee, but specifics will not be known until after an MRI is performed.
Two free throws by Dakota Mathias, a short jumper from Spike Albrecht and a dunk by Haas capped a 6-0 run and gave the Boilermakers a 57-39 lead with 11:47 remaining, prompting a Michigan State timeout.
"I told Matt (Painter) before the game that they might be playing the most consistent basketball in the Big Ten and that they also are one of the most consistent teams in the nation," Izzo said. "Their defense is getting a little better."
Swanigan, who has established the school single-season rebounding record with 352, said the Boilermakers took advantage of foul trouble to Spartan big men Nick Ward and Kenny Goins.
"It's just the way we play," Swanigan said. "We feed the ball inside. We look to score. In the post is the hardest place to play defense because we're close to the basket. We try to take advantage of that."
That's a trait Painter enjoys about his big men.
"With Caleb, other than rebounding, passing is his greatest asset," the Purdue coach said. "He and Isaac are doing a good job keeping it simple right now."
Consecutive three-point plays from Vince Edwards and Carsen Edwards extended the Purdue lead to 45-29 with 18:04 remaining. Vince Edwards joined the 1,000-point club with that three-point play.
Purdue outscored Michigan State 15-6 during the first half's final 7:51 to lead 37-26, shooting 57.7 percent (15 of 26) and getting 11 points, six rebounds and two assists from Swanigan.
The Boilermakers outscored the Spartans 20-10 in the paint before halftime.
BIG PICTURE:
Michigan State: While the Spartans have been much better in February and should make the NCAA Tournament, their youth continues to show on the road, where they were beaten 86-57 on Feb. 7 at Michigan before struggling at Purdue.
Purdue: The Boilermakers are playing their best basketball of the season, using their superior size to win a fifth consecutive Big Ten game for the first time since the 2010-11 season.
POLL IMPLICATIONS
With five consecutive Big Ten victories and a share of the Big Ten lead with either Maryland or Wisconsin after those two play Sunday in Madison, Purdue likely will climb in this week's AP Top 25 poll.
SAD DAY
Izzo feels horrible about Harris's right knee injury.
"The kid has been playing his tail off and had become a better leader," Izzo said. "He'll be out for a while yet we don't know how long. I guess we will find that out Monday."
EMBRACING THE TASK
Purdue junior forward Vince Edwards limited Michigan State's Miles Bridges to 14 points Saturday after Bridges scored 33 against the Boilermakers on Jan. 24 in East Lansing.
"At their place, he really got going," Edwards said. "When you let a good player get his head up, he is going to make shots. I was just trying to take up space. To hold him to 14 is huge."
UP NEXT:
Michigan State: Plays host to Nebraska on Thursday.
Purdue: Travels to Penn State for a Tuesday game.