No. 2 Michigan St. rallies from 27 down, beats Northwestern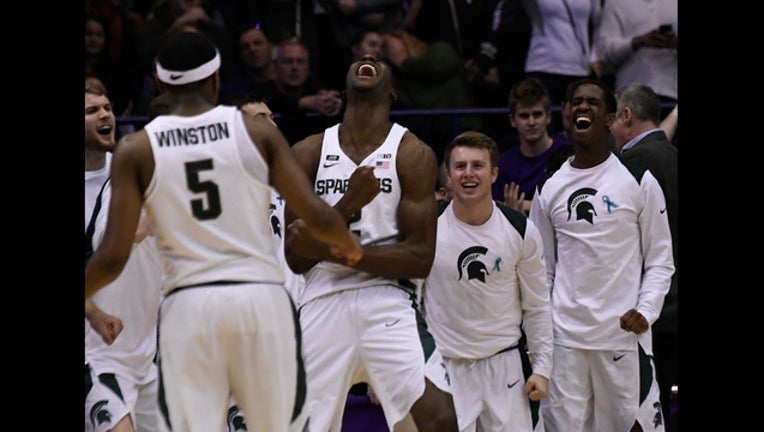 article
ROSEMONT, Ill. (AP) - Michigan State coach Tom Izzo had a simple request after his team staged one of the biggest rallies in NCAA history: Try not to make it a 28-point comeback next time.
Cassius Winston scored 17 points, and the second-ranked Spartans rallied from 27 down on Saturday to beat Northwestern 65-60 and extend its winning streak to 10 games.
Nick Ward added 15 points and 10 rebounds. Miles Bridges hit four free throws in the final minute, and the Spartans (26-3, 14-2 Big Ten) used a huge second half to pull out the win when they looked like they were headed to a stunning blowout loss.
Michigan State was down 22 at the break after trailing by as much as 27. Duke holds the record for the largest halftime deficit overcome in a victory, rallying from 29 down to beat Tulane on Dec. 30, 1950.
"There can't be a much better comeback," Izzo said. "I told my team after, we're setting some new records at Michigan State - best start, best this, best that. And this might be the greatest comeback. The other records, I appreciate. This one, I really don't. ... I hope they don't try to go 28 next game."
Vic Law cooled off after a blistering start to finish with 21 points, and Northwestern (15-13, 6-9) made just 3 of 26 field goals in the second half.
"I'm just disappointed for the guys," coach Chris Collins said. "I thought our effort was worthy of winning. I thought we did a lot of good things and we just came up short."
The Wildcats gave themselves a great chance at their first win over a Top 5 team since 1979 even though star guard Bryant McIntosh sat out with a shoulder injury.
They were up 49-27 after a stunning first half that had fans chanting "Overrated!" But the Spartans - tied for the Big Ten lead coming into the game - sure did turn it around after halftime.
"Honestly, when we were in the locker room, we were ready," Winston said.
CHARGING BACK
The Spartans outscored Northwestern 29-4 over the first 14½ minutes after the break, tying it on Nick Ward's tip-in and taking their first lead of the game at 56-53 on Jaren Jackson's three-point play with 5:26 remaining.
The Wildcats went more than 11 minutes without scoring before Dererk Pardon hit two free throws with just over five minutes left.
With the Spartans clinging to a two-point lead in the final minute, Bridges hit two free throws and Winston added two more to make it 63-57. Law nailed a 3 for Northwestern to make it a three-point game with 11.4 seconds remaining, but Bridges hit two more foul shots.
QUOTABLE
"We needed the win - don't get me wrong - but they deserved to win. They outplayed us for two-thirds of that game in every fashion - offensively, defensively. They got every loose ball. It was the Northwestern I'm sure we all thought we'd see this year." - Izzo.
BIG PICTURE
Michigan State: With their two remaining games against bottom-five Big Ten teams - last-place Illinois and Wisconsin - the Spartans are in good position to finish first in the conference. They also appear poised to make a long NCAA Tournament run, with an eighth Final Four appearance and second national championship under Izzo a possibility, even though they're playing against a backdrop of the scandal involving former campus sports doctor Larry Nassar, who was convicted of child pornography and sexual assault after abusing athletes in his care.
Northwestern: This might be the most disappointing loss in a letdown of a season for the Wildcats after their first NCAA Tournament appearance.
UP NEXT
Michigan State: The Spartans host Illinois in their final home game on Tuesday.
Northwestern: The Wildcats play Maryland on Monday in the second of three consecutive home games.