No. 2 Michigan State has shot to seal share of Big Ten title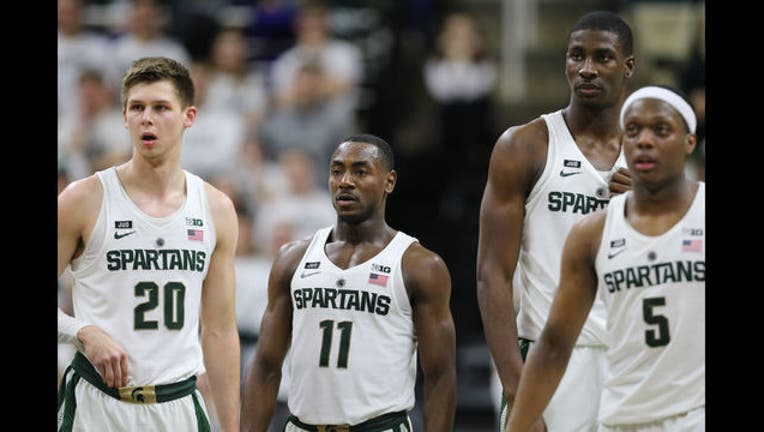 article
EAST LANSING, Mich. (AP) - No. 2 Michigan State can seal a share of the Big Ten title by beating Illinois at the Breslin Center, where three seniors will be honored at their last home game.
"That doesn't happen that often," Spartans coach Tom Izzo said Monday. "No. 1, to do it at home is special. No. 2, to be able to do it on Senior Night is really special."
Izzo has seven conference championships, but hasn't won one since 2012.
The Spartans (26-3, 14-2 Big Ten) have won 10 straight. If they avoid an upset by the Fighting Illini (13-15, 3-12) on Tuesday night and win at Wisconsin on Sunday, the Spartans will have their first outright Big Ten title since 2009.
"It's special just to have this opportunity," senior guard Tum Tum Nairn said.
On Saturday, Michigan State trailed at Northwestern by 27 points and rallied to win , pulling off the biggest comeback in Big Ten history.
When Michigan beat Ohio State the next day, it cleared a path for the Spartans to stay atop the conference if they close the regular season by beating two teams toward the bottom of the standings.
This will be the last game at Breslin Center for Nairn, Gavin Schilling and Ben Carter. It might also be the last time sophomore Miles Bridges and freshman Jaren Jackson play in the arena because both are projected to be Top 10 picks in the NBA draft.
"I just want what's best for those two guys," Izzo said. "There's no question they're both going to have some decisions to make. When I think of it that way, I feel good about it. I don't feel bad about it. I feel like they have given me everything I could ask and they've done it very unselfish and with some humility."
Izzo said a year ago, he thought Miles was finishing his only season of college basketball. He contemplated letting Bridges kiss Michigan State's logo at center court, a tradition that started in 1995 by senior Shawn Respert at his last home game.
"I've been planning it out since I was a freshman," Nairn said.
The three-time captain is averaging 2.1 points and 18 minutes - both career lows - but he brings a lot of intangibles valued by teammates and coaches.
"He's the most infectious human being I've ever been around," Izzo said. "If he's had a bad day, I don't know when it was."
Schilling, a fifth-year forward, is averaging just 3.2 points and 3.7 rebounds. He was, however, the only player on the team capable of slowing Purdue center Isaac Haas in a win this month.
"Injuries have riddled his career a little bit and yet, we probably don't beat Purdue without him," Izzo said.
Carter spent his first two seasons at Oregon, transferred to UNLV and came to Michigan State as a graduate transfer last year. The NCAA allowed him to have a sixth season of eligibility after he missed all of last season with a knee injury. He has averaged less than one point and one rebound in 20 games this season.
"It definitely has been a very long journey with a lot of ups and downs," Carter said. "I'm happy with how it is kind of ending. To be here on this day after everything I've been through is a blessing."