No. 2 Michigan State routs Cleveland State 111-61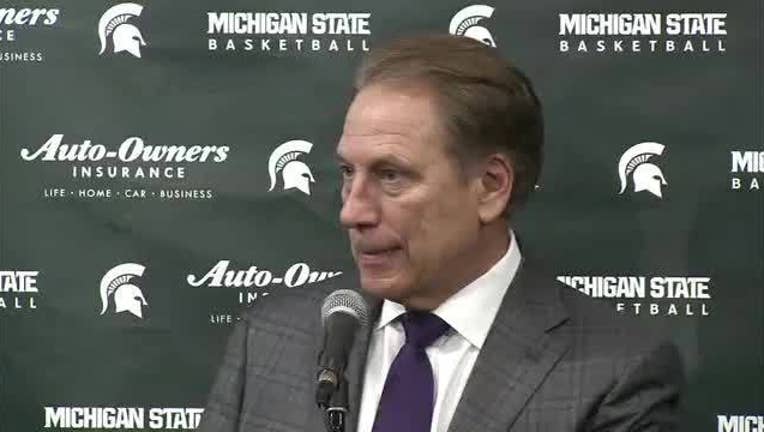 article
EAST LANSING, Mich. (AP) - Tom Izzo took the microphone after the game and addressed the Michigan State crowd.
His team had just played another routine late-December tuneup, and games at this time of year aren't ideal for student attendance, but there were enough Spartans fans at the Breslin Center for a lively atmosphere.
"You packed this place when we got no students here or anybody else here, and everybody's in the Christmas spirit," Izzo said. "You guys are supporting your Spartans, and your Spartans appreciate it."
Nick Ward had 22 points and 14 rebounds , and No. 2 Michigan State rolled to a 111-61 victory over Cleveland State on Friday night, the third straight game for the Spartans with over 100 points. Michigan State led 63-25 at halftime after shooting 74 percent from the field in the opening 20 minutes - including 9 of 13 from 3-point range.
Michigan State (13-1) is making short work of the weaker opponents on its schedule. The Spartans scored 107 points against Houston Baptist and 102 against Long Beach State before dismantling coach Dennis Felton's Cleveland State team.
"I don't know what I was thinking when I scheduled this game," Felton cracked.
Joshua Langford scored 23 points for Michigan State, and Miles Bridges added 18 with eight rebounds and seven assists. Bobby Word scored 26 points for Cleveland State (3-10) and made seven 3-pointers.
Michigan State finished 15 of 26 from beyond the arc and shot 65 percent overall.
"If we didn't go zone, they might have scored 200 points," Felton said. "There weren't many answers tonight."
Michigan State hadn't played since Dec. 21, so it wouldn't have been surprising if the Spartans had been a little sluggish. But both the crowd and the home team were ready from the start.
The Spartans led 18-4 after making their first seven shots from the field. It was 38-9 after a 3-pointer by Matt McQuaid.
Cleveland State made a few outside shots of its own, but the Vikings could never do much to trouble the Spartans. Michigan State surpassed 100 points with over 5 1/2 minutes remaining.
"You can't let down," Langford said. "You get to the point where you're playing against yourself."
BIG PICTURE
Cleveland State: The Vikings were never in this game after Michigan State's sharp start, and Cleveland State had little chance to keep it close on a night when the Spartans were shooting so well from the perimeter.
Michigan State: It would have been easy for the Spartans to fall into bad habits in such a one-sided game, but they maintained their offensive balance and kept sharing the ball. Six Michigan State players finished with at least three assists.
THE MODEL
Felton, in his first season as Cleveland State's coach, says he looks at Michigan State as an example of what he wants his program to become.
"We'll make Michigan State basketball a case study for ourselves as we work towards building a championship-caliber program ourselves, and what better way (than) to come up here and experience it for ourselves?" Felton said. "And they made sure we experienced it - probably a little more than I needed."
QUITE A RUN
Michigan State has scored 100 points in three straight games for the first time since the first three games of the 2004-05 season.
UP NEXT
Cleveland State: The Vikings open their Horizon League schedule at home against Youngstown State on Monday.
Michigan State: The Spartans will probably reach triple digits again when they host Savannah State on Sunday. The Tigers have allowed at least 100 points eight times already this season.