No. 5 Michigan St. beats Indiana 63-60 for 6th straight win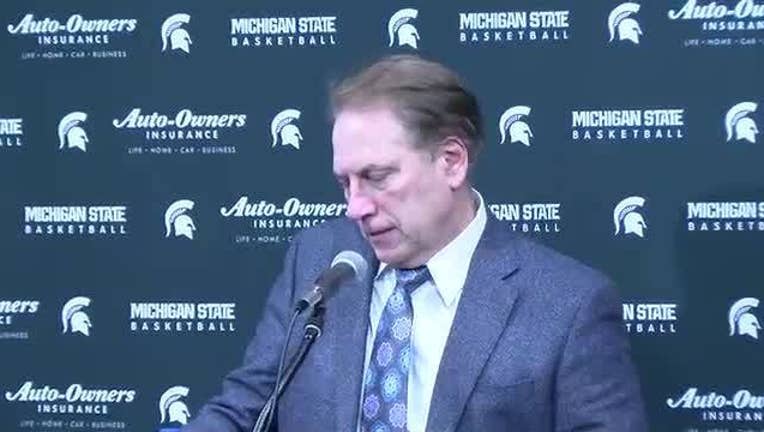 article
BLOOMINGTON, Ind. (AP) - Indiana thought a lineup change might help it stand up to Michigan State's length on Saturday.
Instead, the fifth-ranked Spartans found their own solution.
On a night when Matt McQuaid scored 12 points and made the decisive 3-pointer with 68 seconds left, Michigan State again matched the school's single-game record with 13 blocked shots to hold off the hard-charging Hoosiers 63-60.
It's the second time this season they've had 13 blocks in a game, and the Spartans pushed their single-season record total to 204.
Michigan State (22-3, 10-2 Big Ten) sure didn't follow the rest of the script to its sixth straight win.
The national leader in rebounding margin wound up get outrebounded 53-29 and 25-3 on the offensive end. And while the nation's second-best shooting team was 9 of 18 on 3s, the Spartans took only 47 shots and struggled to close it out because of poor free-throw shooting that included two misses from Joshua Langford with 2.2 seconds left.
Those misses gave the Hoosiers (12-12, 5-7) one last gasp - but Devonte Green's 70-foot heave at the buzzer bounced high off the back of the rim.
"Very seldom has one of our teams gotten outworked, outhustled the way that Indiana did," Spartans coach Tom Izzo said. "The 25-3 offensive rebounds is an insult to me, my players and anyone that's ever played here."
Langford and Jaren Jackson Jr. each scored 10 points for Michigan State, and Jackson finished with seven blocks - one short of his career high against Rutgers in December.
Indiana's revamped starting lineup paid dividends, too.
Just 15 days after enduring a 28-pooint loss at Michigan State, Indiana coach Archie Miller plugged in Freddie McSwain Jr.
Juwan Morgan again led the Hoosiers with 23 points and 11 rebounds, but McSwain finished with eight points and 16 rebounds - the most by an Indiana player in almost 2½ years and the most by an Indiana player in a Big Ten game in a decade.
"That's what he does every day. He attacks the glass relentlessly," Morgan said. "The way we see it, nobody can keep him off the glass. As a result, that's what 16 boards looks like."
Despite shooting a season-low 28.8 percent from the field, Morgan scored seven straight points to cut a 58-50 deficit with 5:05 left to 58-57 with 2:22 to go.
Indiana had two chances to take the lead on its next possession, but Robert Johnson's layup rolled out and McSwain missed two free throws after grabbing the offensive rebound.
McQuaid's final 3 made it a four-point game and after Green's three-point play got the Hoosiers within 63-60 with 3.7 seconds left. They just couldn't get any closer.
BIG PICTURE
Michigan State: Offensively, the Spartans struggled. But defensively, they showed just how good they can be with their size and length. The biggest problem was the Hoosiers kept getting second chances.
Indiana: The young Hoosiers fought hard enough and long enough to give themselves a chance, earning some respect in the process.
KEY STATS
Michigan State: Miles Bridges had seven points and eight rebounds. ... McQuaid was 4 of 5 on 3s. ... The Spartans had their worst rebounding margin (minus-24) since 1996-97 when they were minus-18 against North Carolina. The three offensive rebounds matched their fewest since 1996-97.
Indiana: Morgan recorded his seventh double-double of the season. ... Devonte Green had eight points and a career-high six assists while Zach McRoberts matched his career-best with four steals. ... The Hoosiers made only two of their first 22 shots, and went more than 8½ minutes in the first half without a basket.
QUIET FRONT
As students arrived at the game, they were greeted by cards asking them to refrain from using the swirling scandal surrounding Larry Nassar and allegations of sexual misconduct involving the Michigan State football and men's basketball programs to heckle players and coaches during the game.
Nobody was more appreciative than Izzo, who started his postgame news conference by thanking the Hoosiers.
"I did want to publicly thank IU. I want to thank their president, their AD, their coach, players, fans, students," Izzo said. "That was a very classy, whatever they sent out, it was very well done and very much appreciated in handling themselves without some of the things that needed to be said."
UP NEXT
Michigan State: Will try to extend its winning streak Tuesday at Iowa.
Indiana: Plays the fourth game in an eight-day span Monday at Rutgers.