Nubin runs for 204 yards in first significant action; Minnesota beats Michigan State 27-12
MINNEAPOLIS - MINNEAPOLIS (AP) — Jordan Nubin filled in nicely for Minnesota with 204 yards rushing and two touchdowns, and the Gophers beat Michigan State 27-12 Saturday.
Athan Kaliakmanis threw for 200 yards and a touchdown, and Daniel Jackson added seven catches for 120 yards and a score for the Gophers (5-3, 3-2 Big Ten), who have won three of four.
Michigan State (2-6, 0-5) has lost six in a row since the firing of Mel Tucker. The Spartans are averaging 11.3 points per game in that streak.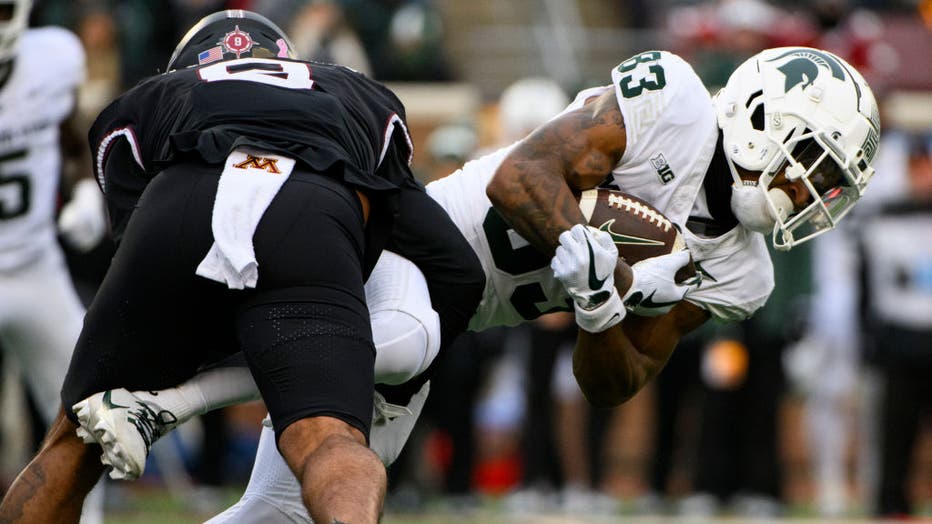 MINNEAPOLIS, MINNESOTA - OCTOBER 28: Montorie Foster Jr. #83 of the Michigan State Spartans is tackled after catching the ball in the third quarter against the Minnesota Golden Gophers at Huntington Bank Stadium on October 28, 2023 in Minneapolis, Mi
A 9-yard strike from Sam Leavitt to Tyrell Henry midway through the fourth quarter to get the Spartans within five points was the first Michigan State touchdown in nine quarters.
The Spartans had 299 yards of offense, with all but 80 in the second half. Minnesota had 400 yards.
A redshirt sophomore, Nubin was given his first significant opportunity because Minnesota was without its top two running backs. Darius Taylor and Zach Evans each left last week's game at Iowa with undisclosed injuries.
Nubin, who had six carries for 25 yards in the Gophers first seven games, quickly became the workhorse, finishing with 40 carries.
He had eight carries on a nine-play Minnesota drive early in the fourth quarter, including an 18-yard touchdown for a 17-6 lead. His 2-yard touchdown run with 4:11 left iced the game, capping a seven-play drive of which he had six carries.
Michigan State twice started inside the Minnesota 35 in the first quarter, but the Spartans offense could not generate a first down on either, settling for field goals from Jonathan Kim and a 6-0 lead.
Kaliakmanis engineered an eight-play, 94-yard scoring drive late in the first half for a 10-6 Minnesota lead. He completed back-to-back passes of 14 and 18 yards to Jackson to start the trek, and the pair hooked up for a 22-yard score to complete it.
CLEANING UP ITS ACT
Michigan State committed just five penalties. It entered averaging 8.5 per game, 128th among 133 FBS teams when the game is between two FBS schools, including 11 penalties for 102 yards last week against Michigan.
Ranking sixth at 3.6 per game, Minnesota had three infractions.
THE TAKEAWAY
Michigan State: Might it be time for Leavitt, an agile true freshman, to take over as the starter at quarterback? Replacing Katin Houser (12-22, 117 yards) in the fourth quarter, he completed all four of his passes and ran for 34 yards on the Spartans scoring drive.
Minnesota: The Gophers remain in the hunt to win the mediocre Big Ten West. Minnesota began the day a game back of Wisconsin, who is scheduled to face Ohio State Saturday night. Wisconsin and Minnesota meet Nov. 25. Iowa is also 3-2, but Minnesota holds the tie breaker.
UP NEXT
Michigan State: Home to Nebraska Nov. 4.
Minnesota: Welcomes Illinois Nov. 4. The Illini had a bye this week.