Nyquist scores twice as Red Wings top Penguins 4-1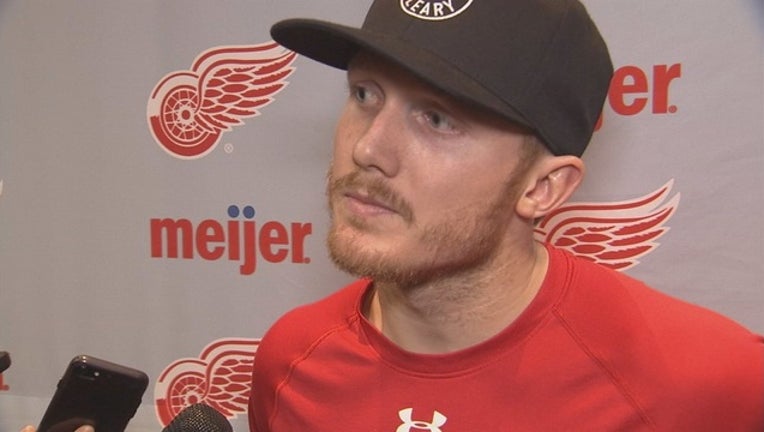 article
DETROIT (AP) - When Gustav Nyquist scored a career-low 12 goals for the Red Wings last season, coach Jeff Blashill downplayed his concern, insisting that Nyquist was a playmaker who'd been miscast early in his career as a potent goal scorer.
This season, Nyquist is casting doubt on his coach's analysis.
Nyquist scored twice, Jimmy Howard made 37 saves and Detroit beat the Pittsburgh Penguins 4-1 on Sunday night. Nyquist now has 12 goals this season after only getting four by New Year's Day last season.
Nyquist, who scored 28 goals in 2013-14 and 27 in 2014-15 but netted just 29 over the next two seasons, can't explain why the puck is suddenly going in for him again.
"Obviously last year I didn't score as much as I would have liked to," Nyquist said. "It's hard to put a finger on it but it's nice to see them go in right now."
His coach thinks he knows the answer.
"I think Nyquist's compete level has been excellent all season long," Blashill said. "If he continues to do that, he's going to have a great offensive year when it's all said and done."
Dylan Larkin and Frans Nielsen also scored for Detroit. Evgeni Malkin got his fifth goal in seven games for the Penguins.
Nyquist gave the Wings the lead 11:31 into the opening period. Captain Henrik Zetterberg fed a cross-ice pass to Nyquist in the middle of the Pittsburgh zone, and Nyquist used Pittsburgh defenseman Frank Corrado as a screen to fire a high shot past Matt Murray on the glove side.
Larkin added to Detroit's advantage just 59 seconds into the second. He burst down the right wing past Malkin and tucked the puck past Murray as he cut across the front of the net.
The Penguins got on the board with a power-play goal at 8:04 of the second. Howard made a spectacular glove stop Malkin's shot, but a video review determined that his glove was across the goal line when he caught the puck.
Sunday's loss was the sixth time in nine games the Penguins were held to two goals or fewer.
"We created plenty of chances, but nothing would go in," Penguins captain Sidney Crosby said. "That's the way things have been for us lately, and it is disappointing because we're working hard and doing the right stuff, but we're not getting anything in return."
Detroit went up 3-1 at 15:18 of the second. Nielsen skated down the left wing and faked a slap shot. When Murray bit on the fake, Nielsen slid the puck along the ice under Murray's right pad.
Nyquist added his second at 16:34 of the third period. Murray stopped Tyler Bertuzzi's shot, but Nyquist was on the doorstep to slide in the rebound for his 100th NHL goal.
Murray finished with 19 saves.
NOTES: Former Red Wings C Riley Sheahan played his first game in Detroit since he was traded to the Penguins on Oct. 21. "They've been great to me, everybody in the organization has been great to me," Sheahan said of his time with the Wings. "It's good seeing some old faces and catching up with them." ... RW Anthony Mantha (groin), who leads the Wings with 13 goals, participated in the morning skate but missed his second straight game.
UP NEXT
Penguins: Conclude a three-game trip at Philadelphia on Tuesday night.
Red Wings: Host Ottawa on Wednesday night in the third game of a five-game homestand.