Oilers Take Red Wings 4-3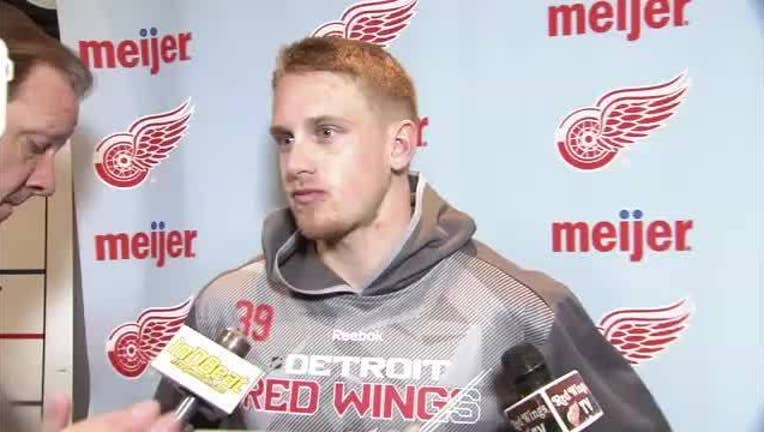 article
EDMONTON, Alberta (AP) - The Oilers got a good start to a critical stretch in their season.
Connor McDavid had a goal and an assist and Edmonton started an eight-game homestand with a 4-3 victory over the Detroit Red Wings on Saturday night.
Zack Kassian, Jordan Eberle and Patrick Maroon also scored for the Oilers, who have won two games in a row. Cam Talbot stopped 22 shots.
"Usually you come back from a trip and you don't come out as strong," Eberle said. "It was important to get a good start on this homestand and we did that. We are in a position where we should feel confident in our game.
"I'm not saying we have earned the right to be cocky, but we have earned the right to feel good about our team and confident that we should go out and win the games."
Anthony Mantha, Darren Helm and Dylan Larkin scored for the Red Wings, who have lost two straight.
"We've been close, we've had opportunities, we just haven't been able to score goals in a timely fashion," Helm said. "I think, for the most part, our effort has been there, we just haven't found ways to put pucks in the net.
"I feel it's the story of our season."
McDavid blazed past a pair of defenders and beat goalie Petr Mrazek on the backhand for his 22nd goal of the season just two minutes into the game.
Mantha tied it for the Red Wings with five minutes left in the opening period. Henrik Zetterberg fed it in front to Mantha, and he sent his 14th of the season past Talbot.
Matt Hendricks gave the home fans a rise late in the first, hammering Detroit's Ryan Sproul with a hit that send him flying into his own bench.
Seconds later, it was 2-1 Edmonton after newcomer David Desharnais won a faceoff back to Adam Larsson and his point shot was tipped in by Kassian.
There was no scoring in the second period, with Edmonton holding a 27-12 edge in shots after 40 minutes.
The Oilers took a 3-1 lead seven minutes into the third as Eberle picked off a pass and beat Mrazek on a backhand shot.
Detroit cut into that lead midway through the third as Helm got a breakaway and put a shot through Talbot's legs.
Edmonton made it 4-2 with six minutes left as Leon Draisaitl put it in front to Maroon for his 21st of the season.
The Red Wings forced a terse final 35 seconds after Larkin scored with Detroit's goalie pulled.
"It was definitely not a perfect game," McDavid said. "We made some mistakes and it almost cost us, but we found a way to win."
NOTES: The Red Wings sent goalie Jimmy Howard to Grand Rapids of the AHL for conditioning. Howard made two starts in Grand Rapids last month but left his second game with an injury. Howard hasn't played for Detroit since Dec. 20. ... It was the second and final meeting of the season between the two teams, with Edmonton wining the first encounter 2-1 in November. ... Edmonton also plays 11 of the next 13 games and 12 of its final 17 games at Rogers Place. ... Desharnais made his debut for the Oilers following a trade from the Montreal Canadiens for D Brandon Davidson on Wednesday. ... Detroit F Gustav Nyquist returned to the lineup for the Red Wings after serving a six-game suspension.
UP NEXT
Red Wings: Travel to Toronto for a game Tuesday night.
Oilers: Host the New York Islanders on Tuesday night.