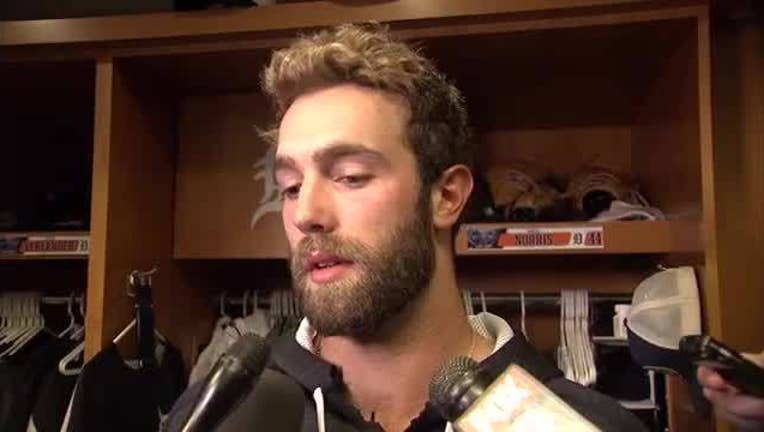 article
BALTIMORE (AP) - Thrust into a starting role just minutes before game time, Pedro Alvarez jumped at the opportunity to play instead of watch.
"Pete was bouncing around like a guy on his first day in Little League," Orioles manager Buck Showalter said. "He embraces it. A lot of people don't."
Alvarez certainly made most of the unexpected start, hitting a pair of home runs and driving in three runs to carry Baltimore past the Detroit Tigers 5-3 Sunday.
Trey Mancini also homered for the Orioles, who took two of three from Detroit to earn their first home series win of the season.
After Danny Valencia felt a twinge in his hamstring while running minutes before the first pitch, Alvarez was inserted into the lineup at third base.
"Honestly, it was fine," Alvarez said. "You've got to be ready for stuff like that to happen. Obviously, it doesn't happen very often. It was weird but I didn't skip a beat. I put on my jockstrap and my cup and I headed downstairs."
Mancini hit his first career leadoff homer on the third pitch from Daniel Norris (0-2) and Alvarez connected with a man on in the second inning for a 3-0 lead.
After the Tigers closed to 4-3, Alvarez hit a pitch from Joe Jimenez over the right-field scoreboard in the eighth. He also went deep twice against Detroit on Friday night and has 15 multihomer games in his career.
Kevin Gausman (2-2) allowed one run and five hits over 5 2/3 innings for the Orioles, marking the first time this season he's given up fewer than two runs.
"I felt pretty good fastball command right out of the gate," the right-hander said.
John Hicks homered for the Tigers, who had two players leave with injuries: Miguel Cabrera with a left biceps spasm in the fifth inning and Norris with groin tightness in the third.
"We'll know in the next couple of days where they're at and how it goes," manager Ron Gardenhire said of the injuries. "That's all I can tell you."
Successive RBI doubles by Jeimer Candelario and Niko Goodrum got Detroit within a run in the seventh, but Mychal Givens worked a perfect eighth for Baltimore and Darren O'Day got three straight outs for his second save.
Off to its worst start since 2010, Baltimore (8-20) has won only two of eight series this season. The Orioles took three of four at Yankee Stadium in early April.
"This is a big win. It's a big series win," Alvarez said. "It's good to get the ball rolling a little bit and continue to keep playing good baseball."
SWING AND A MISS
Though Hicks hit his second HR of the season, he struck out with the bases loaded in the sixth in a 3-1 game.
"The homer, I hit great. I couldn't hit it better than that," he said.
And the strikeout?
"If I come up with a hit there," he said, "it changes the whole game."
TRAINER'S ROOM
Tigers: OF Leonys Martin was not in the starting lineup. "Sore legs, the whole package," Gardenhire explained. Martin struck out as a pinch hitter in the ninth.
Orioles: DH Mark Trumbo (quad strain) played DH for Triple-A Norfolk on Sunday and should be activated from the DL on Tuesday. ... Luis Sardinas was unavailable because of back tightness and will be placed on the DL within the next couple of days, Showalter said.
SKIDDING DAVIS
Struggling Orioles 1B Chris Davis was omitted from the starting lineup for a second straight day against a left-handed pitcher. "Chris is working on some adjustments," Showalter said. Davis is batting .167 overall and is 1 for 18 with 12 Ks against left-handers.
UP NEXT
Tigers: Jordan Zimmerman (1-0, 7.91 ERA) helps the Tigers open a brief three-game homestand against Tampa Bay. Detroit is in the midst of playing 13 of 16 on the road.
Orioles: After taking Monday off, Orioles launch six-game swing on West Coast by facing Angels on Tuesday, when Alex Cobb (0-3, 13.11) will seek first win with Baltimore.