Perez's homer in 8th leads Indians past Tigers 2-1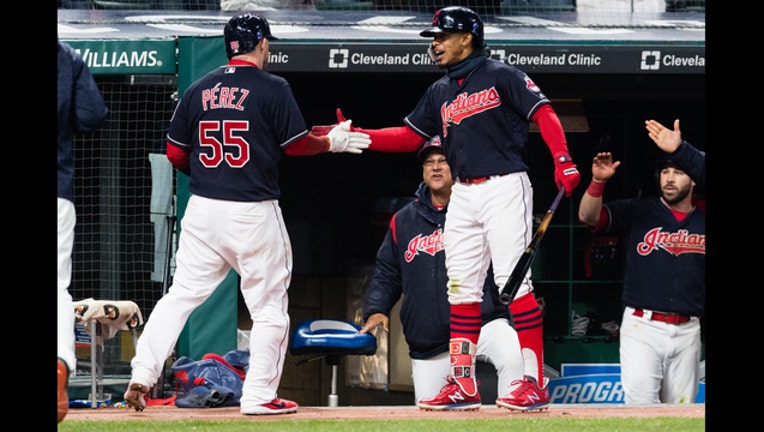 article
CLEVELAND (AP) - The Indians' pitching is helping its all-or-nothing offense get by in the early part of the season.
Roberto Perez hit a leadoff home run in the eighth inning against reliever Alex Wilson, Josh Tomlin bounced back from a rocky outing and Cleveland beat the Detroit Tigers 2-1 on Tuesday night.
Cleveland is batting a major-league low .158 but has won its last three games via the long ball. Yan Gomes hit a game-ending two-run homer Sunday against Kansas City, and Bradley Zimmer had a two-run homer Monday night.
Perez joined that list, belting a 2-0 pitch to center field that landed in the seats in front of the bullpen.
"I know it's early in the season, but we're capable of scoring more runs than one or two a game," Perez said. "It's nice to see the pitching staff carrying us throughout the slump. We're going to get out of this."
Cleveland has won nine straight win over Detroit. The Indians are 29-10 against the Tigers since the start of the 2016 season.
Jose Ramirez's two-out homer in the first put Cleveland ahead, a lead that lasted until Jeimer Candelario's seventh-inning double. It was Detroit's first run in 23 innings.
Andrew Miller (1-0) pitched a scoreless eighth. Cody Allen worked the ninth for his third save, helping Cleveland improve to 6-5 despite the offense's struggles.
Tomlin rebounded after a poor first outing with five strong innings. Matthew Boyd allowed one run in seven innings for Detroit.
Wilson (0-2) came in to start the eighth and quickly fell behind Perez. The Cleveland catcher made amends for a throwing error in the seventh with his go-ahead homer.
"It sounded loud," Perez said. "I knew it had a chance, but with this crazy weather it's hard to tell."
Candelario had three doubles and was hit by a pitch. The Tigers hadn't scored since the first inning Sunday against the Chicago White Sox. Corey Kluber and Miller combined on a two-hit shutout Monday.
"Our pitching staff has kind of saved the day," Indians manager Terry Francona said. "There's not a lot of margin for error. That's probably the understatement of the year."
Victor Reyes, a Rule 5 draft selection from Arizona, led off the seventh with a single for his first major league hit. Reyes stole second as Dixon Machado struck out and took third when Perez's throw to second baseman Jason Kipnis was in the dirt and bounced into center field.
Dan Otero struck out pinch-hitter JaCoby Jones, but Candelario's sharp grounder over third base tied it.
Tomlin lasted only three innings in first start against the Angels, allowing eight runs, including four homers. He experienced back soreness in that game and had his turn in the rotation pushed back a day.
Detroit left the bases loaded in the third when Niko Goodrum tapped back to Tomlin to end the inning.
Tigers pitching coach Chris Bosio missed the game because of a health issue. Manager Ron Gardenhire said Bosio was undergoing tests Tuesday, a day after he didn't feel well.
HEAT WAVE
The game-time temperature of 40 degrees was a big improvement over the blustery conditions the previous three days. The teams played in 33 degree weather Monday night. Sunday's 32 degree first-pitch temperature against Kansas City set a Progressive Field record while Saturday's game-time mark was 34 degrees.
THAT HURTS
Candelario doubled in the first, fifth and seventh, but the last two came under painful conditions. He was hit on the right knee by Tomlin's pitch with one out in the third. He struggled to get to his feet and slowly walked to first.
"It's cold so you don't want that," he said. "It was probably about 20-30 seconds before I knew I could continue in the game."
STRONG LEATHER
Cleveland's defense was at its best late in the game. Kipnis fielded Miguel Cabrera's grounder up the middle and threw him out to end the seventh. Kipnis came up with Nicholas Castellanos' ground ball near the bag and made the throw to first in the eighth. Shortstop Francisco Lindor snared Victor Martinez's grounder in the hole and got him with a strong throw.
"You always say pitching and defense wins baseball games - and it did tonight," Gardenhire said. "The starter was fantastic, but their defense was the difference. Their shortstop is unbelievable."
TRAINER'S ROOM
Tigers: Tigers RHP Buck Farmer (left hip) was available, but Gardenhire said he would only use him in an emergency. Farmer was removed in the seventh inning Monday after experiencing a spasm.
UP NEXT
Tigers RHP Jordan Zimmermann (0-0, 8.71 ERA) takes on Indians RHP Carlos Carrasco (2-0, 5.40 ERA). Zimmermann has faced Cleveland five times in his career, posting a 0-4 record with a 10.88 ERA.