Pistons Clinch Playoff Spot for First Time Since 2009; Beat Wizards 112-99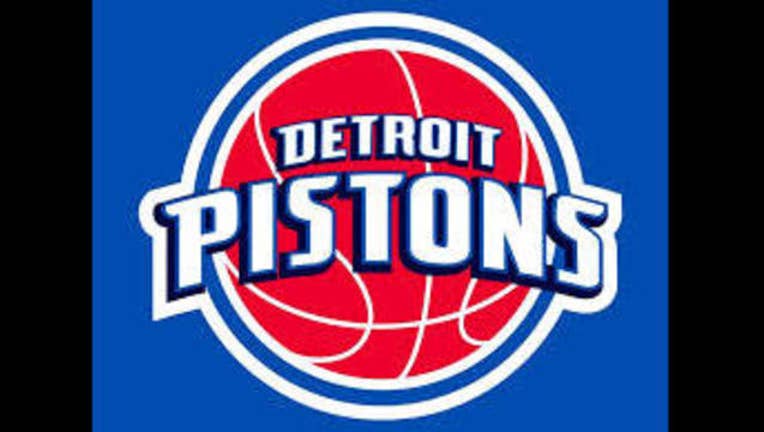 article
AUBURN HILLS, Mich. (AP) - Reggie Jackson and Aron Baynes pushed the Detroit Pistons into the playoffs.
Jackson had 39 points and nine assists, Baynes hit eight fourth-quarter free throws and the Pistons clinched their first postseason spot in seven years with a 112-99 victory over the Washington Wizards on Friday night.
"This is huge, especially to give all of our other starters a chance to finally make it," Jackson said.
He then pointed to coach Stan Van Gundy.
"It's also great for Coach," Jackson said. "In two years, he's turned this whole franchise around, and that's why we made sure he was part of the celebration."
Andre Drummond started the post-game festivities by dumping an ice tub over Van Gundy, and that made it open season.
"We were getting him with bottles of water, ice bags and anything we could find," Jackson said. "He's the one who got us here."
Van Gundy was in a sweatsuit by the time he made it to his post-game press conference.
"Thank God it was only ice water," he said. "This is a special year for me, because it is the first time for our ownership, the first time for four of our starters, and the end of a long drought for the people that have been with this organization for a long time and seen some great moments. They've been waiting to get back."
Detroit's last playoff berth came in 2009 when it was swept in the first round by LeBron James and Cleveland. The Pistons will either face James and the Cavaliers again or play second-seeded Toronto.
"Those are two great teams, and I don't care which one we play," Van Gundy said. "I just want to finish seventh, because it is better than eighth."
Detroit had to overcome 29 points from Markieff Morris, who did everything possible to keep twin brother Marcus out of the postseason. Bradley Beal added 25 for the Wizards, who were eliminated by the loss.
"It's tough to miss out with the talent we have on this team." Markieff Morris said. "We didn't have our best player (John Wall), and their best player stepped up for them."
Marcus Morris had 17 points and nine rebounds in the clincher.
The Wizards had come back from 19 down to take the lead early in the fourth quarter, but Jackson continued to attack on offense. He helped the Pistons take a 100-94 lead with five minutes left, and clinched the game two minutes later.
After grabbing a defensive rebound away from Markieff Morris, Jackson drove the length of the court and hit a jumper. His free throw to finish the three-point play made it 103-96 with 2:45 left.
That brought the crowd to its feet, where they stayed as the Pistons ran out the clock.
Knowing what was at stake, even coach Stan Van Gundy couldn't be sure if his team would come out relaxed or pressing to finish things off. The question was answered when they hit their first six 3-point attempts, three by Harris, to take a 39-25 lead at the end of the first quarter.
The Pistons moved the margin to as many as 19 early in the second quarter, but their outside shooting dried up just as the Wizards started getting to the basket. Washington scored 20 points in the paint in the second as Drummond struggled to protect the rim.
"You have to give them credit - they came out and shot the lights out in the first quarter," Wittman said. "After that, we did a good job of taking away the 3-point shot, and we never had an answer for Reggie Jackson."
The Wizards were down 62-55 at the half, and a 20-point third quarter by Morris, capped off by a 50-foot buzzer-beater, pulled Washington within 86-84 with 12 minutes left.
"I was waiting for Coach to switch me onto him," his brother said. "He had it going, but I know all his moves."
A dunk by Morris put Washington up 89-88 with 10 minutes to play, and the Wizards got Andre Drummond out of the game with an intentional foul. He missed both free throws badly -- the second was an air ball - and Van Gundy immediately yanked him.
Drummond spent the rest of the game at the end of the bench. He didn't join team huddles and didn't celebrate with his teammates down the stretch.
"I gave him a chance, but he missed the first two, and I had a better option on the bench," said Van Gundy, who dragged Drummond into the post-game celebration. "He's really frustrated with the whole thing, having to come out of the game. This is a kid who is an All-Star, and he can't help his team because of one thing he does poorly."
TIP INS
Wizards: Even with the playoffs on the line, John Wall was forced to sit out the game with a sore left knee. ... Markieff Morris' 20-point third quarter was the biggest of the season by a Wizards player.
Pistons: Paul George had a 21-point quarter against the Pistons on Jan. 2, while Anthony Davis had two 19-point quarters in his 59-point game at the Palace on Feb. 21.
UP NEXT
Wizards: Host Charlotte on Sunday.
Pistons: Host Miami on Tuesday.