Poole's shot for Michigan draws comparisons to Burke's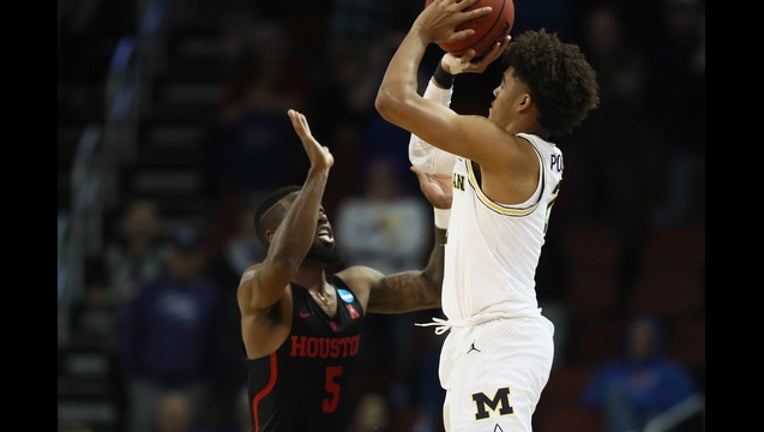 article
ANN ARBOR, Mich. (AP) - Jordan Poole made his buzzer beater with one good eye.
The Michigan freshman wore protective glasses when he met with reporters on Tuesday, less than 72 hours after his last-second 3-pointer gave the Wolverines a victory over Houston and sent them to the Sweet 16. Poole said he was poked in the right eye during the game.
"It's actually funny. When I came to the bench I was talking to Ibi (Watson) about it. I told him, I was like, 'It kind of feels like my right eye had a filter on it,'" Poole said. "I kind of was like, 'I got to suck it up at this point.' Everything after that was history."
So add that eye issue to the growing legend of Poole's shot, which gave the third-seeded Wolverines a 64-63 victory and set up Thursday's matchup with seventh-seeded Texas A&M in Los Angeles. Poole's 3-pointer from the right sideline - well beyond the arc - is already drawing comparisons to Trey Burke's shot for Michigan against Kansas in the 2013 regional semifinals. Burke's shot was probably from a bit farther away, but it only tied the game, so Wolverines coach John Beilein figures Poole's was better.
"I think this was, only because the game was over. We didn't have to go through overtime," Beilein said. "Trey Burke's was, put us into overtime, and then we did win it in overtime, and we had to survive that as well."
Burke, who now plays for the New York Knicks, said he was dining out after a game against Charlotte and didn't see Poole's shot live.
"Everyone just started texting my phone talking about, 'Did you see that? Did you see the game? Did you see the ending?'" Burke said. "I knew something happened, because everyone was kind of saying the game was over, they thought we were going to lose. Big-time shot was made, changed the whole story."
Now the Wolverines will try to do what they did five years ago - turn a last-second shot into a springboard to an extended NCAA Tournament run. Michigan reached the national title game the year Burke made his big 3-pointer against Kansas.
Poole remembers what he was doing when that one went in.
"I was on the couch, close to the TV at home. I was just watching the game late at night," Poole said. "When he hit the shot, I didn't care who really won the game at that time, but it definitely was huge."