Quinn 'I feel like there was a need in the change of leadership'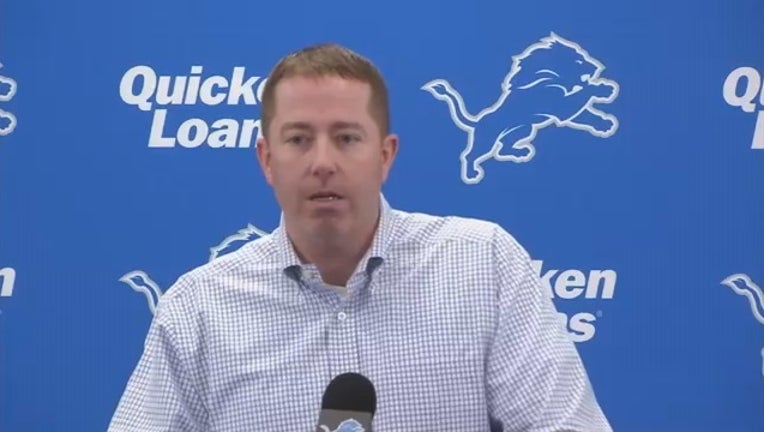 article
ALLEN PARK, Mich. (WJBK/AP) - Jim Caldwell may have been the Detroit Lions' most successful coach in the Super Bowl era.
That was not enough to save his job.
The Lions fired Caldwell on Monday after a season in which the team raised hopes before fading and missing the playoffs with a 9-7 record. They also fired offensive line coach Ron Prince, keeping the rest of the assistants under contract in case the next coach wants to retain any of them.
Lions owner Martha Firestone Ford called Caldwell "one of the finest leaders we've ever had as our head coach."
"Not only did he guide us on the field to three winning seasons, but he also set a standard of excellence off the field that had a tremendous impact on everyone in our organization and our entire community," Ford said in a statement.
Caldwell was 36-28 in four seasons and went 0-2 in two postseasons with the Lions. Including three years with the Indianapolis Colts, he is 62-50 and 2-4 in the playoffs with one Super Bowl appearance.
Lions general manager Bob Quinn said he wants a coach to take the team to the next level - postseason victories and championships. Quinn added that he fired Caldwell, in part, because he thought the team was capable of winning more than nine games in each of the last two seasons.
Detroit defensive coordinator Teryl Austin will interview for the job Tuesday, according to a person familiar with the coaching search. The person spoke to The Associated Press on condition of anonymity because the team had not identified any candidates. Austin has interviewed with many NFL teams in recent years.
For the first time, Quinn has to hire an NFL coach. After Detroit gave him a shot to be a first-time general manager a little less than two years ago, he chose to keep Caldwell. After letting him go, Quinn's future with the franchise may hinge on his next hire.
"I feel pressure every day in my job," he said. "I signed up for it."
Quinn was a part of New England's personnel department for 16 years before the Lions hired him and says he might consider Patriots defensive coordinator Matt Patricia and offensive coordinator Josh McDaniels because of his familiarity with them.
Houston Texans defensive coordinator Mike Vrabel, who also has ties to Quinn in New England, and Minnesota Vikings offensive coordinator Pat Shurmur are also potential candidates.
Caldwell received a multiyear contract extension before the season, but the team didn't announce the move for months. This season ended with a 35-11 victory over Green Bay on Sunday for Caldwell's third winning record in his four years.
Led by quarterback Matthew Stafford, Detroit met relatively modest expectations this season, but raised hopes with 3-1 and 6-4 records only to drop out of postseason contention by losing three of five.
Caldwell became Detroit's first coach to have at three winning seasons in his first four years since the early 1950s.
He didn't scream at his players and showed interest in their lives.
"I love Caldwell," receiver Marvin Jones said. "I've been here for two years and he's the best coach I've ever had. Everybody is quiet two minutes before his meetings because he demands respect without yelling. He doesn't yell at all. You never want to disappoint him. We just had to make more plays for him."
When Caldwell was hired almost four years ago, he was working for a franchise with only one winning season in a 13-season stretch.
"We're going to be smart," Caldwell said at the time. "We're going to be a football team that takes the field that's not going to shoot itself in the foot."
Detroit's defense, though, was short-handed in consecutive games late in the season. The Lions were down a player for a snap when Minnesota scored a touchdown in a win at Detroit on Thanksgiving and were missing two players when Baltimore converted a third down to help it take a two-TD lead in a victory.
"I'm not sitting up there making excuses, it's unacceptable," Quinn said.
Even as it became clear Caldwell's job may be in jeopardy, he took it in stride.
"That's kind of the way it goes," he insisted going into his last game as Detroit's coach. "That's every year, right? I told you guys a story a long time ago about Marty Schottenheimer. He got fired at 14-2. So anything less than a Super Bowl, obviously it could happen."
The Lions have never played in a Super Bowl. And since winning the 1957 NFL title, they have won only one playoff game and that lone victory was in 1992.
Caldwell went 16-8 against NFC North teams, but wasn't able to help the franchise win its first division title since 1993.
In each of Caldwell's four years with the Lions, they ranked among the NFL's worst in yards rushing. That glaring weakness put a lot of pressure on Stafford and a shaky line, resulting in a struggling offense that failed to score consistently.
Quinn said players will not be involved in the interview process, but Stafford hopes offensive coordinator Jim Bob Cooter is back next season.
"I would love to have the opportunity to keep working with him," Stafford said Monday as the players cleared out their lockers.