Red Sox cruise past Tigers, 7-1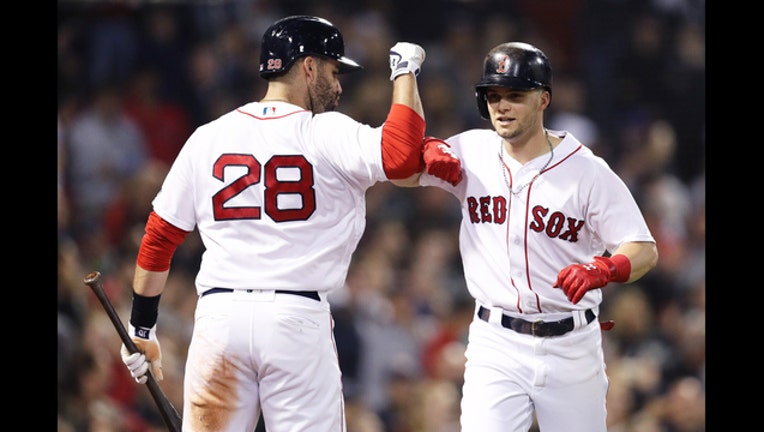 article
BOSTON (AP) - The Red Sox are starting to make a victory look nearly automatic when Eduardo Rodriguez takes the mound.
Andrew Benintendi and Christian Vazquez each hit a solo homer and had an RBI double to back another strong start by Rodriguez, carrying the Red Sox to a 7-1 win over the Detroit Tigers on Wednesday night.
Xander Bogaerts added a two-run double during a four-run third inning for the Red Sox, who won their fourth straight game and improved their major league-best record to 43-19.
Boston is now 11-1 in his starts this season.
"I like it, I love it, the way they've been hitting every time I go out there," he said. "I just tried to keep the game (close) where they could score runs because I know it's going to happen."
Rodriguez (7-1) gave up one run on five hits in 5 2/3 innings with five strikeouts and one walk, improving to 4-1 in his last five starts with a 2.14 ERA.
"Like I said before the game: The stuff is there, now I know why everybody was excited about this guy," Boston manager Alex Cora said.
Miguel Cabrera and JaCoby Jones each had two hits for Detroit, which has lost four of five. The Tigers have dropped 13 of their last 17 on the road.
Trailing 1-0, Boston took charge with its four-run inning against Blaine Hardy (2-1). Vazquez hit his double of the left-field wall. Benintendi and Bogaerts also hit theirs off the Green Monster.
"You make a mistake, they'll jump you and they put it out of the ballpark or off that doggone wall," Tigers manager Ron Gardenhire said. "We knew that coming in here - they're a great hitting team and when you make mistakes they're going to jump you for it."
Benintendi homered into Boston's bullpen leading off the fifth. Vazquez hit his into the Monster seats in the seventh.
Hardy allowed five runs on eight hits in six innings.
"Even when you make your pitches, they find a way to get runners on and keep that merry-go-round going," he said. "That third inning was really what cost me."
The game was delayed briefly in the seventh inning with Detroit batting when fans were using their cell phone lights. Red Sox security asked the fans in the center-field bleachers to stop using the phones as flash lights, and play resumed.
"You ever tried to hit with a light like that in your face? It's not supposed to happen," Gardenhire said. "The umpires should have, in my opinion, stopped it right away. They see it happen - it's right in dead center field.
"The fans are just having fun. I get it. But when it's in dead center field, my hitters are looking right into it. It's dangerous. It's very dangerous, if you've ever been trying to hit with a light in your face. So, we just couldn't let that happen."
TRAINER'S ROOM
Tigers: RHP Jordan Zimmerman (right shoulder impingement) gave up one run on three hits, striking out five and walking two over 4 1/3 innings in a rehab start for Triple-A Toledo on Wednesday.
Red Sox: Cora said OF Mookie Betts (10-day disabled list, left abdominal strain) plans to take batting practice Thursday and then the club would "decide where we go" if he needs a rehab assignment. . The manager also said that 2B Dustin Pedroia (inflammation left knee) will "most likely" resume baseball activities Thursday. He had offseason knee surgery and didn't return until late May.
"It takes some time," Pedroia said. "It's a part of it. The knee's got to get used to what baseball demand it needs. The good news is the part I had surgery on is perfect."
ON HIS BOBBLEHEAD NIGHT
Benintendi had his solid game on his "Splash Bobblehead" giveaway night. The bobblehead is him holding a cooler to douse a teammate after a walkoff.
MLB DEBUT
Red Sox left-hander Jalen Beeks is scheduled to make his major-league debut Thursday, starting the series finale.
The 24-year-old found out in the ninth inning of Tuesday's game with Triple-A Pawtucket.
"My pitching coach came into the training room and told me I was going to the big leagues and making a start on Thursday," he said. "It was a special moment."
Beeks said he expects his wife, two kids and "I'm guessing like 15 others" to be in the stands, but is leaving the rest of the guest list for his wife to handle.
DOUBLED OUT
The Tigers had their streak with at least one double in 53 straight games halted. It was the most in team history and third longest in the majors since at least 1908.
UP NEXT
Tigers: LHP Matthew Boyd (3-4, 3,23 ERA) is slated to start Thursday. He's 0-1 with a 12.00 ERA in two career starts against Boston.
Red Sox: Beeks allowed two or fewer runs in eight of his 10 starts for Triple-A Pawtucket.