Red Sox take it to Tigers 11-3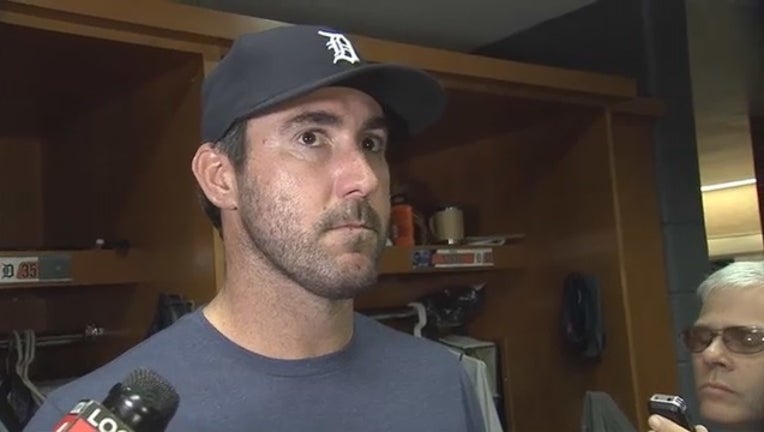 article
BOSTON (AP) - Chris Sale finally knows what it feels like to get a win against the Detroit Tigers when he's facing their ace Justin Verlander.
Sale outlasted Verlander to win his seventh straight decision in a matchup of big-name pitchers, and the Boston Red Sox pulled away late to beat the Tigers 11-3 on Saturday night.
"That's a tough team over there," Sale said. "I've seen quite a bit of them. They've given me some fits over the years."
Coming into the marquee matchup, Sale had faced the Tigers five times with Verlander on the mound, and his team was winless in those games.
Mitch Moreland's tiebreaking, two-run double sparked a three-run seventh inning and Boston added five more in the eighth for its second straight late-inning win over the Tigers. The Red Sox have won 13 of 19.
Sale (8-2) pitched seven solid innings, giving up three runs on nine hits, striking out seven without issuing a walk.
Verlander was gone with high pitch count after five, allowing three runs and four walks with three strikeouts after leaving his previous start following two innings with a tight right groin. Detroit has lost four of five.
"All night long we did a very good job with long at-bats, staying with the strike zone and being relentless at the plate," Red Sox manager John Farrell said.
Verlander said the groin injury forced him to adjust a bit.
"I was cognizant of it, but it made it through about as good as I could have hoped for," he said. "I was just, like I said, aware of it and not trying to overdo anything."
Tigers manager Brad Ausmus knows how tough it is scoring against Sale.
"We've got a lot of guys who have seen him quite a bit," he said. "That certainly helps. We've had some success against him in the past. But, yeah, scoring three runs on Sale is not easy to do."
With runners on first and second, Moreland doubled off the Green Monster against Warwick Saupold (1-1). Josh Rutledge added an RBI single.
Andrew Benintendi had a two-run single in the eighth and finished with three RBIs. Moreland also had an RBI single in a two-run third.
The Tigers had tied it 2-2 in the fifth, but the Red Sox regained the lead that inning on Benintendi's sacrifice fly.
Detroit retied it on Mikie Mahtook's RBI single an inning later.
Sale escaped a jam in the third with runners on the corners and no outs by striking out three straight, including slugger Miguel Cabrera looking with a 96-mph fastball on the inside corner.
Red Sox center fielder Jackie Bradley Jr. helped Sale out of trouble in the first with a diving catch of J.D. Martinez's sinking liner.
TRAINER'S ROOM
Tigers: C James McCann started his second straight after coming off the 10-day disabled list Friday. He had been sidelined with a cut on his left hand.
Red Sox: RHP Carson Smith, recovering from Tommy John surgery last season, threw 25 pitches off the mound before BP against batters that had mostly weak swings and grounders.
SPECIAL DONATION
Former Boston College baseball player Pete Frates, who was diagnosed with ALS in 2012 and started the Ice Bucket Challenge two years later that's helped raised over $100-million for research of the disease, donated his bucket and sunglasses he used in the original challenge along with his glove and BC hat to the National Baseball Hall of Fame on the field before the game.
Red Sox utility infielder Brock Holt and Farrell joined the presentation.
"For a difficult situation to be brought in such a positive way, hopefully to be able to raise funds to someday and one day find a cure and make a quality of life better, we champion what Pete has done," Farrell said.
NICE TOUCH
The theme song from the TV show "Batman" was played over the PA after the first inning. Adam West, the original Batman, died Saturday. He was 88.
UP NEXT
Tigers LHP Daniel Norris (2-4, 4.48 ERA) is set to start the nationally-televised series finale Sunday night against LHP Drew Pomeranz (6-3, 4.02), who looks to extend his career-best three-game winning streak.