Red Wings fall 3-1 to Bruins in Boston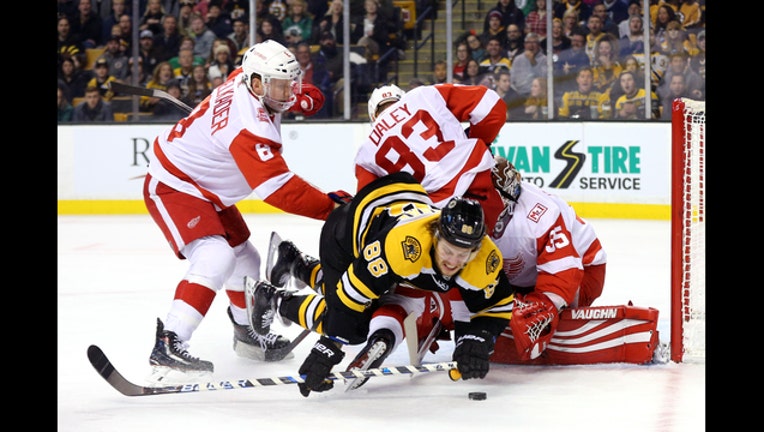 article
BOSTON (AP) - Patrice Bergeron scored twice in the third period, helping the Boston Bruins beat the Detroit Red Wings 3-1 on Saturday for their fourth straight victory.
Brad Marchand had a goal and two assists and Tuukka Rask finished with 30 saves for Boston, which has won seven of nine overall. David Pastrnak and David Backes each had two assists.
Frans Nielsen scored Detroit's only goal and Jimmy Howard stopped 23 shots for the Red Wings, who lost despite outshooting Boston 31-25.
The game was tied at 1 when Bergeron scored his ninth of the season at 6:11 on a one-timer Howard never saw. Marchand set up Bergeron's shot from the left circle with a pass across the slot for his 198th career assist.
Down 2-1 in the final minutes, Detroit missed an opportunity to get Howard off the ice for an extra skater by icing the puck with 1:25 remaining. Howard made it to the bench with about 1:10 left and the Bruins needed a big save by Rask on a tip in front with 28 seconds remaining.
After a timeout, Marchand and Backes got the puck to Bergeron from just across center ice for the empty netter.
Boston jumped in front on Marchand's 15th goal on a one-timer 13:37 into the first off a crossing pass from Backes from the left side of the net. Boston was just 18 seconds into a 5-on-3 advantage with David Booth sitting out for a slashing minor and a call for too many men on the ice.
The Red Wings quickly responded with a short-handed goal by Nielsen, who took the puck in alone after a turnover right outside the Boston zone and beat Rask between his pads at 14:38.
It was just the third shot of the game for Detroit, which was outshot 11-6 in the first period.
NOTES: Nielsen's short-handed goal was the seventh for the Red Wings this season. Detroit was tied for the NHL lead coming into the day. ... Detroit C Luke Glendening, who left a loss at Philadelphia on Wednesday with an upper-body injury, did not play and is expected to miss several weeks.
UP NEXT
Red Wings: Visit the New Jersey Devils on Wednesday.
Bruins: Host Ottawa on Wednesday.