Red Wings shutout Devils 3-0 in New Jersey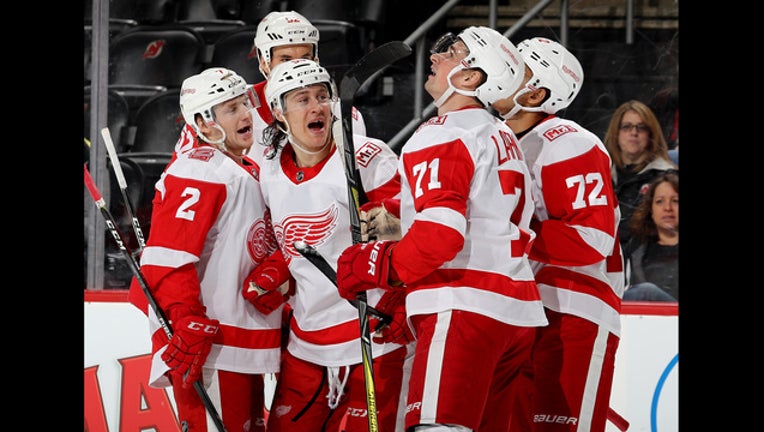 article
NEWARK, N.J. (AP) - Petr Mrazek wants more playing time and Detroit Red Wings coach Jeff Blashill is probably going to give it to him.
Mrazek had 37 saves in posting his second straight shutout and third of the season as the Red Wings played one of their best games of the season in beating the slumping New Jersey Devils 3-0 on Monday night.
Mrazek has stopped 64 shots in shutting out the Blackhawks and Devils in his last two starts. He now has three shutouts in 14 games with a 5-5-1 record.
"I'm trying to get some confidence every game I play, every save I make," Mrazek said. "I haven't played a lot of minutes, so every game I am trying."
Jimmy Howard has gotten most of the work in goal for the Red Wings. He has appeared in 37 games, giving up seven goals in losing his last two starts.
"Without question, when you play at the level that he's played you push for ice time," Blashill said of Mrazek. "We talk lots about earning ice time and sometimes you have to do it over and over and over again. He's done that the last couple of games."
Tyler Bertuzzi, David Booth and Dylan Larkin scored for the Red Wings, who snapped a two-game losing streak and won for the second time in six games.
Cory Schneider, sidelined two of the last three games with an illness, made 27 saves for the Devils, who have two wins in their last 10 games (2-5-3).
Mrazek was spectacular in this one, particularly on the Devils' five power plays. His best save of the night came early in the third period when he stoned Brian Boyle on a setup right in front of the crease. The 25-year-old Czech also stopped Kyle Palmieri, Drew Stafford and Sami Vatanen on a second-period power play and he stopped Pavel Zacha on two more extra-man chances later in the period.
Boyle said he went for the far side of the net and Mrazek stopped it with an instinctive move with his goaltender's stick.
"He's aggressive and athletic and he made saves," Boyle said. "It was such a great pass and I put it right where I wanted it. He makes a great save."
While Mrazek was good, Boyle said the Devils need to play way harder at both nets.
"When things are going the way they are going now, we need to get second, third and fourth efforts, and try to keep pucks alive. We have to understand this is going to get harder and harder. We're not there. We have to get there."
Mrazek also had some lucky. Devils defenseman Andy Greene hit a goalpost on a rebound early in the second period with the net wide open and Detroit ahead 1-0.
Bertuzzi gave the Red Wings the lead 6:36 into the game, scoring on a rebound of Larkin's shot for his second career goal.
Booth got his fourth of the season late in the second on a slap shot that deflected off Vatanen's stick.
Larkin added the insurance in the third period with a shot from the left circle that went in and out of the net so fast that the officials missed it. It was confirmed on a videotape review.
Coincidently, a shot late in the period by Gustav Nyquist of the Red Wings was ruled a goal on the ice and then overturned by a video review.
NOTES: Devils All Star F Taylor Hall sat out with a hand injury and he will not play on Tuesday in Boston. ... Detroit D Joe Hicketts made his NHL debut with Trevor Daley out with a lower-body injury. ... The Devils won the season series 2-1. ... Devils F Jimmy Hayes was in the lineup for the first time since Dec. 13 (13 games). ... Red Wings F Justin Abdelkader missed his fifth straight with a lower body injury. ... New Jersey recalled D Mirco Mueller from a conditioning loan to Binghamton but he remains on IR with a collarbone injury.
UP NEXT
Red Wings: Host Philadelphia on Tuesday
Devils: at Boston Tuesday