Reggie returns as Pistons rout Suns 115-88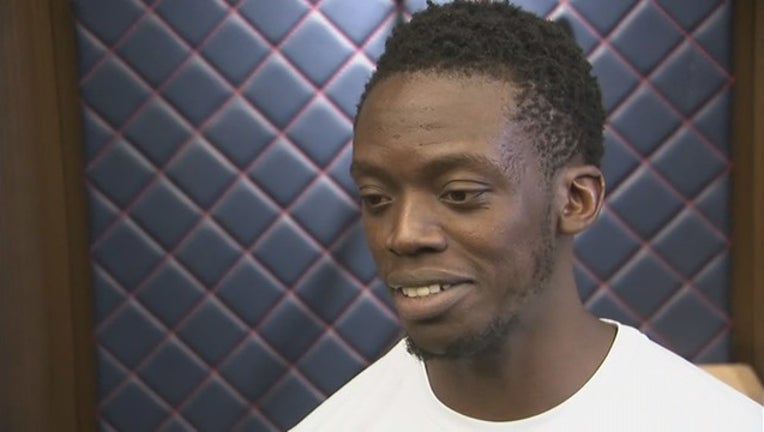 article
PHOENIX (AP) - Blake Griffin always seemed to hurt the Suns when he was with the Los Angeles Clippers.
Now he's doing the same for Detroit.
Griffin narrowly missed a triple-double and the Pistons celebrated the return of Reggie Jackson by handing short-handed Phoenix its ninth straight loss, 115-88 on Tuesday night.
Griffin methodically took it to the Suns, keeping Detroit in it early and leading the blowout that came later.
"It's very important to me, you can't play this game uptight," he said. "You've got to play relaxed and you've got to play the way you can play. I thought we did that tonight."
The Pistons, winners at Sacramento on Monday night, got off to a slow start against the Suns but blew the game open in the second half.
Griffin led six Detroit players in double figures, finishing with 26 points, 10 assists and nine rebounds before sitting out most of the final quarter.
"He was great tonight. I mean great," Pistons coach Stan Van Gundy said. "Had I realized he was one rebound away (from a triple-double) I would have given him another minute or so. I didn't realize that. I really didn't, but 26, nine and 10 is a hell of a game."
Jackson was back in the Detroit starting lineup after missing 24 games with a severe ankle sprain. He scored seven points on 3-of-7 shooting in 15 minutes.
"It was good to have him out there and I thought he played pretty well," Van Gundy said, "better than I thought he would after having three months off."
Luke Kennard added 16 points and Ish Smith 13 for the Pistons.
The Suns were without their two leading scorers. Devin Booker missed his second straight game with a right hand sprain and T.J. Warren was out with left knee inflammation after being hurt late in Saturday night's loss to Golden State.
Alex Len led Phoenix with 19 points and 12 rebounds. Troy Daniels added 18 points, going 4 of 5 on 3-pointers, and Josh Jackson had 15 points and 11 boards for the Suns, who have lost 24 of 26 to run their NBA-worst record to 19-53.
Detroit has won the last two after dropping the first three of a six-game road trip that ends Thursday night in Houston.
Neither team led by more than seven points and both had trouble making shots in the first half, with the Pistons up 44-38 at the break.
The Pistons shot just 32 percent (15 for 47) and Phoenix 36 percent (17 for 47) in the first two quarters. The Suns made only two of 18 3-pointers in the first half to Detroit's 5-of-16 effort.
The Pistons blew open a 21-point lead in the third quarter, outscoring Phoenix 25-10 go to up 69-48 with 4:56 left in the period. Seldom-used Alec Peters' 3-pointer cut it to 77-64 but Anthony Toliver sank his third 3-pointer in the final four minutes of the quarter to put Detroit up 80-64 entering the fourth.
The Pistons, who shot 56 percent in the second half, led by as many as 30 in the fourth quarter.
"We just couldn't hold them in the second half," Phoenix interim coach Jay Triano said. "32 percent we held them to in the first half just by mucking it up a little bit. Second half they go 28 of 50 and Blake makes a couple tough ones and their confidence starts to go up."
TIP-INS
Pistons: Detroit made 10 of 20 3s and had just three turnovers in the second half. ... Jackson had been ruled out for the game by Van Gundy at the shootaround but that changed when the coach met with the media pregame. ... Griffin, who made his first appearance against Phoenix as a Piston, averaged 22.5 points and 8.2 rebounds in 26 career games against the Suns as a Los Angeles Clipper. ... Detroit swept season series with Suns for second time in three seasons.
Suns: Phoenix has lost 10 in a row at home. ... Suns assigned C Alan Williams to Northern Arizona of the G-League. Williams is coming back from September knee surgery. ... Jackson's 36 points against Golden State on Saturday was fourth-most points by a rookie this season. ... Booker missed his 18th game of the season. ... Phoenix has won five games since Christmas, one since Jan. 31. ... Dragan Bender made 1-of-8 3s. ... Other than Daniels, the Suns were a combined 3 of 29 on 3s.
UP NEXT
Pistons: at Houston Thursday night.
Suns: at Cleveland Friday night.