Royals top Tigers 4-2, win first series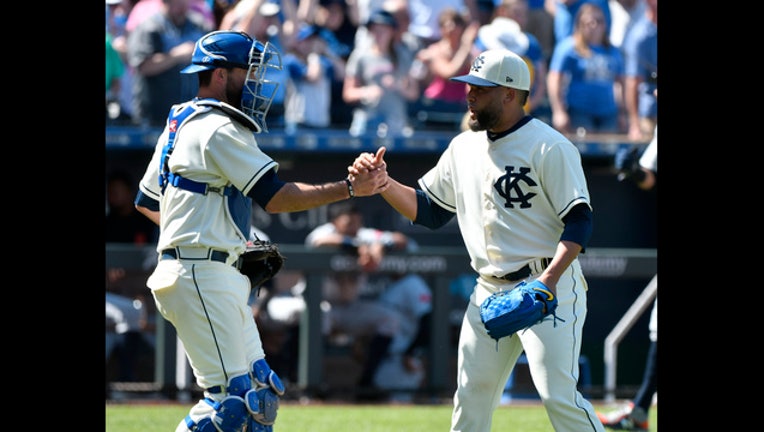 article
KANSAS CITY, Mo. (AP) - Mike Moustakas helped the Kansas City Royals win a series for the first time in 11 tries this season.
Moustakas drove in three runs with a double and sacrifice fly, and the Royals beat Detroit 4-2 on Sunday to take three of four from the Tigers.
Kansas City had lost nine previous series this year and split one.
"We've been going out and grinding and playing good baseball," Moustakas said. "Obviously things haven't really been going our way. Lately we've been playing great ball. Things are starting to fall for us. Our staff has been doing phenomenal and our defense is always there. If we keep doing those things, we're going to keep getting better."
Kansas City has won six of its last nine games, leaving the Royals at 11-23.
Jakob Junis (4-2) improved to 3-0 against the Tigers this year and matched his career high with eight strikeouts. He allowed two runs and eight hits in seven-plus innings.
"The slider was working," Junis said. "I had a lot of strikeouts and strikeouts in big situations. Strikeouts are always good."
Kelvin Herrera retired pinch-hitter Nicholas Castellanos on a game-ending flyout with a man on for his seventh save in eight chances, ending a game that took just 2 hours, 16 minutes.
Matthew Boyd (1-3) gave up four runs and six hits in seven innings, dropping to 2-6 against Kansas City.
"We got a lot of weak contact," Boyd said. "I made most of my pitches all game, it's just that Moustakas was one of my mistakes. I didn't make my pitch there. It's unfortunate that the game came down to the Moustakas matchup. I threw the pitch I wanted to. I just didn't execute it like I wanted to. I had a chance to put him away earlier in the count and I didn't do that."
Moustakas hit a sacrifice fly in the first and had a two-run double to the base of the center-field wall in the third. Moustakas scored when Salvador Perez singled on a popup that shortstop Jose Iglesias lost in the sun.
Whit Merrifield led off the first with a double and came home on Moustakas' sacrifice fly. Merrifield stole three bases for the second time in his big league career, the first since last July 2.
Merrifield stole third against the shift and then Soler stole second before Moustakas' third-inning double.
"We had one bad inning out there defensively where our third baseman (Niko Goodrum) walked off with another guy stealing third and the first baseman (John Hicks) forgot to hold the runner on," Tigers manager Ron Gardenhire said. "I'll put it on myself. I should have just yelled 'timeout.' I should have stopped the game. Guys not familiar with their positions, and that's disappointing that they ran all over us."
Hicks homered in the fourth and hit a run-scoring single in the eighth off Brad Keller.
NEGRO LEAGUES SALUTE
The Royals wore the uniforms of the Kansas City Monarchs and the Tigers of the Detroit Stars as the clubs saluted the Negro Leagues. The Negro Leagues Museum is in Kansas City.
QUICK GAME
The game time was the shortest at Kaufman Stadium since Aug. 18, 2016 against Minnesota.
TRAINER'S ROOM
Tigers: 3B Jaimer Candelario did not play because of a jammed and swollen left thumb, injured in a swing. ... Castellanos, who had three extra-base hits Saturday, did not start because of flu-like symptoms. ... Iglesias is getting treatment for a tender ankle, but was in the lineup. "We've talked about trying to give him a break, but we didn't have an option today," Gardenhire said.
UP NEXT
Tigers: RHP Michael Fulmer (1-2, 2.80) is to start Monday at Texas, which goes with LHP Matt Moore (1-4, 7.67).
Royals: LHP Danny Duffy (0-4, 5.64) is the scheduled starter Tuesday at Baltimore, and RHP Dylan Bundy (1-4, 3.76) starts for the Orioles. Kansas City is 0-14 in games started by Duffy and RHP Jason Hammel.