Rutgers pulls away in 2nd half vs. frigid-shooting Michigan
CHICAGO - Cam Spencer and Derek Simpson scored 23 of their combined 31 points in the second half and Rutgers beat Michigan 62-50 on Thursday in the second round of the Big Ten Tournament.
Spencer scored 18 points and Simpson 13 for the ninth-seeded Scarlet Knights (19-13), who rebounded to shoot 52% in the second half after a 29% first half. They will play top-seed Purdue in Friday's quarterfinals.
Hunter Dickinson scored 24 points for eighth-seeded Michigan (17-15), which had just one second-half field goal until the final minute.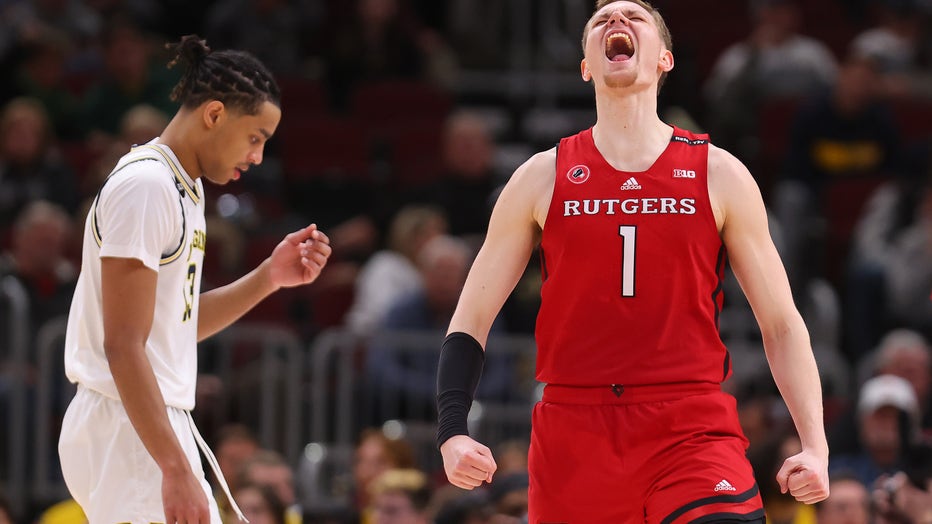 CHICAGO, ILLINOIS - MARCH 10: Oskar Palmquist #1 of the Rutgers Scarlet Knights celebrates against the Michigan Wolverines in the second half of the quarterfinals of the Big Ten Tournament at United Center on March 10, 2023 in Chicago, Illinois. (Pho
Trailing by three at halftime, Rutgers opened the second half on a 12-3 run and midway through scored 12 straight points to lead by 13 with just under six minutes remaining. The lead grew to 16 with two minutes to go.
The Wolverines, who shot 48% in the first half, had only four field goals in the second. The first two were 3-pointers by Dickinson — the second with 59 seconds left — that came 14 minutes apart. Michigan finished the second half 4 of 21 for 19%.
Dickinson scored 13 points in the first half when Michigan took a 28-25 lead. The Wolverines scored the first seven points while the Scarlet Knights were missing their first seven shots. Rutgers rallied to take a lead late in the half with an 8-0 run. Dickinson had a bucket and Joey Baker a 3-pointer to regain the lead.
Michigan beat Rutgers 58-45 in the regular season and leads the all-time series 16-2.