Rutgers rallies from 18 points down to beat Michigan State 27-24 behind Monangai's 148 yards and TD
PISCATAWAY, N.J. - PISCATAWAY, N.J. (AP) — On a rainy, Homecoming afternoon, one of the greatest comebacks in Rutgers' football history went basically unnoticed, spoiling by what could have been a memorable day for Michigan State interim head coach Harlon Barnett.
Kyle Monangai ran for 148 yards and had a go-ahead 21-yard touchdown run as the Scarlet Knights rallied from an 18-point fourth-quarter deficit to stun Michigan State 27—24 Saturday, denying Barnett his first win.
Rutgers (5-2, 2-2 Big Ten) got two big plays on special teams and two scores in a nine-second span in getting off to its best start since 2014 and handing Michigan State (2-4, 0-3) its fourth straight loss under Barnett.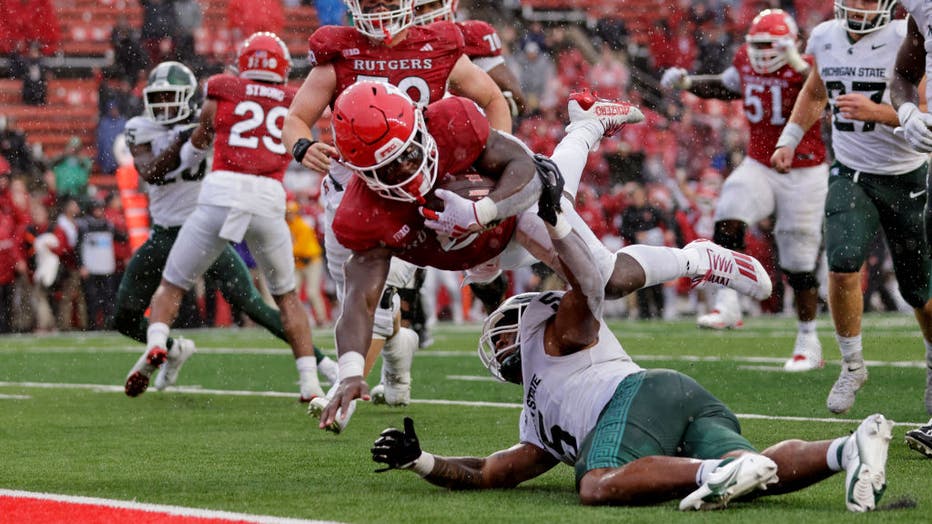 PISCATAWAY, NEW JERSEY - OCTOBER 14: Running back Kyle Monangai #5 of the Rutgers Scarlet Knights leaps over linebacker Jordan Hall #5 of the Michigan State Spartans to score a 21-yard touchdown during the fourth quarter of a college football game at
Of the announced crowd of 52,879 fans, there might have been a couple of thousand fans on hand to see the turnaround, Rutgers' biggest since 2015.
"Those who stuck around in the rain got to see something really exciting," Rutgers coach Greg Schiano said. "Everything that could go wrong in the first three quarters pretty much did."
The final 15 minutes were remarkable, at least for the Scarlet Knights — who outgained Michigan State 120 to minus-20 in the fourth quarter.
"Games take a life of their own," Schiano said. "Some people think momentum isn't real. They're living in a dream. But watch this one today."
Aaron Young started the comeback with 13:09 to play, recovering a fumble in the end zone after the snap slipped through the hands of Michigan State punter Michael O'Shaughnessy to cut the gap to 24-13.
After a Michigan State punt, Gavin Wimsatt (13 of 28 for 181) cut the lead to 24-21 with a 4-yard touchdown pass to Isaiah Washington and a 2-point conversion pass to Christian Dremel with 8:30 to go. On the ensuing kickoff Michigan State return man Tyrell Henry let the ball bounce and Rutgers' Thomas Amankwaa recovered it at the Spartans 21, controlling the ball despite a collision with Henry.
Schiano said Jude McAtamney's kickoff is meant to bounce behind the Spartans' front line expecting an on-side kick and in front of the returner.
"The sky kick was a tremendous play by Jude," Schiano said. "It was a razor thin margin of error."
On the next play, Monangai scored on the long run to cap Rutgers' biggest comeback since a school-record 25-point rally against Indiana.
"This was a testament to everyone's belief," said Monangai, who ran for 107 yards in the fourth quarter. "We came in at halftime and put the first half aside. It's easy to lay down if things aren't going your way in the first half. But there were no shadows of doubt that we were going to win this game."
Michigan State went three-and-out on the next series and Rutgers ran out the final 7:05.
Barnett said his message to the team at halftime and during the game was to finish.
"We had the momentum," Barnett said. "But like I said, when the momentum switch happened, we couldn't stop them rolling down the hill, avalanche after avalanche."
Michigan State seemed in total control and headed for its first win since Mel Tucker was fired after redshirt freshman Katin Houser threw his second touchdown of the game to open a 24-6 lead.
Stepping in for Noah Kim, Houser (18 of 29 for 133) ran an efficient ball-control offense and capped long drives with scoring passes of 13 yards to Montorie Foster Jr. on the opening drive of the game and a 4-yarder to Tre Mosley on the Spartans' first drive of the second half. The redshirt freshman also scored on a 12-yard run in the second quarter in opening a 17-6 lead.
Jai Patel provided Rutgers points with field goals of 22 and 47 yards.
Spartans linebacker Aaron Brule agreed this was one of those games where players don't know how they lost.
"But there's not a doubt, we clearly see we can play with anybody at any time," Brule said. "We just have to finish those games and we will do that."
THE TAKEAWAY
Michigan State: After a loss like this and a game against No. 2 Michigan next week, this season could go south very quickly.
"Yeah, it's a tough loss," Houser said. "But I mean, we have to stay together as a team. I think we're going to do that."
Rutgers: The Scarlet Knights are one win away from becoming bowl eligible.
UP NEXT
Michigan State: Hosts No. 2 Michigan Oct. 21.
Rutgers: At Indiana Oct. 21.