Sanchez Struggles Again, Tigers Lose 6-1 to Blue Jays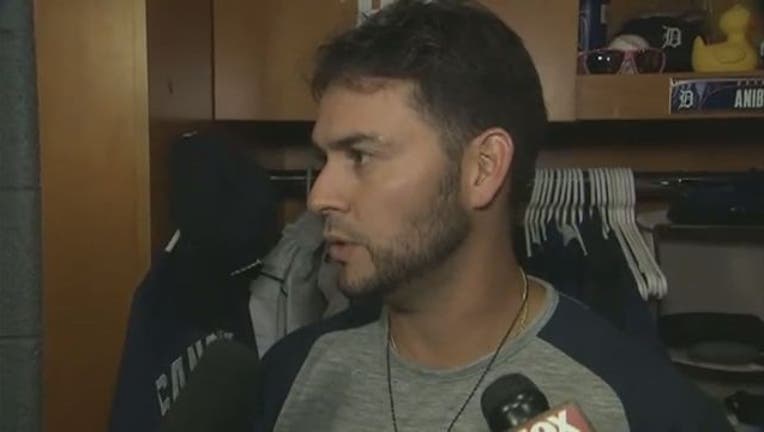 article
TORONTO (AP) - Having reached the All-Star break, Detroit's Anibal Sanchez is eager to put a difficult first half behind him.
Josh Donaldson hit a three-run homer, R.A. Dickey won back-to-back starts for the first time in a month and the Toronto Blue Jays beat Sanchez and the Tigers 6-1 on Sunday.
Sanchez (5-10) lost his second straight start, allowing five runs and eight hits in four innings. He has lost seven straight decisions as a starter, including five in a row on the road.
"I want to make the second half strong," Sanchez said. "Right now I can say I had the worst first half of my whole career. I've got to continue working."
Catcher James McCann said Sanchez has been paying a heavy price for his mistakes so far this season.
"You look at his outings and it's one mistake here, one mistake there," McCann said.
Manager Brad Ausmus said Sanchez, an 11-year veteran who is 32 years old, has less margin for error than he did earlier in his career.
"He's a guy who, a few years ago, could pitch up and get swings and misses, foul balls and pop flies," Ausmus said. "Now some of those balls are leaving the yard. He's going to have to really (rely) more on command and location than the raw stuff."
The Blue Jays took a 2-0 led against Sanchez in the second when catcher Josh Thole hit a bases-loaded single. For Thole, the RBIs were his first since hitting a solo home run at Tampa Bay on April 4, Toronto's second game of the season.
Donaldson, the 2015 AL MVP, made it 5-0 with a two-out drive in the fourth, his 23rd.
Fellow All-Star Michael Saunders made it 6-1 with an RBI single off Kyle Ryan in the eighth.
Donaldson is the sixth player in American League history to hit at least 20 home runs and score 80 runs or more before the All-Star break. The others were Lou Gehrig (1936), Ted Williams (1946), Reggie Jackson (1969), Frank Thomas (1994), and Alex Rodriguez (2000).
Donaldson is the first player to score 80 or more runs before the break since 2008, when Ian Kinsler (84) and Hanley Ramirez (80) both did it.
Dickey (7-9) allowed one run and five hits in seven innings to win consecutive starts for the first time since victories at Boston on June 3 and at Detroit on June 8.
"We didn't do much against Dickey," Ausmus said. "We hit a couple of balls hard early and after that he settled in. He did a very nice job."
Detroit was held to one run or less for the 15th time in 89 games.
Jesse Chavez got two outs in the eighth and Brett Cecil got the third. Bo Schultz finished for Toronto, which has won eight of 11 against Detroit.
Blue Jays slugger Edwin Encarnacion sat out after dropping his appeal of a one-game suspension for making contact with umpire Vic Carapazza. An All-Star this season for the third time, Encarnacion was suspended for bumping Carapazza's shoulder after being ejected at the end of the first inning in Toronto's 19-inning loss to Cleveland on July 1.
NO SIGN OF GOSE
Triple-A OF Anthony Gose did not report to the ballpark Sunday after arguing with manager Lloyd McClendon and being removed from the first game of a doubleheader Saturday. Gose, who began the season with the Tigers, is batting .185 with one homer and 13 RBIs in 50 games at Toledo.
TRAINER'S ROOM
Tigers: OF J.D. Martinez (right elbow) is taking swings but is still "a few weeks away" from a return, Ausmus said.
UP NEXT
Tigers: Following the All-Star break, RHP Justin Verlander (8-6, 4.07) starts the opener of a three-game home series against Kansas City. Verlander has won once in his past four starts.
Blue Jays: Toronto heads on the road after the All-Star break, with RHP Marcus Stroman (7-4, 4.89) starting the opener of a three-game series at Oakland. Stroman allowed two runs in eight innings to beat Kansas City on July 6.