Spartans lose to Michigan in their first game since shooting
ANN ARBOR, Mich. - ANN ARBOR, Mich. (AP) — Michigan showed its support for rival Michigan State in a rare rivalry game where the final score with U-M winning 84-72 didn't matter as much as the message of unity and support in the arena.
A long moment of silence was broken by the Michigan band playing the Spartans' alma mater — "MSU Shadows" — while Crisler Arena was dimly lit with green and white lights from LED wristbands that were given to fans. A large "Spartan Strong" flag was held up in the student section.
The Wolverines, and their student section, wore maize shirts with "Michigan Basketball Stands with MSU" across the front.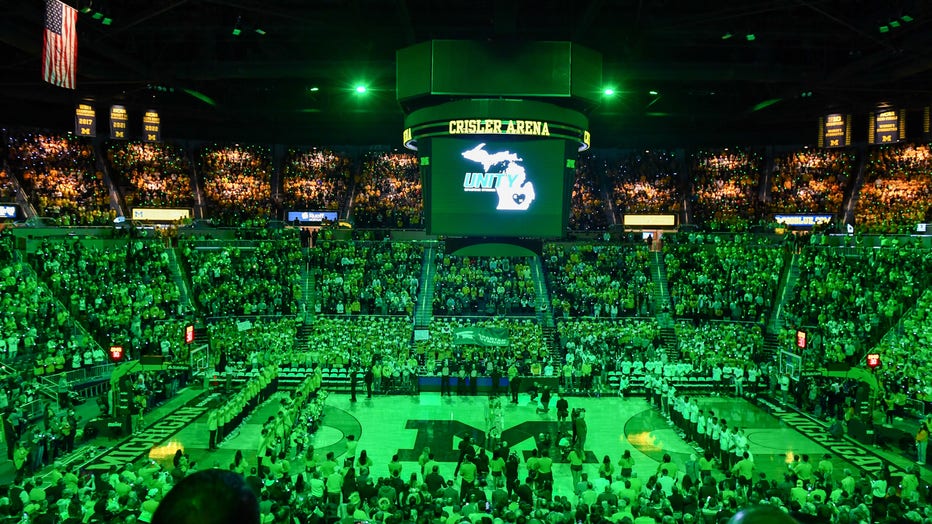 ANN ARBOR, MICHIGAN - FEBRUARY 18: A general view of the crowd at Crisler Arena during a tribute to the students that passed away from a mass shooting at Michigan State University before a college basketball game between the Michigan Wolverines and t
Kobe Bufkin snapped a tie with a 3-pointer after he bobbled the ball as the shot clock was winding down with two minutes left and the Wolverines (15-12, 9-7 Big Ten) scored the last 12 points to split the season series.
Dug McDaniel led the Wolverines with 18 points, Bufkin scored 17, Hunter Dickinson 14 and Joey Baker and Jett Howard had 10 each. Howard left the game with an apparent leg injury early in the second half.
Joey Hauser scored 20 points, Malik Hall 14 and Tyson Walker 11 for the Spartans (16-10, 8-7)
Earlier in the day at East Lansing, a moment of silence was held
Michigan State plays at home against Indiana on Tuesday.
Michigan goes to Rutgers for a Thursday game.