Tigers' Play Long Ball in 11-5 Win over Nats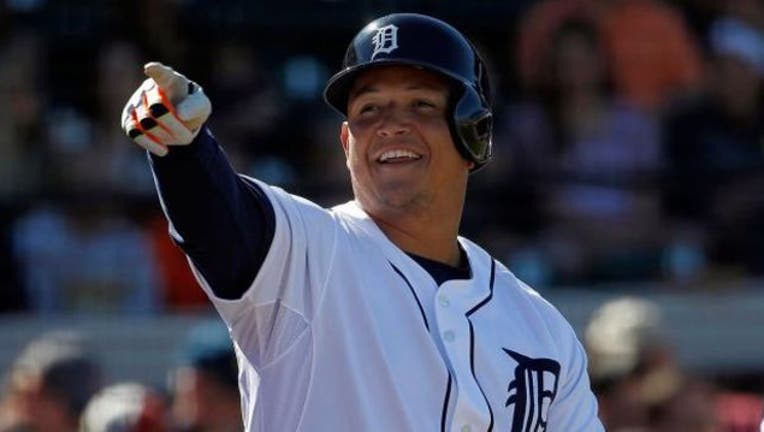 article
LAKELAND, Fla. (AP) - As the innings wound down for the Detroit Tigers last fall, it seemed like all anyone wanted to do was play out the string. After four straight AL Central titles, the Tigers went 74-87 and finished last, skidding to a 14-17 finish.
They traded Yoenis Cespedes, David Price and Joakim Soria.
With the Tigers hoping to a rebound this year, ace Justin Verlander threw three scoreless innings in an 11-5 win over the Washington Nationals on Wednesday.
Verlander hasn't allowed an earned run in five innings.
"We were out of it and all we could do was play for pride," Verlander said. "It was hard just going through the motions. Something wasn't there."
Tigers manager Brad Ausmus agreed.
"The last month of last year was tough," Ausmus said. "Some of our best players were traded and it got to where it was tough to get out of bed and roll to the ballpark."
But the Tigers fortified a shaky bullpen during the offseason and added Jordan Zimmerman.
"There is so much energy and we know we can get it back this year," Ausmus said. "We talked a lot about it and things feel different this year."
"There's a new vibe in this clubhouse," Verlander said. "It doesn't feel the same, it feels better. There was a bitter taste after last year and it's gone."
FOR STARTERS
Nationals: Gio Gonzalez made his second start and allowed four runs and walked four in 2 2/3 innings.
"It's just something you have to get used to," Gonzalez said. "I'm still working on things. Sometimes you get hit and throw too many balls. Just one of those days."
Washington didn't help Gonzalez much by committing three errors — all with two outs — while the Tigers scored four runs. Gonzalez also threw a wild pitch.
"That was rough," new manager Dusty Baker said. "We can't give away that many outs. We asked for trouble and, in baseball, that's what you get when you ask for trouble. The Tigers have a powerful team and we just made them even more powerful."
Tigers: Ausmus said he is keeping a close watch on Verlander.
"He's getting his pitches in for strikes, but I have seen him better," Ausmus said. "I felt better but it was only the second start of the spring."
TRAINER'S ROOM
Tigers: OF Justin Upton had his left ankle stepped on by center fielder Anthony Gose while going after a short fly ball and was replaced in the second inning. Ausmus said there were no stitches and it was a precautionary measure.
UP NEXT
Nationals: Non-roster RHP Bronson Arroyo is slated to make his second appearance on Thursday in Viera against Houston. Arroyo has pitched two innings and surrendered two runs.
Tigers: Zimmerman is to start against Philadelphia in Clearwater.