Tigers Routed 11-5 By Twins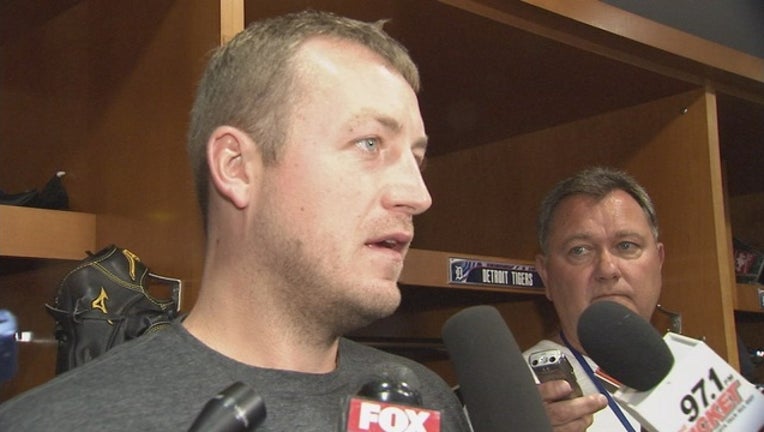 article
DETROIT (AP) - When Jordan Zimmermann started walking people in a rare display of wildness, the Minnesota Twins were ready to capitalize.
Max Kepler, Miguel Sano and Robbie Grossman all homered for Minnesota, and the Twins routed the Detroit Tigers 11-5 on Thursday. Zimmermann allowed a career-high five walks, all in the fourth and fifth innings, and that was when Minnesota's offense began to break the game open.
"He's not a guy that you typically think you can take advantage of in that way, which made it even better," Twins manager Paul Molitor said. "He wasn't missing by much, but we were able to stay patient with a lot of tough pitches. That's something we've been good at all season."
Zimmermann (1-1) allowed five runs and four hits in 4 2/3 innings. Anibal Sanchez was even worse for the Tigers in relief, allowing six runs in 1 1/3 innings and letting two of Zimmermann's runners score on Kepler's three-run homer in the fifth.
Grossman hit a two-run shot in the third, and Sano connected for a three-run homer in the sixth.
Phil Hughes (2-0) allowed four runs and five hits in 5 2/3 innings. Rookie Justin Haley worked the final 3 1/3 innings to earn his first career save, striking out six.
The Twins avoided a three-game sweep at Detroit and pulled even with the Tigers atop the AL Central.
Miguel Cabrera and Justin Upton each hit his first home run of the season for the Tigers.
Zimmermann hadn't walked two consecutive batters since May 6, 2012, but he walked three of the first four in the fourth. Eddie Rosario's RBI single put the Twins up 3-2.
Zimmermann said he had a hard time gripping the ball. The temperature at game time was 47 degrees, and the right-hander said the wind made conditions tough.
"I had no clue where the ball was going," he said.
Zimmermann walked two more batters in the fifth and was replaced by Sanchez with two out. The first batter Sanchez faced was Kepler, whose drive to right gave Minnesota a 6-2 advantage.
The Twins added five more runs in the sixth. Sano's home run cleared the wall in center and made it 10-2.
Cabrera opened the scoring with a solo homer in the first for his first extra-base hit of the season. Upton hit a two-run shot in the sixth.
Zimmermann allowed only one hit through the first two innings and was an out away from getting through the third when Brian Dozier singled and Grossman followed with a homer to right that tied the game at 2.
DEBUT
Detroit reliever Joe Jimenez, a standout in the minors, made his big league debut and pitched a perfect ninth. The Tigers then optioned Jimenez to Triple-A Toledo and purchased the contract of right-hander William Cuevas from Toledo. Manager Brad Ausmus said the Tigers made that move because they need someone else who can pitch multiple innings at a time.
The first hitter Jimenez faced was Minnesota catcher Chris Gimenez. The Jimenez-vs.-Gimenez matchup ended in a flyout to left.
"I've never faced Ubaldo, so this was my first at-bat against a Jimenez," Gimenez said. "I was pretty excited, especially against a new kid, until they told me he threw 98 with a nasty slider. That wasn't as exciting."
TRAINER'S ROOM
Tigers: Detroit is without RF J.D. Martinez, who is out with a sprained right foot. In his absence, Tyler Collins has gone 7 for 20. He singled, walked and scored Thursday.
UP NEXT
Twins: LHP Adalberto Mejia (0-1) starts Friday night against Dylan Covey of the Chicago White Sox in the opener of a three-game series at Minnesota.
Tigers: Detroit begins a three-game set at Cleveland with LHP Daniel Norris on the mound against RHP Trevor Bauer (0-1). The Tigers were 4-14 against the Indians last year.