Tigers Score 3 in 7th, Rally to Beat Royals 4-2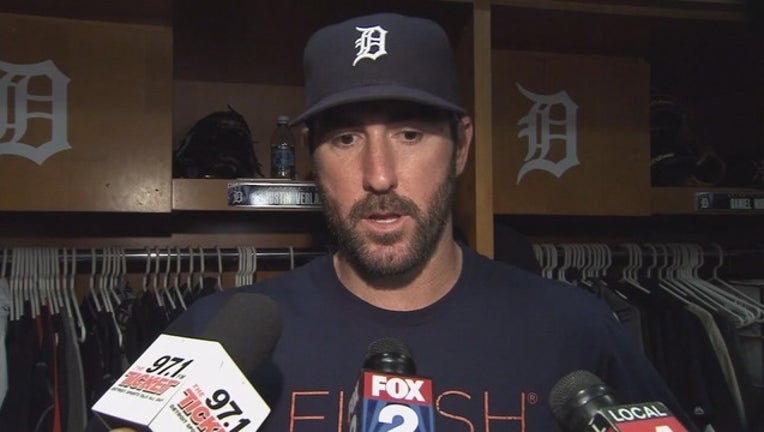 article
DETROIT (AP) - A year after the Detroit Tigers traded away stars at the deadline, Justin Verlander is trying to prevent that from happening again.
"You don't want to be sellers. Obviously we went through that last year, and it was tough for everybody here, especially when you've got a lot of guys in this clubhouse that are used to winning," Verlander said. "We are a good club, and we've just got to go out there and prove it."
Verlander struck out 10 in seven innings, and the Tigers scored three runs in the seventh to rally past Kansas City 4-2 on Friday night.
Victor Martinez drove in two runs with a single in the seventh when his comebacker deflected off reliever Joakim Soria and rolled to the area between first and second. With the second baseman playing way out in shallow right field, the Royals couldn't retire Martinez, and two runners scored on the play.
"I'd rather give up a double up the gap than do that, because I had a chance to get us out of the inning, and I didn't take it," Soria said. "I made the pitches, but didn't field my position."
Detroit's Tyler Collins hit a solo homer earlier in the inning off Luke Hochevar (1-2) to tie the game at 2. Ian Kinsler also homered for the Tigers.
Verlander (9-6) allowed one earned run and four hits. Justin Wilson pitched the eighth and Francisco Rodriguez finished for his 25th save in 27 chances.
Detroit traded David Price, Yoenis Cespedes and Soria during a disappointing 2015. The Tigers have been better this year, but they came into the day trailing by 6 1/2 games in the AL Central and by four in the race for a wild card.
Collins was called up from the minors before the game to replace Justin Upton, who was put on the bereavement list. Collins was 2 for 22 with Detroit this season before his seventh-inning homer tied the game. After consecutive singles by Jose Iglesias and Kinsler, Soria came on and walked Cameron Maybin to load the bases with one out.
After falling behind 3-0 on Miguel Cabrera, Soria recovered to strike out the Detroit slugger, but Martinez followed with his grounder that turned into a two-run single.
Verlander struck out the side in the first, and Kinsler led off the bottom half with a homer, but Detroit couldn't add to that lead. With men on first and second in the sixth, Kansas City's Salvador Perez lifted a deep drive to right that Steven Moya couldn't handle. Perez ended up with an RBI double, and another run came home on the play thanks to a throwing error by Kinsler.
Kansas City starter Ian Kennedy allowed a run and four hits in 5 1/3 innings. He walked two and struck out three.
RETURN
The most memorable thing Collins did with the Tigers earlier this season was extend a middle finger toward booing home fans back in April. He heard plenty of cheers Friday after his big home run.
"It feels great, definitely," Collins said. "It feels better to get the win."
RESPECT
Royals manager Ned Yost, who was the American League skipper at the All-Star Game, talked a bit about Cabrera's gesture in Tuesday's game in which he insisted Kansas City's Eric Hosmer get another at-bat to try to boost his MVP case. Cabrera didn't replace Hosmer until the seventh inning of that game.
"What's really unique about the All-Star Game for me is that you get 34 guys from different organizations that you're screaming at and yelling at one day from across the field, but you walk into that clubhouse door and it's amazing how they unite into a team for two days," Yost said.
TRAINER'S ROOM
Royals: Yost said OF Lorenzo Cain (left hamstring) is probably at about 85 percent. Cain is eligible to come off the DL whenever the Royals feel he's ready.
Tigers: Manager Brad Ausmus said LHP Daniel Norris (right oblique) was probably a couple of days away from a bullpen session. ... RHP Jordan Zimmermann (neck) said he would probably do long-toss Saturday.
UP NEXT
Royals: LHP Danny Duffy (4-1) starts Saturday night against the Tigers. He has struck out at least seven hitters in four straight starts. The last Kansas City pitcher to do it in five straight starts was Zack Greinke, when he won the Cy Young Award in 2009.
Tigers: RHP Mike Pelfrey (2-8) tries for his third straight quality start.