Tigers score three in the eighth to beat Blue Jays 7-4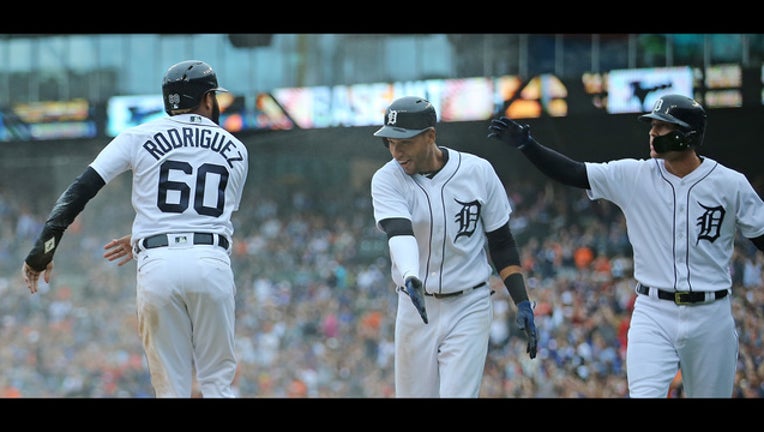 article
DETROIT (AP) - John Hicks had a simple goal when he got to the plate in the eighth inning on Saturday.
He just wanted to put the ball in play. Hicks had struck out in his first three-at bats, but he now had a chance to put the Detroit Tigers ahead. In a 4-4 game, Detroit had loaded the bases with one out.
Hicks fouled off five straight fastballs from Toronto Blue Jays reliever Seunghwan Oh (1-1), then looped a two-run single over the head of second baseman Devon Travis. The Tigers went on to win 7-4.
"He threw me fastballs up and in, and I was just getting enough of them to stay alive," Hicks said. "James McCann had told me earlier in the day to try to stay back more, and that's the only reason I got to that slider down and away."
Miguel Cabrera started the eighth with a one-out single off Oh, and was replaced by pinch-runner Victor Reyes. Victor Martinez followed with a ground-rule double to left-center and Ronny Rodriguez ran for him.
The Blue Jays intentionally walked Niko Goodrum to load the bases, bringing up Hicks.
"That was a great at-bat from Hicksie," Tigers manager Ron Gardenhire said. "He couldn't strike out a fourth time, so he shortened up on the bat and really battled.
"We knew we were in good shape when he flipped that ball into center, because we had a lot of speed with all those pinch runners"
JaCoby Jones added a sacrifice fly to make it a three-run game.
Louis Coleman (3-0) picked up the win with a scoreless eighth inning while Joe Jimenez pitched the ninth for his first career save. Detroit has won four straight and six of seven.
"It was great to see Joe get his first save," Gardenhire said. "We didn't want to use our closer (Shane Greene) for a fourth straight day, so Joe got the chance and did the job."
The Blue Jays, who led 2-1 and 4-2, lost their fifth straight. Blue Jays manager John Gibbons did not talk to the media after the game, telling a team spokesperson he had nothing to say.
"We certainly don't want to get used to losing," Toronto starter J.A. Happ said. "We're in a tough stretch, but we have to keep doing the little things it takes to win games."
The Tigers took a 1-0 lead on the second pitch of the first inning, with Jeimer Candelario hitting the first lead-off homer of his career in his second game as a lead-off hitter.
Yangervis Solarte's double past a diving Goodrum tied the game with one out in the third, and Justin Smoak followed with an RBI single to put Toronto up 2-1.
Nicholas Castellanos tied the game with a double in the bottom of the third, but Luke Maile and Solarte made it 4-2 with solo homers in the fifth.
Once again, Happ couldn't hold the lead. Dixon Machado's RBI double pulled the Tigers within 4-3, and he scored on Castellanos' second game-tying hit in three innings. Castellanos is hitting .394 in his last 26 games, and has 11 hits in the last four.
"I felt like I was in control for most of the game, but they kept grinding out good at-bats," Happ said. "In the fifth inning, my pitch count just jumped up on me out of nowhere."
Detroit's three-run eighth inning came moments after the Tigers debuted a "Rally Goose" video, and the fans broke into a chant of "Goose! Goose!" after Hicks' tie-breaking single and again at the end of the game. Detroit is now 4-0 since a Canada Goose crashed into a third-deck scoreboard while trying to escape the stadium. The goose was treated by veterinarians and released into the wild Friday morning.
"I thought the fans were chanting for Hicksie, but didn't sound right," Gardenhire said. "They are really getting excited by this goose thing, and that's great."
TRAINER'S ROOM
Blue Jays: LF Teoscar Hernandez left the game with a left-foot injury in the third inning. Hernandez fouled a pitch off his left foot in the top of the inning, and while he finished his at-bat, Curtis Granderson replaced him in left field for the bottom of the third. X-rays were negative. "I couldn't feel the first two toes, so I knew I couldn't keep going," he said. "I'm going to be back in a couple days."
Tigers: 1B Cabrera played for a second straight day after returning from a hamstring injury. Gardenhire will let Cabrera decide when he needs a day off.
SPLIT CROWD
The game drew 34,674, Detroit's biggest crowd since Opening Day, but it wasn't all Tigers fans. Several thousand fans made the trip across the Detroit River to root for the Blue Jays, resulting in loud cheers for almost every play.
UP NEXT
The teams finish the three-game series Sunday afternoon, with Toronto's Aaron Sanchez (2-5, 4.77) facing Detroit's Michael Fulmer (2-4, 4.60).