Tigers Use 8-Run 9th Inning to Beat Rays 10-7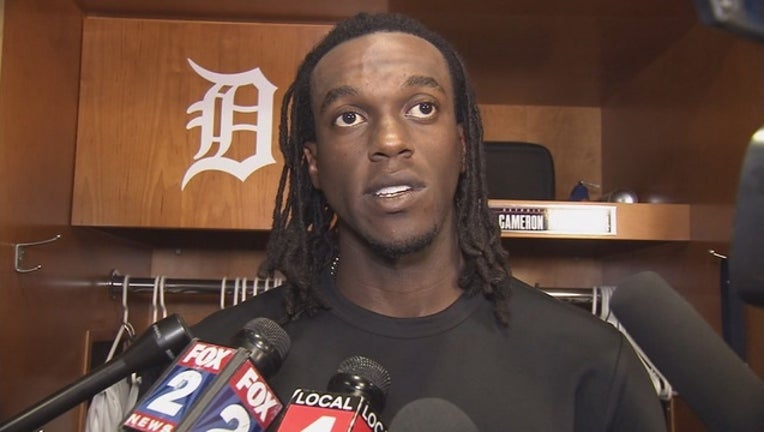 article
ST. PETERSBURG, Fla. (AP) - The Detroit Tigers began an 11-game road trip with a ninth-inning rally to remember.
Cameron Maybin capped a dramatic eight-run ninth with a tiebreaking three-run double, and the Tigers overcame a five-run deficit to beat the Tampa Bay Rays 10-7 on Thursday night.
Detroit trailed 7-2 entering the ninth and opened the inning with four consecutive hits off Ryan Garton, including Victor Martinez's RBI single.
Erasmo Ramirez (7-7) replaced Garton and allowed Justin Upton's run-scoring single, Steven Moya's sacrifice fly and an RBI single to Jarrod Saltalamacchia that made it 7-6.
Maybin's drive to left-center cleared the bases to put Detroit up 10-7.
"I was just hoping the snowball would keep rolling down the hill," Tigers manager Brad Ausmus said. "The energy is kind of building as you sense there is a chance you can win the game. It just keeps building until you get that go-ahead run."
"That was one contagious inning for them," Rays manager Kevin Cash added.
Garton entered after reliever Matt Andriese went three scoreless innings. Cash said he didn't really consider having Andriese return for the ninth.
"You have a five-run lead," Cash said. "We have pitchers capable of going out and getting the job done."
Winner Anibal Sanchez (5-8) gave up two runs in two innings. Francisco Rodriguez got the final three outs for his 22nd save.
Maybin was 3 for 4 with four RBIs.
Nick Franklin had a three-run pinch-hit double during a four-run third inning for the Rays, who had won two of three after an 11-game losing streak.
Franklin pinch hit for Desmond Jennings with the bases loaded and put the Rays up 5-0 on an opposite-field flare to left that landed in front of Upton and took a strange bounce past the outfielder.
Tampa Bay's Jake Odorizzi gave up two runs, three hits, three walks and struck out seven in five-plus innings.
Jordan Zimmermann allowed five runs and nine hits in six innings for the Tigers. He has given 12 runs over 9 2/3 innings in his last two starts.
TRAINER'S ROOM
Rays: Jennings departed with left hamstring tightness. ... LF Corey Dickerson was back after missing three games with a sore left thumb. ... OF Oswaldo Arcia was the DH after missing Wednesday's game due to flu-like symptoms. ... RHP Alex Colome (right biceps tendinitis) played catch at 90 feet. ... RHP Brad Boxberger (left oblique) threw 15 fastballs during his first bullpen session.
SIMULATED POWER
Rays RF Steven Souza Jr. (strained left hip) hit two long homers and went 5 for 9 in a simulated game Thursday. Souza, scheduled to start a rehab assignment Friday with Class A Charlotte, went deep off Alex Cobb and Chase Whitley, who are both coming back from Tommy John surgery. "Feel bad for them," Souza said with a smile. "They'll be all right." Souza and Franklin had back-to-back homers during a one-inning stint against Whitley, who did make a nice play in catching Souza's foul pop-up. Cobb threw 36 pitches over two innings and could start a rehab assignment next week.
UP NEXT
Tigers: RHP Michael Fulmer (7-2) looks to extend his stretch of allowing one run or fewer over eight consecutive starts Friday night against the Rays. His current seven-game run ties Justin Verlander (2011) and Al Benton (1945) for the longest by a Tigers pitcher since 1913.
Rays: LHP Drew Smyly (2-8) seeks to end a seven-start winless streak.