Tigers walk-off and take series over Mariners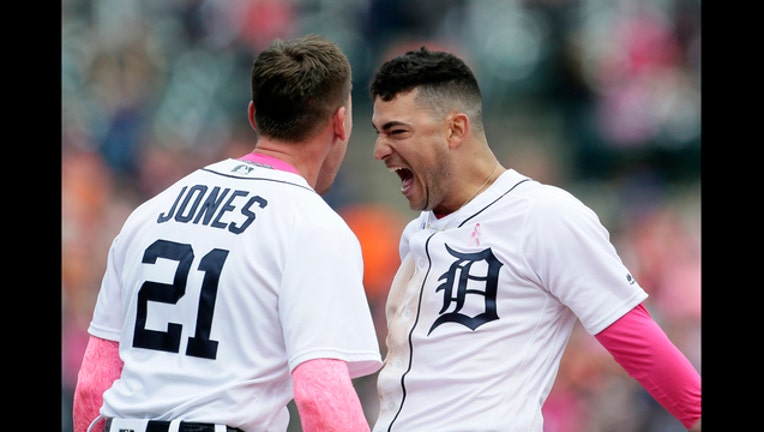 article
DETROIT (AP) - Even if Seattle had won, this would have been a tough day for the Mariners.
Robinson Cano left the game in the third inning with a fracture in his right hand, and the Mariners went on to lose 5-4 to the Detroit Tigers on Sunday when Jose Iglesias hit an RBI single in the bottom of the ninth. The defeat marked the first time all season that Seattle lost a series on the road, but the bigger issue is the health of the Mariners' standout second baseman.
"I see a specialist on Tuesday morning. They didn't say anything about how long I might be out, but it is broken bad, so there might be surgery," Cano said. "All I can do is do whatever it takes to get 100 percent and get back as soon as I can."
Cano left after being hit by a pitch . He hasn't missed a game this season and has played in at least 150 in 11 straight years. The Mariners (22-17) have looked like contenders for their first postseason spot since 2001, but losing Cano for an extended period would obviously hurt. The team said he has a fractured fifth metacarpal.
"It's disappointing to lose both the game and our second baseman," manager Scott Servais said. "That's just a freak accident - something that happens in this game. Everyone knows what he means to this team, and he's down right now, but we have other guys who can step up."
Kyle Seager hit a solo homer in the second for Seattle, but Niko Goodrum homered and had three hits for the Tigers. Goodrum's single in the ninth allowed JaCoby Jones to advance to third with nobody out, and Iglesias followed with a single up the middle off Juan Nicasio (1-2).
James Paxton allowed three runs and six hits in six innings for the Mariners in his first start since throwing a no-hitter Tuesday at Toronto.
"Obviously, this guy is their ace, and he's gone out there and he's thrown well, and you want to go out there and you want to give it your best shot," Detroit outfielder Mikie Mahtook said. "You don't want to back down from the challenge."
The Tigers were nowhere near full strength, with slugger Miguel Cabrera on the disabled list and regular starters Nicholas Castellanos and Jeimer Candelario also out of the lineup, but the bottom of their order came through. Goodrum, Iglesias and Dixon Machado - Detroit's 7-8-9 hitters - went 6 for 10.
Shane Greene (2-2) pitched a scoreless ninth for the win.
Detroit took two of three in the series, and the three games were played in just under 24 hours. The teams split a doubleheader Saturday that started at 4:10 p.m.
Detroit's Blaine Hardy allowed two runs and eight hits in 4 1/3 innings in his first major league start after 167 relief appearances.
"It could have been a little bit better, but for my first major league start, I'll take that," Hardy said. "I went out there trying to go as deep as I possibly can."
Paxton retired the first six hitters he faced before allowing two runs in the third on an RBI single by Mahtook and a run-scoring groundout by Pete Kozma. That gave Detroit a 2-1 lead. Seattle tied it in the fourth on Dee Gordon's RBI single.
Detroit took a 3-2 lead in the fifth on Goodrum's leadoff homer.
Mahtook's RBI double made it 4-2 in the seventh, but Seattle tied it the following inning against Joe Jimenez. With two out, Gordon hit a grounder to the right side, but Jimenez mishandled the toss from first baseman John Hicks for an error, loading the bases. Jean Segura followed with a two-run single.
RETURN
Servais was back managing the Mariners after missing Saturday's games to watch his daughter receive a master's degree at Mississippi. Bench coach Manny Acta managed Seattle while Servais was away - with Ichiro Suzuki serving as bench coach.
Tigers manager Ron Gardenhire said he spoke with Suzuki a bit.
"I just told him, 'I love you and I appreciate it,'" Gardenhire said. "He told me, 'I'll be back in spring training ready to play.'"
Suzuki shifted into a front office role earlier this month, but he didn't completely rule out playing again.
TRAINER'S ROOM
Mariners: Cano did have a brief DL stint last year because of a quad issue, but he still played 150 games and hit 23 homers.
Tigers: Castellanos missed the game with an injured finger on his left hand after he was hit by a pitch Saturday night, and Candelario was out with a sore wrist. ... Cabrera is on the DL with a right hamstring strain.
UP NEXT
Seattle heads to Minnesota for one makeup game Monday. The teams were postponed April 8. Wade LeBlanc (0-0) starts for the Mariners against Jake Odorizzi (3-2).
The Tigers send Mike Fiers (3-2) to the mound Monday night against Cleveland's Carlos Carrasco (5-1) in the opener of a three-game series in Detroit.