Tom Izzo says Michigan State will only talk about basketball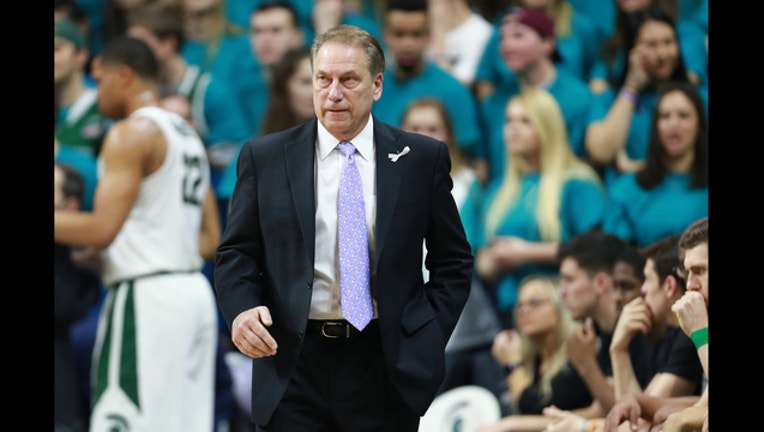 article
EAST LANSING, Mich. (AP) - Tom Izzo insists he and his players will only talk about basketball during the Big Ten and NCAA Tournaments.
"It's time," Izzo said Wednesday night.
No. 2 Michigan State will be the top-seeded team at the conference tournament , starting Friday afternoon against the winner of the Maryland-Wisconsin game. After having next week off, the Spartans will try to win the school's third national title and second with its Hall of Fame coach.
"This has been a special group," Izzo said. "And they deserve to really make as good of a run as they can make without any distractions."
Michigan State has been facing a crisis over how it handled allegations against disgraced former sports doctor Larry Nassar , who was sentenced to decades in prison for sexually abusing many young women and girls. That led to the school president resigning and the athletic director, one of Izzo's best friends, retiring in the wake of the scandal .
"We're going to work our tail off to help the healing process both in the university and in this community that we love so dearly," Izzo said. "Our players are committed to that. I'm committed to that."
An ESPN report also stirred both the basketball and football programs, questioning how Izzo and Mark Dantonio have dealt with allegations against their players.
"As far as these allegations, I'm just going to tell you that I feel very comfortable that we've emphatically cooperated with everybody on every search," said Izzo, who declined to dispute anything ESPN reported about his program. "Everything we've done, I think we've appropriately handled it exactly the way we were supposed to handle it."
And last week, Yahoo! Sports published expense reports listing a $70 lunch with Miles Bridges' parents and a $400 cash advance to his mother. The school denied the allegations in the report, but later announced its compliance office discovered an NCAA violation because Bridges' family had dinner with an agent last winter without his knowledge. That finding made the sophomore star ineligible briefly before the NCAA reinstated him. Bridges had to donate $40 to a charity of his choice as a condition of the reinstatement process.
"I expect him the rest of the year," Izzo said.
Bridges, looking rattled from the turmoil, missed 12 of 15 shots in Sunday's win at Wisconsin that sealed an outright Big Ten title and top seeding this week in New York.
The All-Big Ten and preseason All-America player and his teammates are motivated to pick up another title on Sunday, an accomplishment that would likely seal a spot for the Spartans to open the NCAA Tournament in Detroit as a high seed.
"We want to show how dominant we are," Bridges said. "And myself, I really want to put these two games behind me and get going."
Even though a lot has swirled around the Spartans, they've won 12 straight since losing Jan. 13 at home to rival Michigan.
"It's been tough on us," Bridges acknowledged. "But we've found a way to win so that just shows how tough this team is and how tough our coaching staff is."
Izzo said he owes it to his players and assistants to shield them from answering off-the-court questions.
"We're going to focus in because it's been a lot of distractions," he said. "I tried to do it as best I could do it for all of you. Never cut off our locker room or anything else. But now, it's going to be basketball time. These players, this staff, deserve to focus in on basketball. That's what we're going to do and see if we can make this incredible year even more special."