Upton's slam helps Tigers avert sweep; win 8-3 over BoSox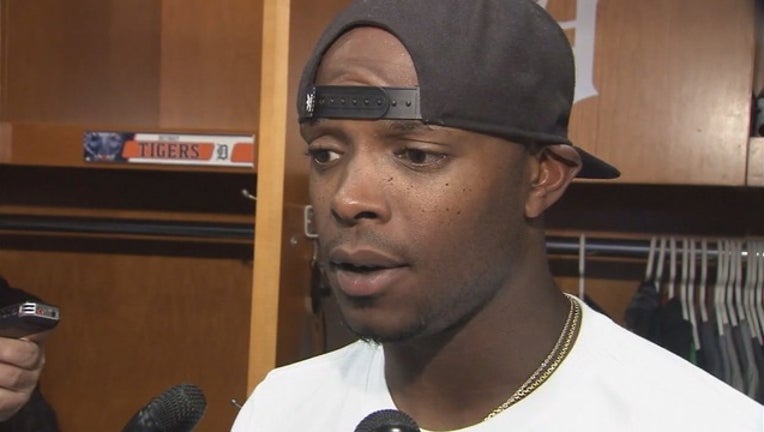 article
BOSTON (AP) - Detroit manager Brad Ausmus knew what to hope for when he saw Justin Upton's fly ball heading down the right-field line.
"From the time it left the bat I was saying, 'Pesky Pole! Pesky Pole," Ausmas said after Upton's grand slam hit off the right-field foul pole, helping the Tigers avert a sweep with an 8-3 victory over the Boston Red Sox on Sunday night.
Nicholas Castellanos added a two-run homer for Detroit, which halted a three-game losing streak in a contest that lasted 4 hours, 6 minutes.
"I thought I hit it hard enough that it would run out of time to curve. It ended up being the case," Upton said. "Take them how you can get them."
Boston had won 13 of 19 and seven of eight in Fenway Park.
Daniel Norris (3-4) held Boston to two runs over five innings, giving up seven hits with three walks and six strikeouts.
Drew Pomeranz (6-4) was tagged for six runs and eight hits in 4 1/3 innings, snapping his career-best three-game winning streak. He fell behind 3-0 in the first.
"It's pretty frustrating," he said. "The runs in the first inning, I had trouble kind of getting my rhythm and timing down. But I went out there and tried to shut them down after that."
Hanley Ramirez had an RBI single and Dustin Pedroia a run-scoring double for Boston.
The first six innings took just over three hours, sending a large portion of fans streaming for the exits after the final out of the sixth.
Detroit lost the first two games of the series in the late innings, but didn't have any trouble after opening a big lead midway into this one.
Leading 3-2 in the fifth, the Tigers chased Pomeranz and scored five runs - with Upton's homer off reliever Heath Hembree the big blow.
They loaded the bases on a throwing error by shortstop Xander Bogaerts, a single and walk before Upton hit his shot off the screen about halfway up the Pesky Pole. Ian Kinsler added an RBI single later in the inning.
"Felt like it was a chance to try to get a matchup," Boston manager John Farrell said of going to Hembree. "Didn't work out. The five runs ends up being quite a difference in this one tonight."
In the first, Detroit jumped ahead on Castellanos' shot over the Green Monster, a drive estimated at 448 feet, and Upton's RBI single.
TRAINER'S ROOM
Red Sox: Farrell said RHP Carson Smith, recovering from Tommy John surgery last season, is scheduled to pitch off the mound against hitters again Tuesday. He looked sharp Saturday, getting mostly weak swings and grounders.
OOPS
Farrell tripped coming out of the dugout coming out to question a call in the ninth.
STILL A GOOD NIGHT
Bogaerts had three splendid plays despite his error, the best against Victor Martinez when he slid to his knees for a grounder in shallow center and fired to first.
HEADS UP
Tigers star Miguel Cabrera was signing autographs next to the dugout during BP when one fan tossed a ball from a few rows back to another, hoping to get his signed, too. It flew just over the head of the slugger, but he graciously signed it.
ROSTER MOVE
Detroit optioned RH reliever Arcenio Leon to Triple-A Toledo before the game and recalled LHP Chad Bell.
UP NEXT:
Tigers: Off Monday. RHP Buck Farmer (2-0, 0.00 ERA) looks to extend his season-opening, 13-inning scoreless stretch when they open a two-game interleague home series Tuesday against Arizona and RHP Zack Greinke (8-3, 3.20).
Red Sox: RHP Rick Porcello (3-8, 4.46) hopes to snap a personal three-game losing streak Monday when Boston hosts Philadelphia. RHP Jerad Eickoff (0-7, 5.15) goes for the Phillies.