Verlander Extends Scoreless String; Tigers top Braves 10-6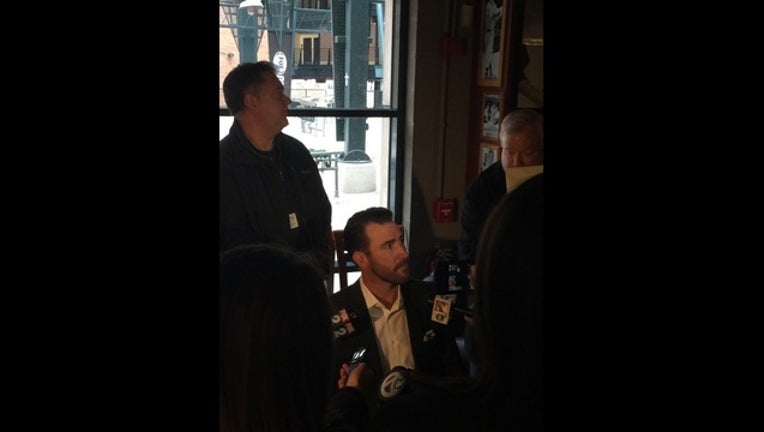 article
LAKELAND, Fla. (AP) - Justin Verlander has won Cy Young Awards and MVP honors. He also know it is time to make some changes.
The 33-year-old right-hander was injured most of the first half of last season and ended up with a 5-8 record in 2 starts. He isn't used to that, but knows he isn't the same pitcher he was 10 years ago. Verlander used to throw heat but things have changed as his arm has gotten older.
"I wouldn't say I'm not a power pitcher anymore," he said. "I hit 99 (on the radar gun) last year. But I feel like I am learning to throw differently to adjust. Different grips, different ways of pitching."
It seems to be working so far this spring.
Verlander allowed one hit and struck out five in four innings Tuesday, extending his scoreless string to nine innings as the Detroit Tigers beat the Atlanta Braves 10-6.
Tigers manager Brad Ausmus caught for the Houston Astros and worked with Andy Pettitte and Roger Clemens as their careers were heading down the home stretch. He said that, like the those two stars, Verlander will adapt.
"He is adjusting and transitioning," Ausmus said. "It's just a natural progression of things. Things just change. Pettitte was a two-pitch pitcher. By the time he was done, he was throwing five different pitches. Clemens was already old when he came (to Houston) and he was making changes. Verlander will be fine."
As for the actual changes, Verlander wasn't giving away any secrets.
"New grips on my pitches?" Verlander asked. "I wouldn't tell you if there was."
J.D. Martinez homered for the third straight day to increase his spring total to four, and James McCann also homered for the Tigers. Ian Kinsler doubled to improve his spring average to .385.
The Tigers led 6-0 in the third inning and coasted down the stretch.
New closer Francisco Rodriguez pitched a scoreless inning in his second outing of the spring.
Bud Norris started for the Braves and watched his spring ERA balloon to 7.88 after allowing six earned runs in three innings. Ender Inciarte had two RBIs for Atlanta.
STARTING TIME
Norris got rocked but Braves manager Fredi Gonzalez said that numbers can lie.
"You look at the numbers and they were worse than he looked" Gonzalez said. "He did a great job getting out of a jam in the first inning and he knows how to minimize damages. He gave up two in the first, but he's a professional guy and knows how to get things done."
Norris started 22 games last year for Baltimore and San Diego.
WHAT A RELIEF
Rodriguez retired all three batters he faced. He is expected to be a savior for a Tigers bullpen which has consistently struggled in recent years.
"I'm not even where I need to be yet," Rodriguez said. "I still have time to get stronger. My location is there but not my velocity yet. I am going to get an extra gear on my fastball."
Ausmus likes what he is seeing from Rodriguez even though the pitcher was held up reporting to camp due to visa issues.
"He has great arm action, especially on the changeup," Ausmus said. "Velocity is important but not as important as throwing with the same motion as his fastball. He's a pitcher now."
Rodriguez saved 38 games for the Milwaukee Brewers last season.
HOT HITTER
Braves infielder Hector Olivera leads all major leaguers in hits this spring with 14 and has a .438 average. He has gotten hits in 10 of 11 games. Olivera played in 24 games for the Braves last season, batting .253.
UP NEXT
Braves: RHP Jhoulys Chacin will square off against St. Louis starter Jaime Garcia at Walt Disney World on Wednesday.
Tiger: RHP Jordan Zimmerman will face the Astros in his third spring start. Brad Peacock will start for Houston in Kissimmee.