Verlander Fans 10 As Tigers Beat White Sox 6-3 In Opener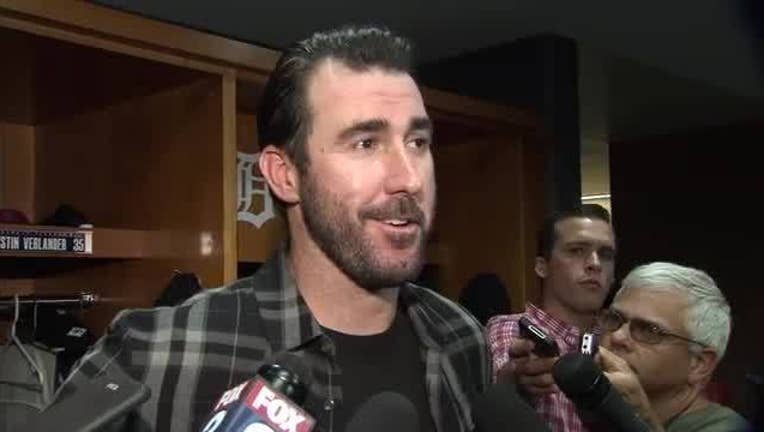 article
CHICAGO (AP) - Justin Verlander views the Detroit Tigers as a driven team intent on reaching the playoffs after missing out the past two years.
This wasn't a bad start.
Verlander struck out 10 to match the most by a Detroit pitcher on opening day since Mickey Lolich in 1970, and the Tigers backed him with three home runs in a 6-3 victory over the Chicago White Sox on Tuesday.
"I think everyone had a similar feel around the locker room in spring training," said Verlander, whose team finished second in the AL Central last year and fell short of a wild card. "I think everybody is really happy with the vibe that we had going on this locker room. Everybody's excited about the season getting going."
JaCoby Jones hit his first career homer , Nick Castellanos and Ian Kinsler also went deep against Jose Quintana (0-1), and the Tigers sent Rick Renteria to a loss in his debut as White Sox manager.
A day after the teams were rained out and with a sparse crowd looking on, Jones' three-run homer and Castellanos' two-run drive in a five-run second lifted Detroit into a 5-1 lead. Kinsler added a solo shot in the fourth.
Verlander (1-0), the AL Cy Young Award runner-up last season, gave up two runs and six hits while walking two in 6 1/3 innings.
"He was just in control today," said Kinsler, who had two hits and two runs. "He got into a couple tough situations, but he didn't let it bother him."
Francisco Rodriguez relieved with two on in the ninth and retired three straight batters for the save. He gave up an RBI groundout to Jacob May before catcher James McCann leaned over the railing in front of the Tigers dugout to snag Tyler Saladino's foul for the final out.
Quintana, a first-time All-Star in 2016 and a candidate to be traded, allowed six runs and five hits in 5 1/3 innings. The three homers he gave up matched a career high.
"I feel really good and have confidence in me and it was just the first start," Quintana said. "I have a long season and I'll try the next one to throw the ball better."
Melky Cabrera had two doubles, drove in a run and scored. Jose Abreu and Tyler Saladino each had two hits, but the bottom five batters were a combined 2 of 19 with eight strikeouts.
It was a familiar result for a White Sox team taking a different approach after four straight losing seasons.
Chicago traded ace Chris Sale and outfielder Adam Eaton while acquiring young players. The White Sox also promoted Renteria from bench coach to replace Robin Ventura, hoping to jolt a franchise with one playoff appearance since winning the 2005 World Series title.
GOING DEEP
Cabrera's RBI double gave the White Sox the lead in the first.
Jones, who played in 13 games last season, pulled a low curve to the left-field bullpen for his home run, raising his right index finger as he rounded the bases. Castellanos sent a 3-2 fastball the opposite way to the right-field bullpen with two outs.
ON LEAVE
LHP Kyle Ryan will take paternity leave on Wednesday, when his wife is scheduled to have a C-section. He hopes to return on Friday night. LHP Blaine Hardy is with the team and is expected to be added to the roster as a temporary replacement.
TRAINER'S ROOM
Tigers: LF Justin Upton exited the game because of a bruised left knee. Tyler Collins batted for him in the seventh and took his spot in left field. Manager Brad Ausmus said the injury is not "long term." ... OF J.D. Martinez, expected to miss the first few weeks because of a sprained right foot, is no longer in a cast.
UP NEXT
Tigers: RHP Jordan Zimmermann (9-7, 4.87 ERA last season) looks to rebound from an injury-riddled year, beginning with Wednesday's start.
White Sox: RHP James Shields looks to begin his first full season with the White Sox on a stronger note Wednesday after going a combined 6-19 with a 5.85 ERA for the San Diego Padres and Chicago last year.