Vikings hang 10 sacks on Stafford in 24-9 win vs. Lions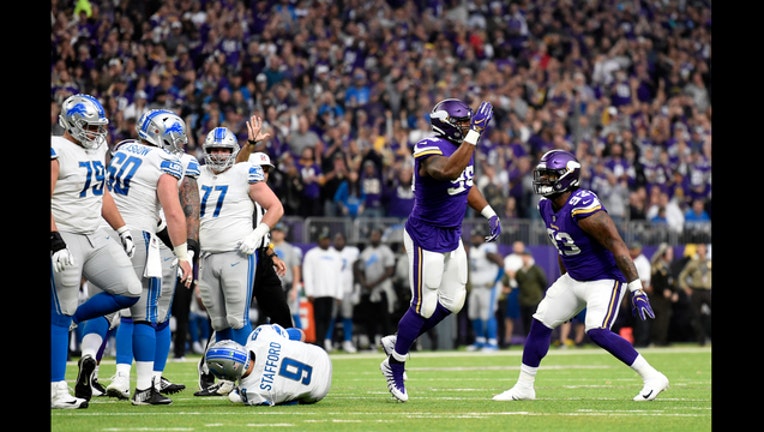 article
MINNEAPOLIS (AP) - The Minnesota Vikings turned their defensive line loose on Matthew Stafford in a dominant performance that would have made the old Purple People Eaters proud.
This unstoppable pass rush was led, predictably, by Danielle Hunter.
Hunter had 3 1/2 of Minnesota's franchise-record 10 sacks plus a fourth-quarter fumble return for a touchdown , tormenting Stafford and the Detroit Lions all afternoon in a 24-9 victory by the Vikings on Sunday.
"We knew he liked to throw the ball down the field, so that's something that really helped us a lot because he held on to the ball," said Hunter, who moved into the NFL lead with 11 1/2 sacks for the season. "So as long as we executed the rush plan, we knew we'd be able to get back there."
Hunter also was credited with nine tackles and four quarterback hits. The Vikings (5-3-1) limited the Lions (3-5) to a season-low 214 total yards, and their pressure on Stafford was so intense he literally had pieces of rubber pellets from the artificial turf flushed out of his left eye in the second quarter. The Lions had a streak of 25 consecutive games with at least 14 points come to a crashing halt.
"The fault is on everybody," said Stafford, who was sacked a total of 13 times over the first seven games. "I have to get the ball out faster."
After Dalvin Cook dropped a pitch from Kirk Cousins and A'Shawn Robinson recovered at the Detroit 28 with Minnesota leading 17-6, the Lions converted a fake punt to keep that drive alive. Two plays later, Stafford ran right on the short side of the field and tried an option-style flip that Kerryon Johnson was unable to secure, and Hunter scooped it up on his way to the easy score.
"I don't know why he pitched it. He could've just run," Hunter said. "I thought it was a pass all the way, but I guess he didn't want to get hit or something."
That happened a lot, including a total of three times in the second quarter on two separate possessions inside the Minnesota 20 that forced the Lions to settle for field goals by Matt Prater.
After a throw by Cousins to Adam Thielen near midfield was intercepted by Darius Slay, the Lions made it as far as the 12-yard line. Hunter sacked Stafford on consecutive snaps, sharing the first one with Everson Griffen.
"He's a freak of nature. He looks like a superhero," Griffen said of the fourth-year defensive end. "I expected that from him."
Nine of the 10 sacks by the Vikings came from their front four, including 2 1/2 by backup defensive tackle Tom Johnson. During the heyday of the Purple People Eaters, the Vikings had nine sacks in a game in 1968, 1969 and 1970. They also did it in 1993. But this was the record-setter, thanks to a well-timed mix of blitzes called by coach Mike Zimmer and the relentless rush by Hunter and his friends up front.
"We know if we give them time, they'll get there," safety Harrison Smith said. "It's fun to be a part of."
HE'S COOKIN'
With one burst through a big hole in the left side of the line , Cook made clear he's healthy again with a 70-yard gain in the second quarter to set up a short touchdown catch by Thielen. According to the NFL's NextGen Stats tracker, he averaged 22.07 mph during that run for the fastest in the league this season. The Lions have allowed a rush of 50-plus yards in four different games this year.
NOT THIELEN IT
Thielen's streak of 100-yard receiving games ended at eight in a row, leaving him in a tie for the record with Lions legend Calvin Johnson. The Lions double-covered him often, taking advantage of the absence of fellow standout Stefon Diggs to rib injury, and Thielen finished with only four receptions for 22 yards.
STACKS OF SACKS
The previous high sack total for Stafford in his career was seven, against the Vikings in 2015. He has been sacked five times or more on 15 different occasions, six of those by the Vikings. The Lions are 3-12 in those games.
"It's a big shot to our pride," left guard Frank Ragnow said.
UH-OH
The opening kickoff was ominous for the Lions when Prater slipped after his leg swing, an unintentional squib the Vikings returned to their 35. Practice squad promotion Chad Beebe caught back-to-back passes on the first drive of his NFL debut. The second one netted 13 yards on fourth-and-2 from the Detroit 37. Latavius Murray finished the march with a 1-yard touchdown run.
INJURY REPORT
Lions: DE Ziggy Ansah (shoulder) returned from a six-game absence with had a sack in the closing seconds of the second quarter that forced the Vikings to settle for a field goal. ... LT Taylor Decker left in the third quarter with an undisclosed injury but later returned.
Vikings: LB Anthony Barr (hamstring) and LG Tom Compton (knee) were held out for the second straight game, and SS Andrew Sendejo (groin) missed his fourth straight contest. ... Backup TE David Morgan hobbled off in the third quarter with a left knee injury.
UP NEXT
Lions: Play at Chicago next Sunday.
Vikings: Play at Chicago on Nov. 18, after the bye.