Walton Helps Wolverines Take Control In Rare Win At Indiana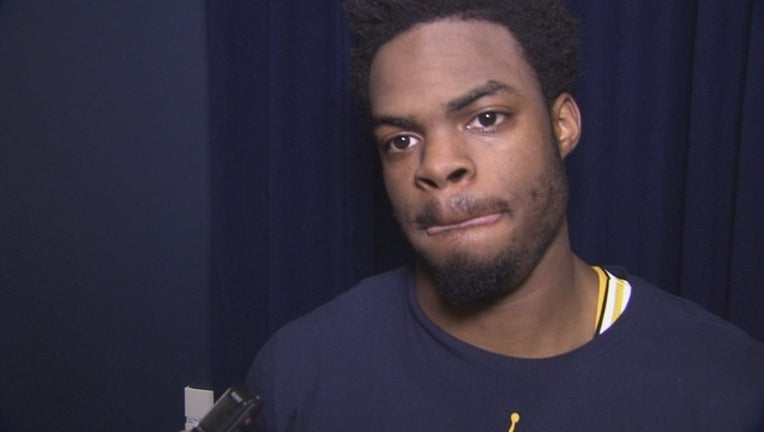 article
BLOOMINGTON, Ind. (AP) - Michigan coach John Beilein finally got to celebrate outside Ann Arbor.
The fact that it came at this time, in February, and at this place, Indiana, made it even sweeter for the Wolverines.
Derrick Walton Jr. scored 25 points and Moritz Wagner had 11 points and 10 rebounds Sunday to lead Michigan to a 75-63 victory - their first road win of the season and a rare victory in Bloomington.
"This is a hard place for every team that's ever played in the Big Ten to win at," said Beilein, who now has two wins in 10 seasons at Assembly Hall. "It's so good for us to be able to come out of here, get a lead, keep a lead."
Now the Wolverines (16-9-, 6-6 Big Ten) will get a reprieve from the debate over all the things they supposedly couldn't do.
Michigan came into the game 0-6 on the road this season, 1-17 in Bloomington since 1996-97 and without a season sweep of the Hoosiers since 1994-95.
By keeping the struggling Hoosiers (15-11, 5-8) at an arm's length, they erased all those bitter memories.
At Indiana, meanwhile, the looming questions aren't going away.
"I just think a lot of it is not being prepared to shoot before you get the ball, a lot of it is not hitting guys on time and on target with passes," Indiana guard Robert Johnson said after scoring five points in Indiana's third straight loss.
Johnson wasn't the only frustrated player.
While De'Ron Davis scored 13 points and Josh Newkirk and Juwan Morgan each had 11, leading scorer James Blackmon Jr. finished with six points and the Hoosiers never led after giving up the first five points.
The only serious challenge came when they charged back from a 35-25 halftime deficit to make it 41-35 on Blackmon's 3-pointer with 13:38 to play.
But Michigan answered by making its next seven shots to rebuild a 56-43 advantage and Indiana couldn't get closer than eight over the final 8½ minutes.
D.J. Wilson added 13 points for Michigan as Walton topped the 20-point mark for the fifth consecutive game - Michigan's longest streak since Nik Stauskas also did it in five straight games during 2013-14.
BIG PICTURE
Michigan: Sunday's win could be a major step for the Wolverines. With a logjam of teams right around the .500 mark in league play, Michigan jumped from ninth into a tie for sixth, one game behind fifth-place Michigan State.
Indiana: The Hoosiers are in a bleak predicament. They've lost five of six, are three games under .500 in league play and have only one home game left on the schedule as they try to convince the NCAA Tournament selection committee that they belong.
OFFENSIVE WOES
Indiana was averaging 81.3 points per game this season and has a league-leading 78.2-point average since 2011-12. They sure haven't looked the part lately.
When the first half ended, Indiana had scored 25 or fewer point in four of their 10 previous halves and after missing their first nine 3s on Sunday, they wound up 4 of 19. But they also had 15 turnovers, including 10 in the first half to match their basket total.
"We've led the country, we've led the BCS the last five years 3-point field goal percentage. It doesn't look that right now," coach Tom Crean said. "I don't want to be in a panic, but we've got to continue to figure out those shots."
THE RIGHT CALL?
Three days after Hoosiers fans grumbled about a double foul call that led to two key players fouling out in the final minute against Purdue, they got relive a similar scenario twice Sunday.
First, the three refs called a jump ball when they couldn't determine who touched the ball last after it went out of bounds. Michigan got possession and made a 3. Then with 9:01 to play, the officials called another double foul on Thomas Bryant and Michigan's Wilson. Naturally, the fans were no more accepting this time than they were Thursday night.
UP NEXT
Michigan: Will try to avoid a season sweep when it hosts No. 7 Wisconsin on Thursday.
Indiana: Travels to Minnesota on Wednesday for the start of a five-game stretch that includes four road games.