Ward and Bridges help No. 2 Michigan State rout Savannah St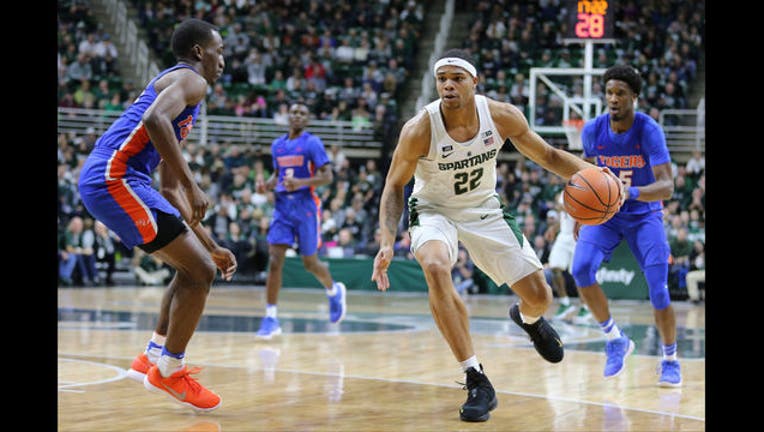 article
EAST LANSING, Mich. (AP) - Michigan State coach Tom Izzo is ready for everything that comes with a No. 1 ranking after his second-ranked Spartans rolled past Savannah State 108-52 on Sunday.
With top-ranked Villanova and No. 3 Arizona losing on Saturday, the Spartans are poised to move into the top spot for the first time since the 2015-16 season when this week's Associated Press poll is released Monday.
"Any time we can be ranked No. 1 is a good thing," Izzo said after MSU (14-1) overcame some early difficulty and finished the game on a 32-0 run. "I also think there are five or six teams that could be No. 1."
Nick Ward had 21 points and 10 rebounds to lead Michigan State, while Miles Bridges added 19 points and a career-high 21 rebounds for the Spartans, who had six players in double figures.
They won their 13th in a row and scored 100 points in four consecutive games for the first time in school history.
The Tigers (3-12), which led the nation in 3-point attempts going into the game, made good use of them in the first half. They hit seven in the first 10:05 of the first half en route to taking a 23-22 lead.
"We were playing their game," said Bridges, whose team committed 10 turnovers in that span and just seven the rest of the way. "We started playing our game in the second half."
Cassius Winston had 16 points and a career-high 13 assists for the Spartans.
Savannah State lost for the eighth time in nine games, the last six in a row. The Tigers were led by Dexter McClanahan, who had 14 points.
LONG VIEW:
Savannah State: Sunday's game was the fifth of seven consecutive road games for the Tigers, who have faced six teams ranked in the AP Top 25 this season.
Michigan State: The Spartans, 2-0 in the Big Ten, begin a stretch where they play four of the next five conference games at home.
UP NEXT
Savannah State: At Coppin State on Saturday
Michigan State: Vs. Maryland at home Thursday