Wild snap skid with 4-1 win over Red Wings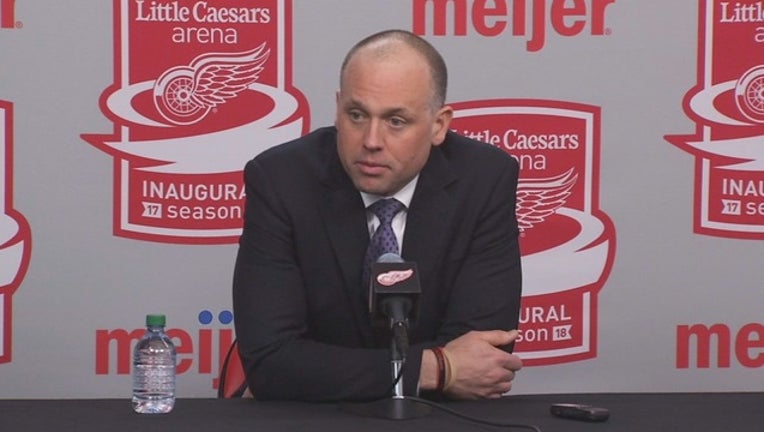 article
ST. PAUL, Minn. (AP) - Rookie defenseman Nick Seeler picked up Minnesota's offense with a timely fight.
Eric Staal and Zach Parise scored in the second period after Seeler fought Luke Witkowski, and Jason Zucker added two late goals in the Wild's 4-1 victory over the Detroit Red Wings on Sunday night.
Devan Dubnyk made 28 saves to help Minnesota rebound from losses at Arizona and Colorado.
Staal and Parise scored in a 2:57 span to erase a 1-0 deficit. The goals came not long after Seeler traded punches with Witkowski on a delayed penalty, with Seeler protecting Parise after Witkowski attempted to check the star forward.
"I just thought, you know what, good time to step up," Seeler said. "We were down 1-0. I thought it was the right time."
Sunday was just Seeler's 12th career NHL game. The 6-foot-2, 200-pound defenseman has just two assists thus far but has added grit to a Wild team that has needed some toughness as it jockeys for playoff positioning.
Seeler's opponent, the 6-foot-2, 210-pound Witkowski, is no stranger to NHL fights.
"I think I owe him a steak dinner after that scrap," Parise said. "Standing up for teammates, you always appreciate that."
Seeler emerged bloodied after the brawl, which included rapid-fire punches from both players. Seeler's teammates appreciated the effort - and responded by scoring two goals with Seeler in the penalty box.
"The guys were on the bench and they're saying, 'We got to go now. If we can't get motivated for this, then we're in trouble,'" Wild coach Bruce Boudreau. "It was a real opportunistic time when I think we were really flat."
Staal tied it on a power play with his team-leading 34th goal. The forward redirected Jared Spurgeon's shot past goalie Jimmy Howard with 12:38 to play in the second.
Less than three minutes later, Parise completed a tic-tac-toe passing sequence with Nino Niederreiter and Charlie Coyle to put the Wild up 2-1. Minnesota showed plenty of life in the second period after managing just four shots on goal in the first.
"I think that's a big goal in the game, especially in that one, but we can't look back on the result," said Detroit captain Henrik Zetterberg. "At the beginning of the game we played well. I thought we had a good start, good first period, got the first goal and then they score two quick ones."
Zucker added a pair of goals less than a minute apart, including an empty-net goal with 3:38 to play. He also redirected a pass to give Minnesota some breathing room with a 3-1 lead with 4:18 remaining.
Justin Abdelkader scored for Detroit off a rebound at 3:58 of the first period to open the scoring.
The Red Wings had a good look at an open net and a potential tying goal midway through the third after Dubnyk was caught out of position behind his goal. Tyler Bertuzzi had a shot, but Spurgeon managed to get in front of the puck to keep it a one-goal game.
"It's an easy time for frustration to build, and there's nothing wrong with being frustrated now and we should be," Red Wings coach Jeff Blashill said. "If you're not, you probably shouldn't be a competitor."
NOTES: Detroit has lost three in a row. ... Wild F Nino Niederreiter had his 100th career assist and 200th career point on the same play Sunday. He had the second assist on Parise's goal. ... Howard is 14-4-3 against Minnesota. ... Staal's 34 goals are his most in a season since he had 40 in 2008-09 with Carolina.
UP NEXT
Red Wings: At Boston on Tuesday night.
Wild: Host Carolina on Tuesday night.